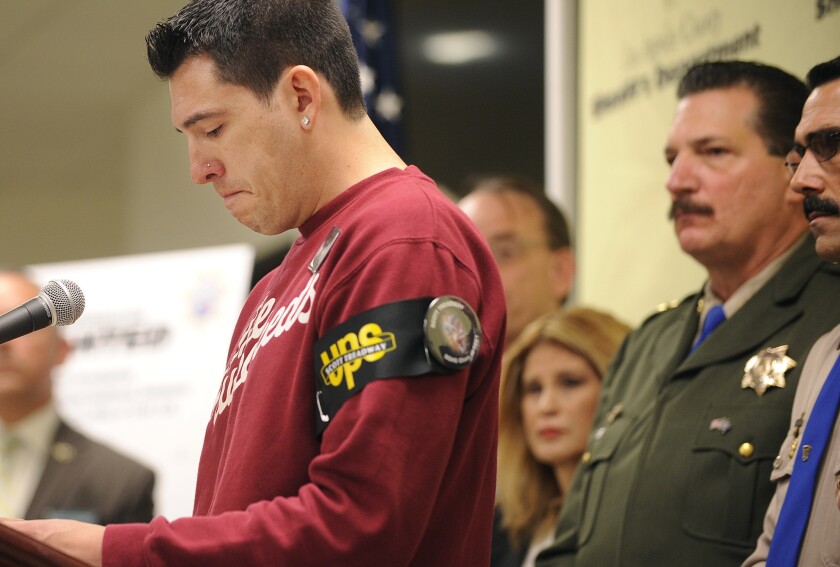 Authorities on Wednesday announced a $36,000 reward for information leading to the arrest and conviction of a second motorist involved in a suspected street-racing crash that left three dead.
The reward comes nearly a month after the multivehicle crash shut down the 5 Freeway in Commerce.
The fiery collision occurred when one of the suspected street racers lost control of a car and slammed into a UPS truck. The big rig then flipped over the median, smashed into oncoming traffic and exploded.
Three people died in the crash. Brian Lewandowski, 18, and Michelle Littlefield, 19, were killed when their car was struck by the big rig. UPS truck driver Scott Treadway, 52, also died.
At an emotional news conference Wednesday at the Hall of Justice, family members of the victims pleaded for answers and spoke about their loss. Four motorists received either major or severe injuries as a result of the crash.
"What I really want to say to the drivers is please stop," said William Littlefield, Michelle's father. "You have no idea the magnitude of how something like this hurts."
Jason Treadway, Scott's son, wore an armband with his father's name on it. Gigi Littlefield, Michelle's mother, held a framed photo of her daughter, choking up as she spoke about the pain she felt.
Dealio Lockhart, who was driving a Dodge Challenger, admitted to authorities that he was racing a Dodge Charger southbound on the freeway when one of the vehicles lost control and triggered the crash, according to the California Highway Patrol.
Authorities are still searching for the second vehicle and the driver involved and described the car as a dark-colored, newer-model Dodge Charger. It does not appear that the drivers who were racing knew one another, authorities said.
"We believe this was a random encounter with two vehicles driving on the freeway," said CHP Capt. Paul Medeiros. The operators "decided to engage in a speed contest at speeds well in excess of 100 miles an hour in and out of traffic," he said.
Lockhart had a 2012 conviction in San Bernardino County for driving faster than 100 mph, according to court records. He was convicted of speeding in Utah in 2014, according to the DMV. He also was involved in a November car crash in Whittier, DMV officials said.
He was charged earlier this month with second-degree murder and four counts of reckless driving on a highway causing injury, according to the Los Angeles County district attorney's office.
Lewandowski, a victim of the crash, was the son of a Los Angeles County Sheriff's homicide lieutenant, the department said in a news statement.
"It is our hope that this reward leads to the identity and capture of the second suspect in this case so no other family has to endure the pain caused by the actions of these two individuals," the Lewandowski family said in a statement Wednesday.
Both Littlefield and Lewandowski were students at College of the Canyons and were employed by Six Flags Magic Mountain. Treadway had worked for UPS for 30 years.
"They say God works in mysterious ways, but this was no act of God that brought this pain and suffering upon us all," Jason Treadway said, growing teary-eyed. "Whoever you may be out there, you must face your consequences. ... You took three beautiful people's lives."
The $35,000 reward is being offered by the Los Angeles County Board of Supervisors, Teamsters Local 396, the United Parcel Service and Six Flags Entertainment Corp. An additional $1,000 comes from Crime Stoppers.
"Some look upon street racing as entertainment. It is not," Sheriff Jim McDonnell said. "It is deadly."
Follow me on Twitter @brittny_mejia
ALSO
'Bad Breath Bandit' strikes again at Northern California bank, police say
Missing for 95 years, wreckage of the Navy tugboat Conestoga is found off California coast
Man sues Saudi prince, saying he partied way too hard in his Hollywood Hills home
---