California's 'most hazardous' rail crossing will get a major overhaul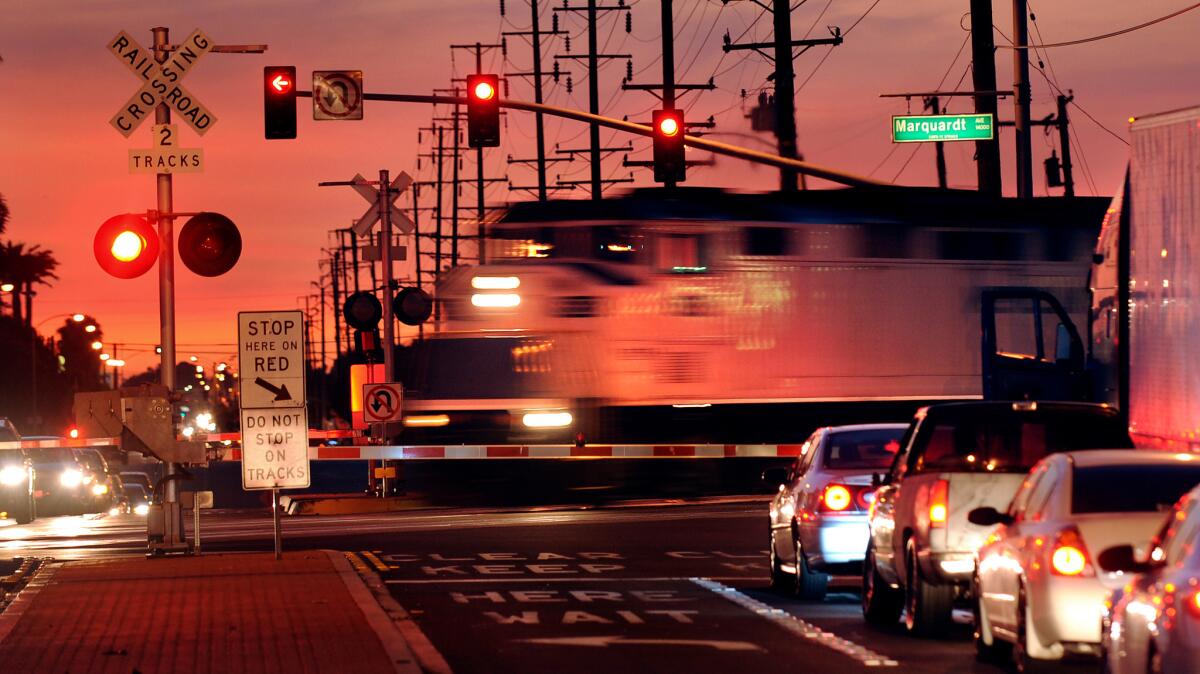 A Los Angeles County railroad crossing that's been called the most hazardous in California will receive a long-planned overhaul, including a flyover ramp to separate traffic from trains, transportation officials said Thursday.
At a news conference near the Santa Fe Springs crossing, officials said they had secured the final $15 million needed to construct a $137.2-million overpass that will route car and truck traffic above the country's second-busiest passenger rail corridor.
The tracks slice diagonally through the intersection of Rosecrans and Marquardt avenues, a design that experts say is particularly dangerous because drivers and pedestrians can't always see oncoming trains.
Amtrak, Metrolink and freight trains roar through the street-level crossing once every 10 minutes. Three deaths and 19 other incidents have been reported there in the last three years, prompting regulators to dub it the state's most hazardous crossing.
More than 31,000 vehicles and about 130 trains pass through the crossing every day, according to the Public Utilities Commission. That number is expected to increase to 180 by the end of the decade.
"The safest grade crossing is one that does not exist," Federal Railroad Authority regional administrator James M. Jordan Jr. said at Thursday's news conference.
More than one-third of the country's most dangerous street-level rail crossings are in Southern California. Building train tracks and streets on shared rights-of-way is often cheaper but can pose safety and congestion problems.
The Metropolitan Transportation Authority officials who will oversee the project will draw from the $15-million federal grant, as well as $68.6 million from the California High Speed Rail Authority and smaller sums from Metro, state safety officials and BNSF Railways, which owns the right-of-way.
Construction is expected to begin in January 2019 and finish in January 2021.
The improvements should also alleviate traffic congestion and air pollution in the area, officials said. Cars and trucks spend about 21 hours a week idling at the crossing as trains pass by.
For more transportation news, follow @laura_nelson on Twitter.
ALSO
Expo Line doesn't have enough rail cars for its surging ridership
Destruction from Italy quake a grave warning for California's old brick buildings
Authorities ask for public's help, offer $20,000 reward to find killer of 4-year-old in Altadena
Sign up for Essential California for news, features and recommendations from the L.A. Times and beyond in your inbox six days a week.
You may occasionally receive promotional content from the Los Angeles Times.