First storm of 2019 is bringing rain and snow — and concerns about debris flows in burn zones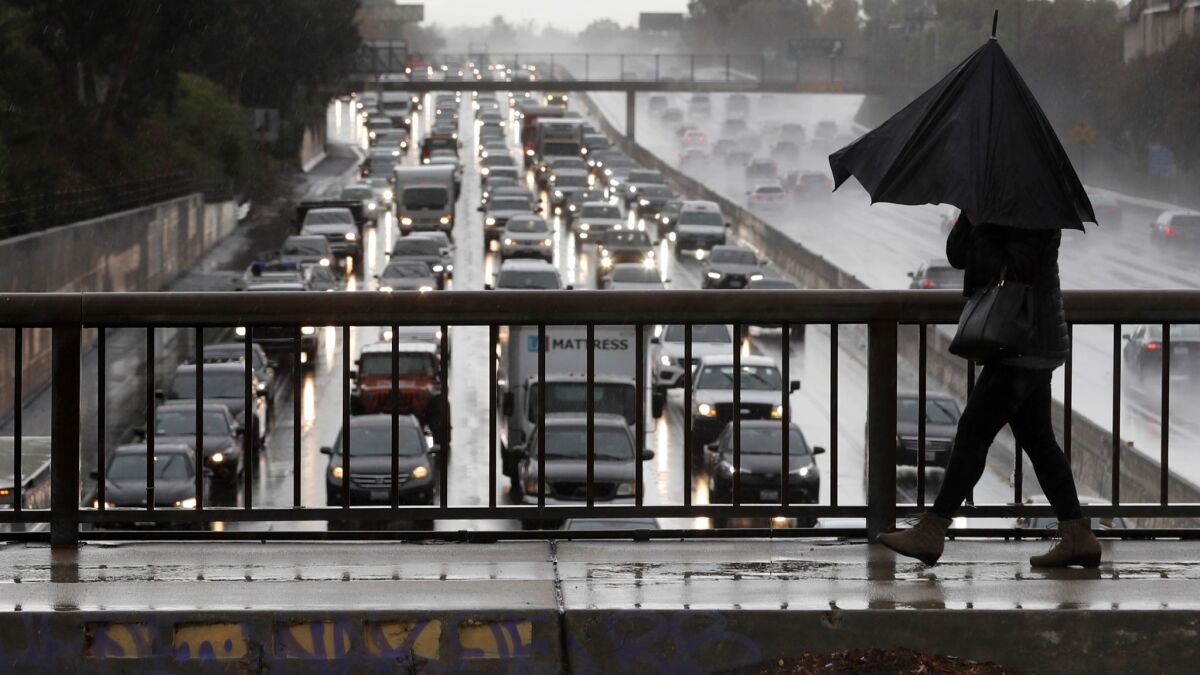 A fierce winter storm that forecasters predict will be similar in size to the early December system that triggered debris flows in recent burn areas is bringing rain and snow to California this weekend.
The chilly Pacific system that originated in the Gulf of Alaska is expected to drop up to 2 inches of precipitation on the Santa Rosa, Redding and Chico areas in Northern California beginning Saturday. Other areas in Northern California, including San Francisco, will see up to an inch of rain, according to the National Weather Service.
Strong winds will batter the northern portion of the state, with gusts up to 50 mph in some areas as the first storm of 2019 moves through the region. The strongest winds are expected Saturday afternoon.
Southern Californians will get their own share of wet weather starting Saturday night. The most significant precipitation will happen overnight into Sunday, according to forecasters.
"This is a fairly large storm that will extend across the entire state," said Eric Kurth, a meteorologist with the National Weather Service in Sacramento. "It's going to be wet and cool. We could be seeing snow in elevations down to 3,500 feet in some areas."
About half an inch to an inch and a half of precipitation is expected along the coasts and valleys in Ventura and Los Angeles counties, with higher amounts possible along south-facing foothills and mountains, said Kristen Stewart, meteorologist with the National Weather Service in Oxnard. Orange and San Diego counties are expected to see a quarter of an inch to 1 inch of precipitation in some cities. The heaviest rain will fall overnight, Stewart said.
Forecasters are expecting snow will fall in the mountain regions of Los Angeles County down to 4,500 feet, Stewart said. High surf is also predicted from 5 to 8 feet, she said.
The city of Oxnard will open a shelter Saturday evening in anticipation of the strong storm, city officials said Friday. The shelter, at the Armory at 351 North K St., will open at 4 p.m. and, if the weather improves, close at 9 a.m. Sunday.
A moderate El Niño weather pattern that is brewing in the eastern tropical Pacific Ocean is bringing more precipitation to some regions of California. The weather outlook for the next several weeks indicates above-normal precipitation and in the next few months, the odds are looking good for above-average rainfall, according to weather experts.
Thunderstorms also are a possibility with the weekend system, which could bring rain down at a faster rate, raising concerns about possible debris flows in recently burned areas across the state.
The key factor in determining whether a storm will result in debris flows is the intensity of the precipitation that falls on an area. The amount of rain necessary to send mud and debris flowing varies based on how recent the area burned, the topography and other factors, Kurth said.
The soil in burn areas cannot absorb a lot of moisture, so heavy rainfall can lead to fast-moving flows containing mud, debris and even trees and boulders. When rain falls over time, it can be gradually absorbed or dispersed, but when areas see rapid runoff, entire hillsides can come down without warning, sometimes with deadly results.
"I think that's always a potential concern," Kurth said. "It's something we'll definitely be watching for."
Weather service forecasters in Oxnard likened the upcoming storm to the system that hammered Southern California with heavy rain in early December, causing debris flows in Malibu and forcing mandatory evacuations in recent burn zones.
Malibu officials are advising residents to prepare for potential flooding, mudslides, power outages, dangerous road conditions and possible evacuations.
City officials have released a map of burn areas that show where the potential for flooding and mudslides is greatest. The city is also providing free, empty sandbags at Malibu area fire stations and pre-filled sandbags at the Zuma Beach lifeguard headquarters
Flood control crews began removing debris this week from McVicker Basin in Riverside County, where the Cranston and Holy fires burned last year, in preparation for the storm. The basin had caught mud sent down from the burn areas during last month's storm.
Forecasters also expect the storm to dump 4 to 8 inches of snow on Southern California ski resorts and up to 3 feet in the northern Sierra. News of more snow comes as the first snowpack of the year measured at 25.5 inches deep on Thursday, which is 80% of average for the date.
Fresh snowfall also brings the possibility for significant travel issues for motorists. Kurth said drivers should be on the lookout for tire chain control warnings.
"People have a temptation to head up to the mountains when we're getting snow, but Saturday will be a difficult travel day," he said. "If people want to head up, I'd encourage them to travel today or very early Saturday. The conditions are going to deteriorate throughout the day."
Twitter: @Hannahnfry
---
The stories shaping California
Get up to speed with our Essential California newsletter, sent six days a week.
You may occasionally receive promotional content from the Los Angeles Times.