Major storm brings record rain, mudslides, road closures and snow to Southern California
From left, Abby Neri, her husband, Juan, and her son, Damian, cover up from the rain while heading to their car after shopping at a Food4Less store in Panorama City.
(Mel Melcon / Los Angeles Times)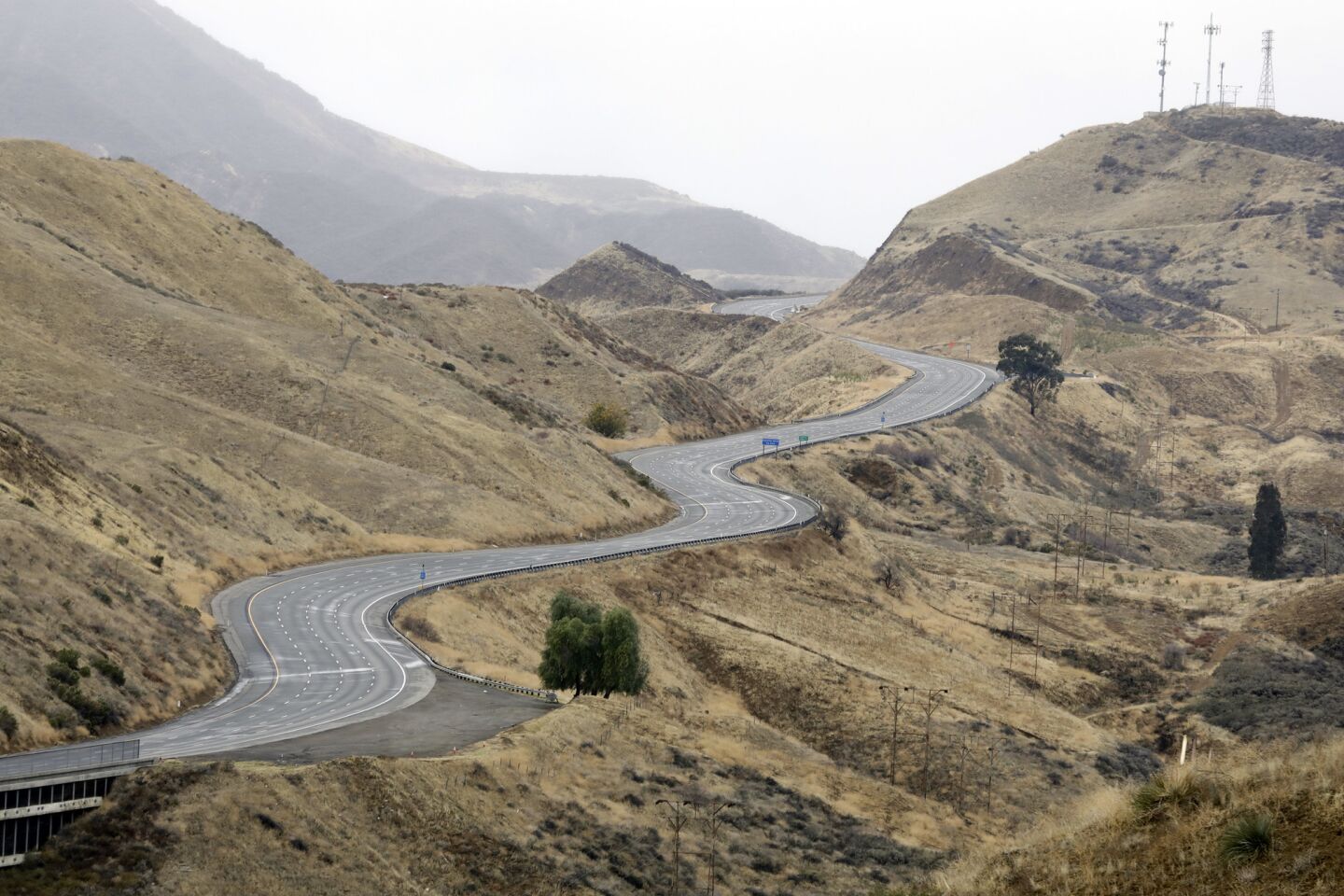 Northbound lanes of Interstate 5 sit empty as snow and ice closed the road through the Grapevine.
(Myung J. Chun / Los Angeles Times)
Muddy waves crash onto Zuma Beach in Malibu after two days of rainfall.
(Katie Falkenberg / Los Angeles Times)
Rosalinda Uy uses a plastic bag to shield herself from the rain while walking along Van Nuys Boulevard in Panorama City. She said that she was heading to a nearby Walmart to buy an umbrella.
(Mel Melcon / Los Angeles Times)
A Southwest flight slid off the runway at Burbank Airport, coming to a stop after its landing gear plowed into a barrier designed to stop airplanes from leaving the runway. There were no injuries.
(Myung J. Chun / Los Angeles Times)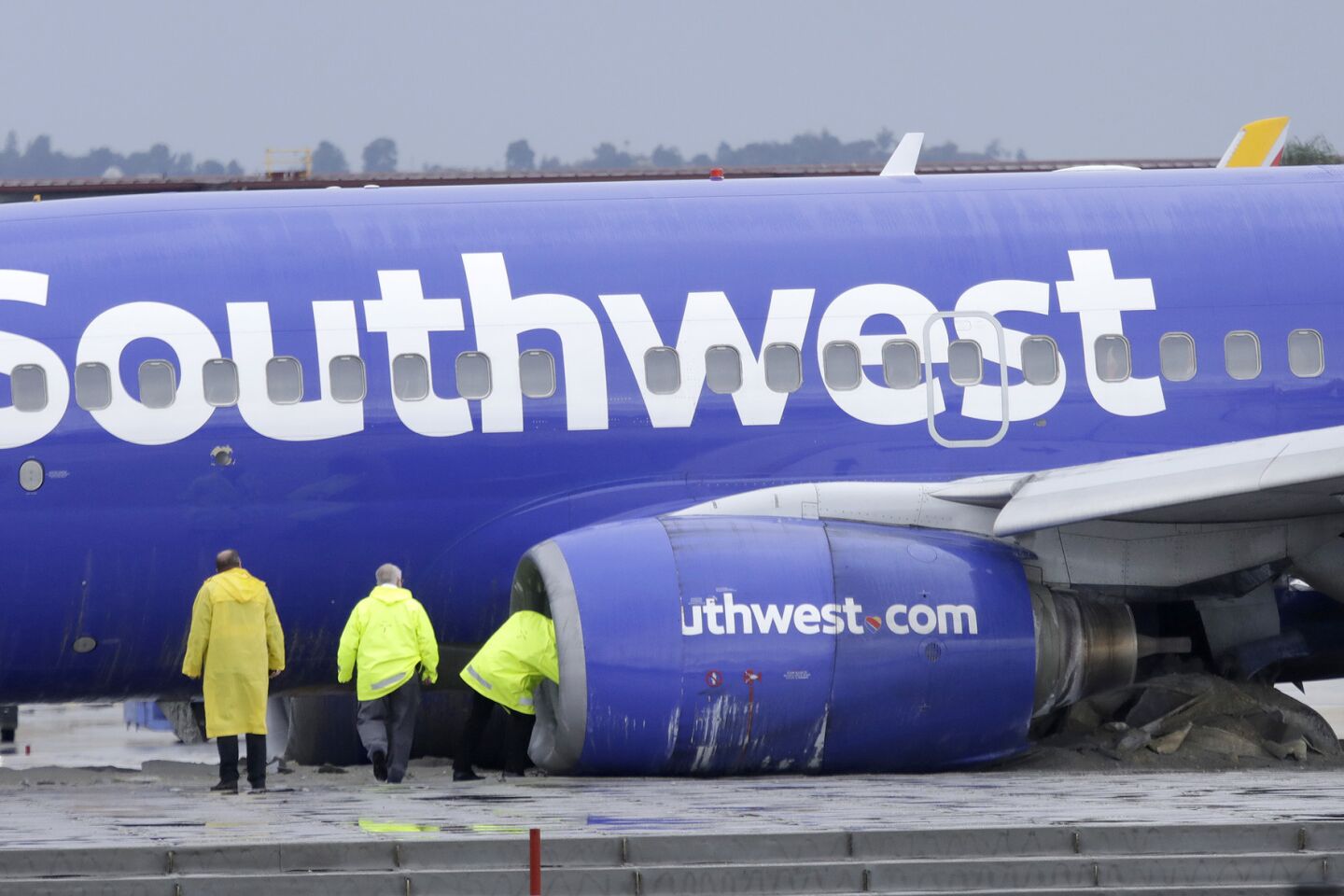 The Southwest plane skidded off the runway Thursday in Burbank amid heavy rains that brought several inches of rain in some Southland areas and spurred mud and debris flows in Malibu.
(Myung J. Chun / Los Angeles Times)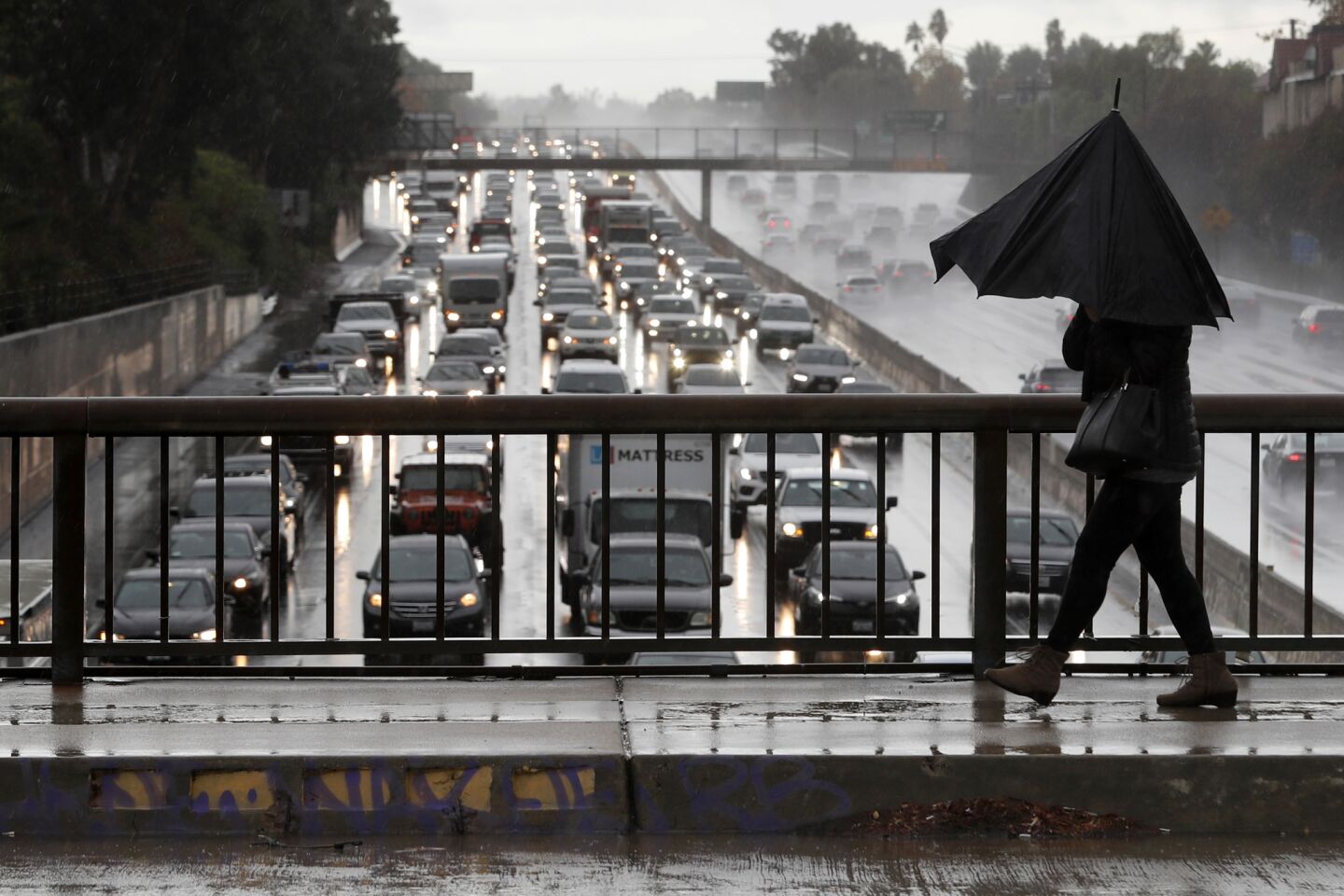 Nayer Shahram makes her way along Louise Avenue in Encino with a broken umbrella. Traffic on the 101 Freeway, below, is packed amid heavy rains Thursday.
(mel melcon / Los Angeles Times)
The yard of a home in Malibu Park, a neighborhood heavily damaged in the Woolsey fire, is flooded after heavy rainfall. The rains spurred a flash flood warning Thursday for Woolsey fire burn areas.
(Katie Falkenberg / Los Angeles Times)
Behind a loaded fruit tree in the Malibu Park neighborhood is the rubble of a home destroyed in the Woolsey fire. Rain brought new threats to the area Thursday.
(Katie Falkenberg / Los Angeles Times)
A mudslide is cleaned up on Cuthbert Road in Malibu on Thursday morning.
(Katie Falkenberg / Los Angeles Times)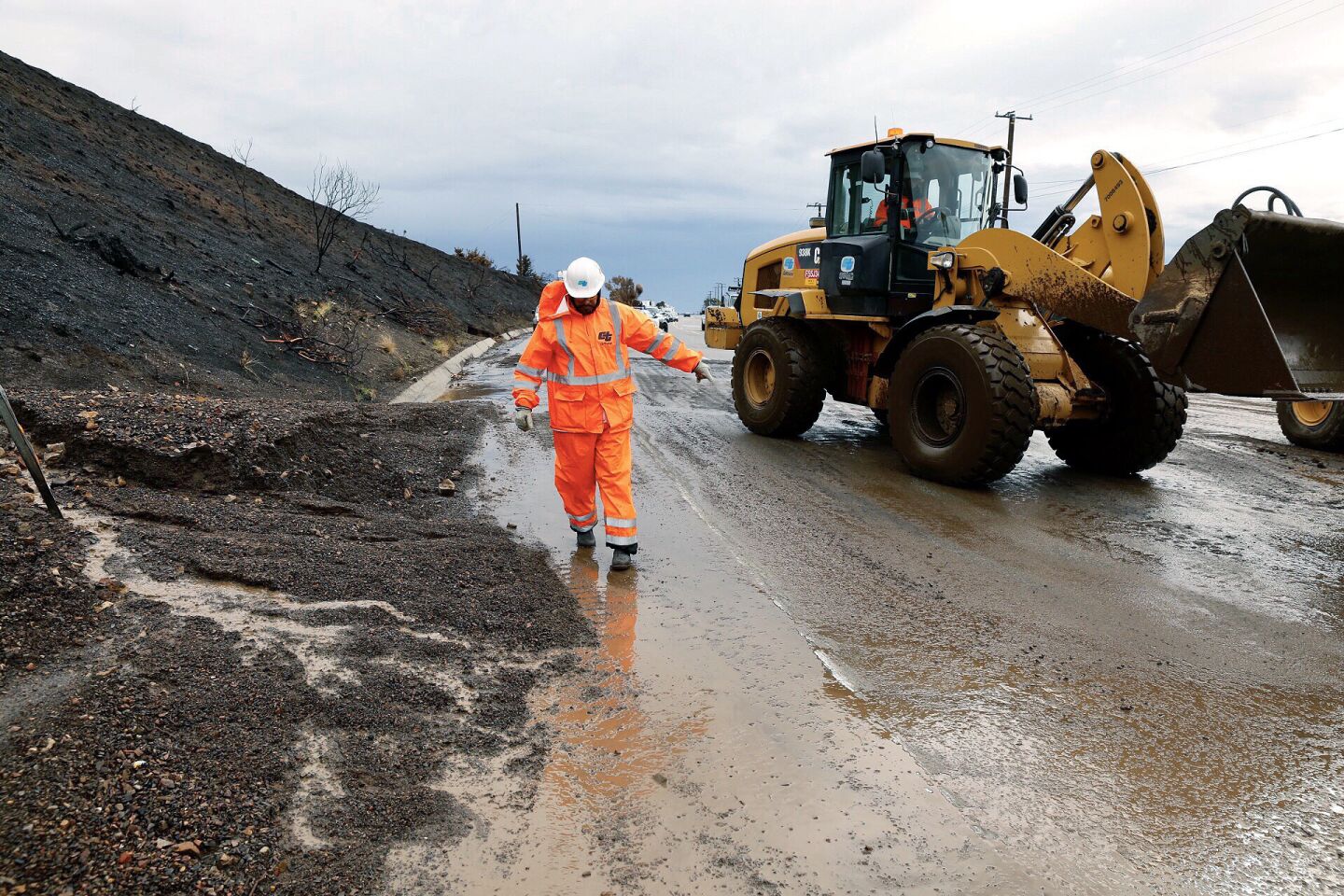 Cal Trans uses heavy equipment to clear mud and debris Thursday morning as rain loosened hillside causing mudslides and closing PCH from Las Posas to Kanan Road in Malibu.
(Al Seib / Los Angeles Times)
People look for cover at a bus stop on PCH at Point Dume in Malibu.
(Al Seib / Los Angeles Times)
The driver of a Mercedes that got stuck in a small mudslide on Pacific Coast Highway in Malibu near Mulholland Drive tries to get into his car as California Department of Transportation crews work to clear the area.
(Al Seib / Los Angeles Times)
A worker clears away mud from Pacific Coast Highway across from Zuma Beach in Malibu on Thursday morning.
(Katie Falkenberg / Los Angeles Times)
The 30400 block of Morning View Drive in Malibu experienced a mud and debris flow Thursday morning.
(Katie Falkenberg / Los Angeles Times)
Rain falls in the burn areas of Malibu, as seen from Encinal Canyon.
(Katie Falkenberg / Los Angeles Times)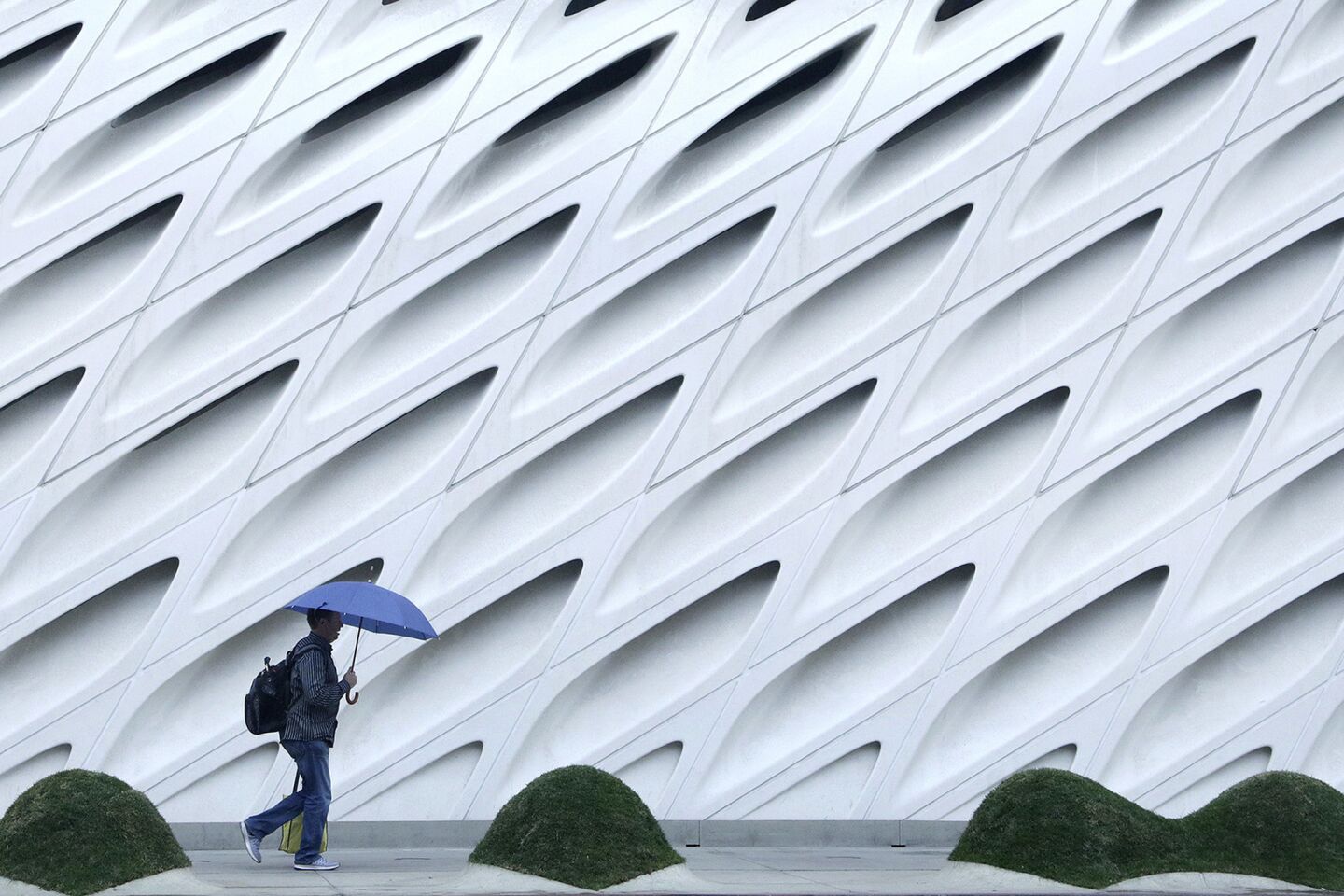 A pedestrian takes cover under an umbrella near the Broad Museum in downtown Los Angeles as a storm that started in the central Pacific brought rain to the Southland.
(Myung J. Chun / Los Angeles Times)
Pedestrians share an umbrella on Broadway in downtown Los Angeles.
(Myung J. Chun / Los Angeles Times)
Southern California was pounded by a fierce winter storm Thursday that dumped several inches of snow and rain, unleashing mud and debris flows in Malibu and forcing mandatory evacuations in recent burn zones.
While the clouds gave way to sunshine in the afternoon, officials were still dealing with damage and cleanup from the storm, whose severity took forecasters by surprise.
By 4 p.m. Thursday, downtown Los Angeles had received 2.09 inches of rain over the preceding 24 hours. Since midnight Thursday, at least 1.9 inches of rain fell on downtown, setting a new rainfall record for the day, beating the previous one of 1.01 inches set on Dec. 6, 1997.
In Riverside and Orange counties, mandatory evacuations were ordered for areas that had burned in this summer's Holy fire. Residents in the Lake Elsinore and Trabuco Creek areas were told Thursday afternoon they must leave their homes.
The Orange County Sheriff's Department had earlier issued a voluntary evacuation warning for homeowners in Rose Canyon and the Mystic Oaks and El Cariso areas after the National Weather Service warned that heavy showers likely will drop half an inch of rain per hour on the region, which could trigger debris flows.
Unprecedented fires across the Southland over the last year have left hillsides from Montecito to Lake Elsinore highly vulnerable to mudslides during heavy rains, and Thursday's storm was intense enough to send mud and debris sliding.
The unexpected deluge prompted the National Weather Service to issue a flood advisory warning of additional mudslides in the Los Angeles County area recently devastated by the Woolsey fire. The weather service also put a flash flood watch in place through Thursday evening for the Holy fire burn area.
A storm affecting Southern California last week, which prompted evacuations and dumped a significant amount of water, sent mud flowing down creeks below the Holy fire burn area, but did not cause any damage.
Earlier in the day, the storm dropped enough snow in the Grapevine to close the 5 Freeway, flooded other roads and caused a jetliner to skid off the runway at Hollywood Burbank Airport.
Travelers faced significant delays after a Southwest Airlines plane rolled off the end of the runway during the storm. No one was hurt in the mishap.
Katja Rivera, a Berkeley resident scheduled on a 12:10 p.m. Southwest flight to Oakland, said the airport was chaotic following the incident. All Southwest flights were canceled until at least 3 p.m., she said. The line to rebook flights extended to the doorway, and staff announced over the PA system that people should try to call in or make changes online instead.
Rivera said on her way to the airport she saw a Southwest airplane parked close to the street in an airport lot, surrounded by emergency vehicles.
"It just looked like it was in a weird position," she said. "Usually you don't see an airplane that close to the street."
Officials said no injuries or damage to homes in Malibu had been reported following the mudslides, but the debris flows created a mess on local roadways, including Pacific Coast Highway, which was closed for several hours from Busch Drive to the Ventura County line. At least one vehicle was stuck in a thick layer of sludge as crews removed mud and rocks from the road. The highway opened about noon to through traffic, but the right southbound lane near Leo Carrillo State Beach remained closed for cleanup, according to the California Department of Transportation.
The storm that pounded the Southland on Thursday brought snow to the Grapevine, forcing the 5 Freeway to close, caused a Southwest Airlines plane to skid off the runway at Hollywood Burbank Airport and unleashed mud and debris flows in Malibu.
Mudslides also forced officials to close Encinal Canyon Road between PCH and the 101 Freeway. Drivers wove around boulders placed like slalom markers on Kanan Road following a mudslide in the area as a torrent of water raged past nearby homes on Busch Drive. Malibu Canyon Road was closed from PCH to Piuma Road while crews dealt with large boulders they feared would tumble down.
Malibu wasn't the only area affected by debris flows. Los Angeles street services were sent out to clean up a stretch of West La Tuna Canyon Road near the 210 Freeway in Sun Valley after the storm caused about 2 inches of debris to flow onto the roadway.
Eric Menjivar, a spokesman for Caltrans, said road crews have been dealing with a slew of issues: mudflows, snow in the Grapevine, flooding and car accidents just about everywhere else.
"It's one of those days where you're like the GIF of the cat on the keyboard … that's just typing on the computer really fast," he said. "It caught a lot of people off guard. We were looking at the forecast, and it looked like we weren't going to get hit too bad. This morning, all that changed. Weather patterns are so unpredictable sometimes."
The 5 Freeway in the Grapevine was shut down after snow blanketed the mountainous area. About two dozen commercial trucks got stuck and had to be towed off the roadway. All northbound lanes of the 5 Freeway were closed at Parker Road in Castaic, while southbound lanes were shut down at the base of the Grapevine.
Caltrans crews, in the midst of what they call "Operation Snowflake," were using snowplows to try to clear the roadway. The California Highway Patrol said it should reopen at 2:30 p.m.
The ferocity of the rain that rolled into the area overnight also caught forecasters by surprise. The storm, which began with scattered showers Wednesday, was predicted to be much weaker.
"Yesterday, the difference was we had east winds that were drying things out, so not much rain was falling," said Keily Delerme, a meteorologist with the National Weather Service. "Today, those winds have weakened, and it's allowing for more rain to fall."
Shortly after 6 a.m., the Woolsey and Hill fire burn areas were seeing a quarter of an inch to just under half an inch of rain per hour. Those amounts were just under the threshold that could trigger debris flows.
However, the rain continued to drop with serious intensity. About a third of an inch fell on the Woolsey and Hill burn scar areas in about 30 minutes shortly before 8 a.m. Mud flows began shortly after. Residents were not ordered to evacuate, but city officials said people should leave if it begins to pour in their area or if they feel unsafe.
The soil in burn areas cannot absorb a lot of moisture, so heavy rainfall can lead to fast-moving flows containing mud, debris and even trees and boulders. When rain falls over time, it can be gradually absorbed or dispersed, but when areas see rapid runoff, entire hillsides can come down without warning, sometimes with deadly results.
The rain also caused spin-outs and dozens of crashes on freeways and local streets throughout Los Angeles County. A roadway in Encino that was flooded with 2 feet of water stalled cars and required Los Angeles firefighters to rescue stranded motorists. Corona del Mar High School in Newport Beach canceled classes and sent students home early after the campus flooded.
In Agoura Hills, sandbags positioned along Cornell Road kept waves of mud from sending dirt into homes and businesses. A Mitsubishi that appeared to have hydroplaned off Agoura Road into rocks and bushes was abandoned by the side of the road.
The storm, which is expected to linger through early Friday, will drop up to an inch and a half of rain on much of the region. Mountain areas probably will see a bit more precipitation. There's also the possibility the system could bring isolated thunderstorms along the coast by late Thursday, Delerme said.
On Wednesday morning, the National Weather Service office in Oxnard tweeted that the rain event was expected to produce light to moderate rains, and the threat of mudslides and debris flow was expected to be "minimal to none," with only 0.2 to 0.5 inches of rain expected in most areas and up to 1 inch of rain in the mountains and foothills.
But the storm system meteorologists were trying to forecast is a notoriously difficult one to pin down, the weather service said. It's known as a "cutoff low," in which part of the jet stream — the powerful river of air in the upper atmosphere upon which storms ride west to east — is cut off from the main flow of air, producing a counterclockwise movement of winds and low pressure that's home to the storm.
Forecasters had thought that the storm-producing area of low pressure would stay farther off the coast, producing lighter rainfall in Southern California. Instead, the storm system moved directly over the region, producing more intense rain, including lightning in Orange County, and 2 to 3 inches of snow in the Grapevine, forcing a closure of that route.
Los Angeles Times staff writer Alejandra Reyes-Velarde and Times Community News staff writer Andy Nguyen contributed to this report.
The stories shaping California
Get up to speed with our Essential California newsletter, sent six days a week.
You may occasionally receive promotional content from the Los Angeles Times.