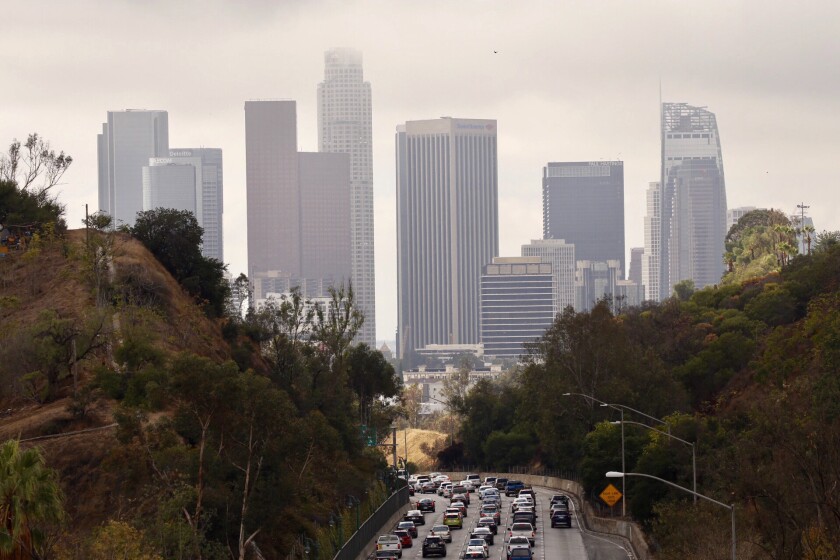 If you thought your morning commute was bad, just wait until Friday.
Storms moving into Los Angeles County should peak during the Friday morning rush hour.
Although Thursday should start off sunny, a storm front is expected to bring rain to the region starting in Ventura County between 6 p.m. and midnight and reaching Los Angeles County overnight toward daybreak Friday.
"At this point, it looks like the height of the storm for Los Angeles County would be, I would say, between 6 or 7 a.m. and noon" Friday, said Dave Bruno, a meteorologist with the National Weather Service in Oxnard. "Rush hour may be kind of tough."
From a quarter to three-quarters of an inch of rain are estimated to fall across Los Angeles and Ventura counties, Bruno said. Up to an inch is expected in the Los Angeles County mountains and possibly as much as 2 inches in Ventura County mountains.
"We are still uncertain as to how much rain is going to fall across Los Angeles County in particular," Bruno said. "We do think there's a potential for moderate to heavy rain — certainly a pretty good storm for October."
If there is heavy, intense rain there is a chance for a flash flood watch for burn areas, Bruno said.
"That's going to be the main thing we're concerned about with this system," Bruno said. "If that really heavy rain gets into L.A. County, that could be an issue. We're definitely going to watch that closely."
With the clouds and rain, Friday temperatures are expected to be cooler — in the mid-60s to lower 70s, Bruno said.
Heavy rain is expected to be over by noon Friday and there is a chance of scattered showers that afternoon into the evening. It'll be dry and a little warmer Saturday, and another weak system could bring light rain Sunday, Bruno said.
Twitter: @Brittny_Mejia
ALSO
Opponents of Beverly Hilton project allege voter fraud
Fighter pilot survives landing mishap at Marine base in Southern California desert
Lawyers allege poor conditions at Northern California jail after a spate of suicide attempts
---