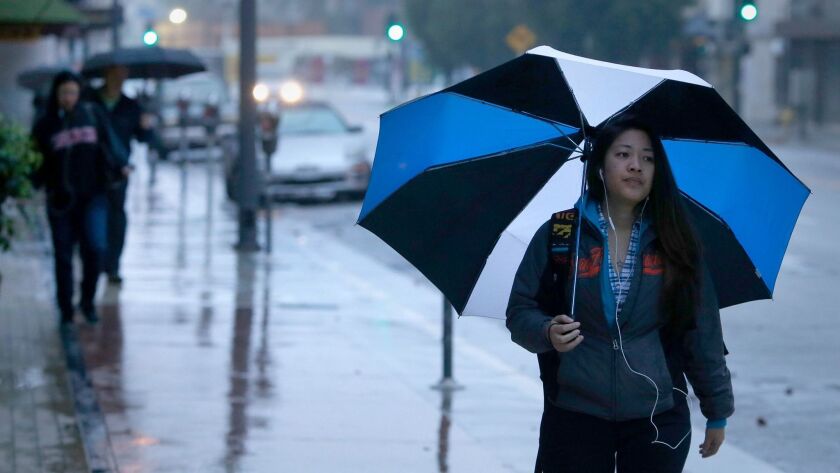 Stormy weather created havoc for drivers on Los Angeles County freeways Thursday and triggered several major road closures.
Rain-slicked roads were clogged with commuters after a big rig jackknifed on the eastbound 60 Freeway in East Los Angeles, forcing authorities to shut down five lanes. In Burbank, several lanes were blocked after a semi-truck jackknifed across north and southbound lanes of the 5 Freeway.
By midmorning, firefighters rescued a man who was stranded on an island of branches and brush in the rain-swollen Los Angeles River near Fletcher Drive in Silver Lake, according to Brian Humphrey, a spokesman for the Los Angeles Fire Department.
The steady rain is one of two storms expected to affect Southern California through the weekend and early next week, according to the National Weather Service.
From Wednesday to 4 a.m. Thursday, the storm dumped 3 to 5 inches of rain in San Luis Obispo County and more than 8 inches at Rocky Butte Lookout.
In Malibu, Circle X Ranch campgrounds got more than an inch of rain. Alhambra, Woodland Hills and Van Nuys received more than a half-inch.
Fed by a westerly flow, the rain was forecast to continue in four counties through midmorning Thursday. Showers should diminish by Thursday afternoon, the weather service said.
Rain was hampering Department of Public Works crews dealing with a sinkhole discovered in a residential neighborhood in Redondo Beach.
The sinkhole was reported about 1 p.m. Wednesday in the 1600 block of Ford Avenue, police Sgt. Alan Beck said. It was unclear what caused the cavern to form.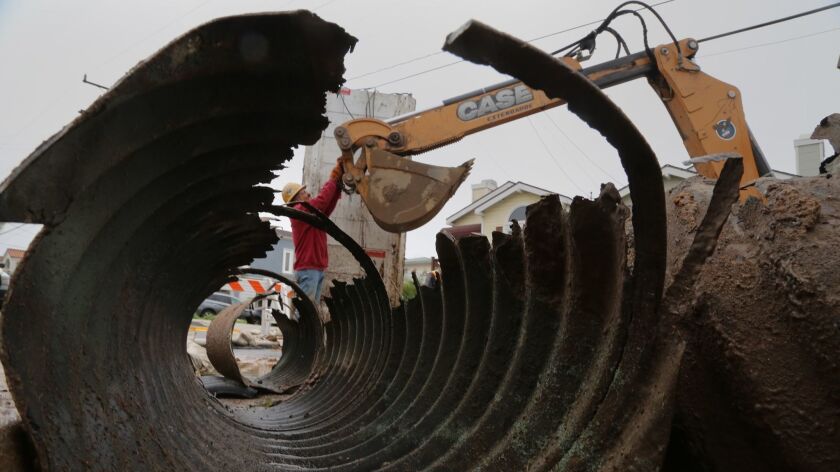 Beck said steady showers were quickly filling the sinkhole.
A second powerful storm from the Pacific Ocean, spawned by an atmospheric river bringing moisture from the subtropics, is expected to move through Central and Southern California between late Saturday and Monday, according to the weather service.
The Central Coast "will receive the lion's share of the rain," NWS meteorologist Andrew Rorke said in a statement. Los Angeles, Santa Barbara and Ventura counties are expected to receive light to moderate rainfall.
Still, the weather service warned, flash flooding with mudflows could affect areas recently scarred by wildfires.
Rain could soak parts of the Central Coast on Sunday night.
By late Sunday night and Monday, however, heavier rain will roll through Los Angeles and Ventura counties. Powerful winds could also damage trees.
"Rainfall for this event will likely be in the half-inch to 1-inch range," Rorke said. "The rainfall rates will be the bigger deal with this system."
For breaking news in California, follow @VeronicaRochaLA on Twitter.
ALSO
Pomona police fatally shoot man who was suspected of wounding 2 people in eviction dispute
Crews search Port of Los Angeles for downed helicopter; cruise ship passenger reported crash
Killer Charles Manson's failing health renews focus on cult murder saga
---
UPDATES:
11:50 a.m.: This article was updated with firefighters rescuing the man from the L.A. River.
11:25 a.m.: This article was updated with additional details about the storm, rainfall totals, a sinkhole in Redondo Beach and an L.A. River rescue.
This article was originally published at 6:45 a.m.
---