L.A. City Hall, overrun with rats, might remove all carpets amid typhus fears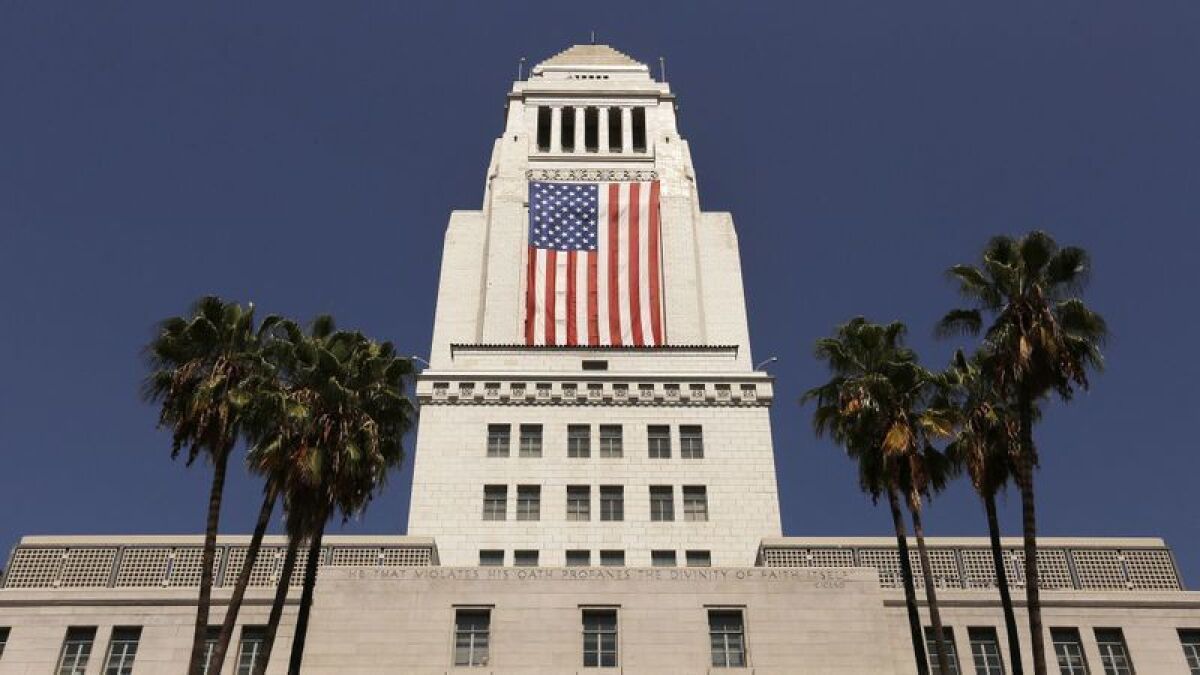 At a Halloween celebration at City Hall last year, a rat gnawed through a pumpkin put out for decoration. In another incident, city workers found a dead rodent decomposing in an office ceiling. And then there were the rat droppings spotted on at least two different floors of the downtown building.
L.A. City Hall has a problem with rats — and leaders, fed up with the problem, are calling for an investigation.
City Council President Herb Wesson on Wednesday submitted a motion asking the city to report back on the "scope of vermin and pest control issues" at City Hall and adjoining city buildings.
"Employees shouldn't have to come to work worried about rodents," Wesson said in interview. "I intend to do whatever it is we need" to solve the problem.
City workers at several offices say they've seen evidence of rats. At least two city workers say they were bitten by fleas.
The council president said he's had a series of problems with vermin in his fourth-floor office, as well as fleas in the carpet. Things got so bad that he moved his entire staff out of City Hall to a district office for a few days over the holidays, he said.
Vanessa Rodriguez, a onetime Wesson spokeswoman, said late last year that she discovered tiny paw prints on papers on her desk.
"It looked like the artwork of a small child with a rubber stamp," said Rodriguez, who no longer works for the city.
Staffers also saw signs that rats were nesting in potted plants in Wesson's office, she said. The plants were mashed down in a way that looked like heavy objects had been placed on them and bite marks were visible on the leaves.
In his motion, Wesson is seeking a cost estimate to remove all of the carpet from City Hall and the adjoining buildings, and replace it with alternative flooring. The motion also calls for a tally of live plants — including varieties that "are most attractive to vermin" — in every city-owned or city-operated building downtown.
Wesson also wants the city to come up with a policy to require employees to secure their food after hours and for custodial services to throw out food that's left out.
His motion doesn't pinpoint an exact reason for the rats, which tend to seek shelter when it's rainy and cold, but does note the demolition of the nearby Parker Center and "ongoing cleanup issues near the Civic Center complex."
Last year, county officials declared a typhus outbreak in downtown Los Angeles. At the time, health officials said people should avoid wild or stray animals, including rats.
Typhus is a flea-borne illness that occurs when fleas bite rats and become infected with bacteria known as Rickettsia typhi or Rickettsia felis. The illness can spread to humans through flea bites or through the feces of infected fleas, when rubbed into cuts or scrapes in the skin, according to the U.S. Centers for Disease Control and Prevention.
City Clerk Holly Wolcott, who works on City Hall's third floor, said a flea bit her ankle last fall. She's concerned the flea may have come from a rat.
During a Halloween event in her office, staffers discovered that a pumpkin had been "gnawed out" by an animal, she said. And a few weeks ago, she saw the tail of a rat as it scurried behind her couch in her office.
"It was pretty big. I thought it was a possum," she said, adding that the Department of General Services set out traps and fumigated her department, but the problem persists.
When Elizabeth Greenwood, a deputy city attorney, came down with typhus, she said she suffered a 102-degree fever, spells of vertigo and "the worst headache I have ever had in my life." She works in City Hall East, a building connected to City Hall.
Greenwood, whose illness was first reported by KNBC-TV, believes she contracted the disease while working in the downtown office. She has not returned to work since November, she said.
"I am actually terrified of entering the building again until they do something."
She applauded the move by Wesson as a "great" step.
"That carpet is years old — and, more than likely, it has fleas and flea eggs in it," she said. "I would really like to see the building fumigated for both rats and fleas. ... I hope they don't wait."
Mayor Eric Garcetti's spokesman, Alex Comisar, said the mayor "is concerned about recent reports on this issue, and supports the council president's effort to get to the bottom of it."
Times staff writer Emily Alpert Reyes contributed to this report.
Twitter: @dakotacdsmith
The stories shaping California
Get up to speed with our Essential California newsletter, sent six days a week.
You may occasionally receive promotional content from the Los Angeles Times.