Rave operator 'irresponsible,' L.A. County supervisor says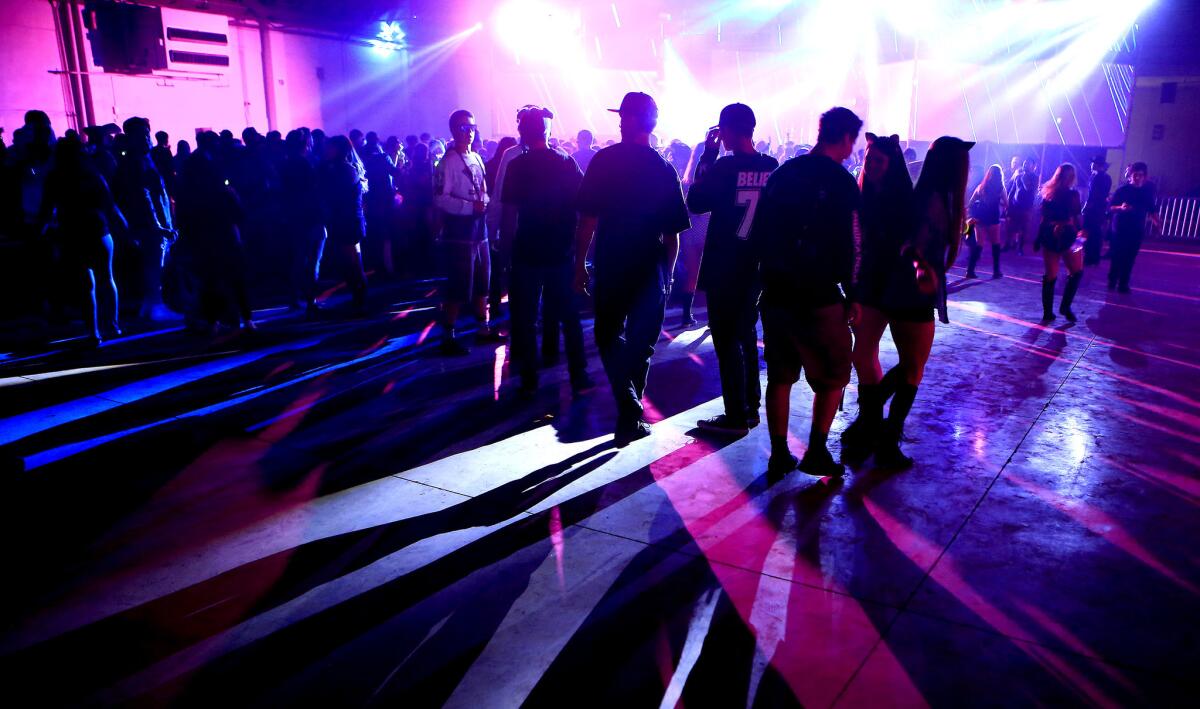 Los Angeles County supervisors had harsh words for the operator of a rave at the county fairgrounds as they weighed a ban on future electronic dance music events or new restrictions on how they are run on county land.
Supervisor Michael D. Antonovich said Tuesday that the organizers of an August rave at the Fairplex were irresponsible for failing to keep ravegoers safe. If the events can't be held without drugs on the site, Antonovich said, they should be banned from county-owned land.
"If raves are only going to exist when drugs and alcohol are available, then they are no longer welcome in Los Angeles County's facilities," Antonovich said in an interview.
"People who are involved in promoting this are irresponsible for not having these safeguards in place," he said. "So they forfeited their right to continue operating if they're going to continue to ignore these types of controls that would prevent death and injury of those who attend."
Supervisor Hilda Solis said the health and safety of people attending events on county property is paramount.
"No one should have to lose their life by attending a music event at one of our facilities," Solis said.
Supervisor Mark Ridley-Thomas said he understands that the nonprofit Los Angeles County Fair Assn., which manages the fairgrounds on county-owned land, has a contract with Beverly Hills-based Live Nation Entertainment, one of the world's largest concert and ticketing conglomerates, to host a rave on Halloween weekend.
"But frankly, I've seen enough. I think we all have," he said. "And we simply need to make ourselves abundantly clear with respect to that which is unacceptable. It's a violation of public safety and public health."
"I believe we are at risk with respect to allowing these sorts of activities to take place," Ridley-Thomas said.
The supervisors voted unanimously to convene a task force of county, fire and public health officials to make recommendations on how to improve safety at raves if they are allowed to continue on county land.
Supervisors are also weighing a possible ban on raves on county-owned land, and asked for a report back within four months.
Raves ended at the Los Angeles Memorial Coliseum, a taxpayer-owned venue near downtown L.A., in 2011 following the overdose death of a 15-year-old girl who attended Insomniac Inc.'s Electric Daisy Carnival the previous summer.
"County taxpayers are liable for any injuries or deaths that occur, just as the Coliseum was sued. It's a serious problem," Antonovich said.
Drug overdoses have been a major problem at electronic dance music festivals, where use of the illegal drug Ecstasy and similar substances are closely tied to the rave experience.
A Los Angeles Times tally of drug-related fatalities of people who went to raves run by L.A.-area companies found at least 19 confirmed deaths nationwide and three suspected drug-related deaths since 2006.
Six of the deaths confirmed to be drug-related were in Los Angeles County, and all involved raves on publicly owned land. Three more were in San Bernardino County.
Two young women died of apparent drug overdoses after attending the Hard Summer rave held by Live Nation at the Los Angeles County fairgrounds on Aug. 1.
UCLA student Tracy Nguyen, 18, and Cal State Channel Islands student Katie Dix, 19, died after being rushed to hospitals. They were among 49 people taken to emergency rooms by ambulance from the rave, according to the county. Autopsy reports for the two women are pending.
On March 20, UC Irvine student John Hoang Dinh Vo went into cardiac arrest after possibly suffering a seizure at Insomniac's Beyond Wonderland rave held at the San Manuel Amphitheater, a venue owned by San Bernardino County. An autopsy report for Vo is pending; toxicology tests show amphetamine and Ecstasy were in his system. Insomniac is a subsidiary of Live Nation.
Renee Hernandez, a spokeswoman for the L.A. County Fair Assn., has said the Fairplex fairgrounds in Pomona "will continue to work with Live Nation, the Board of Supervisors and all public agencies to ensure the continued safety of all guests. We will work together to do everything we can."
A Live Nation representative did not respond to a request for comment.
Live Nation has agreed to cancel a Sept. 10 electronic dance music event, Hard Presents a Night at the Fairplex. The concert promoter will go forward with a two-day Halloween rave, Hard Day of the Dead on Oct. 31 and Nov. 1, and has agreed to limit attendance to 40,000 a day instead of 65,000 a day; limit the duration of the events; and enact a new minimum age of 21.
In the San Francisco area, the state-run Cow Palace in Daly City decided to ban raves on its property in 2010 after two people died and a number of ravegoers were rushed to hospitals with suspected overdoses.
Joe Barkett, then the CEO of the Cow Palace, said in an interview in 2013 that even a high amount of security wasn't able to prevent rave attendees from overdosing on drugs and dying.
"We just couldn't implement enough procedures to give enough assurance that there wouldn't be a repeat," he said. "And so we made the very difficult decision to not permit those events until we could feel confident that this kind of thing wouldn't happen."
Last week, three emergency room doctors in Los Angeles criticized the decision to allow raves to continue at the county fairgrounds over Halloween.
Emergency room doctors say raves result in emergency rooms being overwhelmed with critically ill ravegoers, including overdosing victims with body temperatures as high as 109 degrees, which can cause organ failure and death.
Others can suffer coma and permanent brain damage when oxygen to the brain is lost during a seizure. There is no other type of public event that poses such a heavy burden on hospitals, they say.
"There is a culture here that is inherently dangerous in the drugs used," said Dr. Brian Johnston, chair of the emergency medicine department at White Memorial Medical Center in Boyle Heights.
"The idea of our local government working with the promoters and generating revenue from these events is grotesque."
Follow me on Twitter: @ronlin
ALSO:
3 San Bernardino County deputies charged in televised beating
Battle to marry in Kentucky: 6 couples, gay and straight, one purpose
Donald Trump is summer's biggest TV hit, and ratings gold for cable news
Sign up for Essential California for news, features and recommendations from the L.A. Times and beyond in your inbox six days a week.
You may occasionally receive promotional content from the Los Angeles Times.