Refugio State Beach to reopen two months after oil spill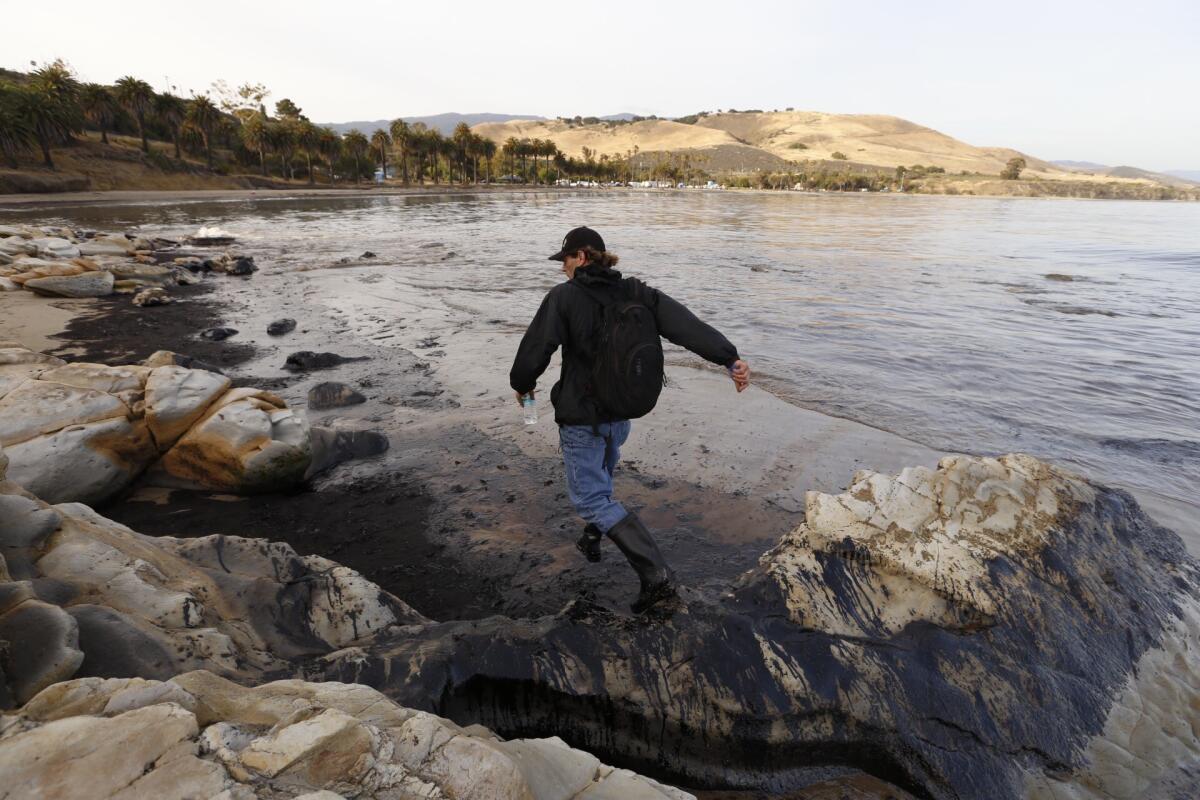 Refugio State Beach in Santa Barbara County will reopen to the public next week, two months after a pipeline ruptured and fouled the coast with thousands of gallons of thick black crude.
Response officials toured the beach Thursday and cleared it to reopen July 17 at noon.
"We have made great progress and we are stoked," said Eric Hjelstrom, state parks superintendent for the Santa Barbara area. "It is really neat to see light at the end of the tunnel."
The 10.6-mile-long pipeline runs parallel to U.S. 101 and spilled about 101,000 gallons of crude when it broke on May 19. About 21,000 gallons flowed into a storm culvert and into the Pacific Ocean, about a quarter mile from the state beach.
Oil heavily coated a stretch of the Gaviota coast and forced the closure of Refugio and El Capitan state beaches. El Capitan reopened last month.
Small tarballs from the spill made their way as far south as Manhattan Beach and Redondo Beach in Los Angeles.
The cleanup effort at the beach is mostly complete, said Alexia Retallack, a spokeswoman for the Department of Fish and Wildlife.
Workers still need to scrape and scrub oil off individual cobble rocks and remove heavy cleanup equipment before the park reopens, she said.
Other difficult-to-access pocket beaches near the spill site are still being cleaned and will remain off limits. Workers are spraying stained rocks with super cooled carbon dioxide and chipping off the frozen oil, Hjelstrom said.
Contaminated dirt where oil flowed out of the culvert and down a cliff into the ocean is still being dug out by a "spider" excavator, which has articulating legs that can climb up the cliff, he said.
Since May, 195 dead birds and 106 marine mammals have been collected in the spill area.
The 10.6-mile pipeline owned by Texas company Plains All American Pipeline had "extensive" external corrosion, and the thickness of the pipe's wall where it broke had degraded to an estimated one-sixteenth of an inch, according to federal regulators.
Investigators found a 6-inch opening along the bottom of the pipe where it broke.
The company has been criticized by lawmakers for a slow response to the spill.
Mark S. Ghilarducci, director of the Governor's Office of Emergency Services, said at a state hearing that the company failed to meet the state deadline to report such a spill within 30 minutes.
State Atty. Gen. Kamala Harris' office is still conducting criminal and civil investigations into the spill.
Follow @jpanzar
Sign up for Essential California for news, features and recommendations from the L.A. Times and beyond in your inbox six days a week.
You may occasionally receive promotional content from the Los Angeles Times.