L.A. lawmakers reject warehouse agreement over worker concerns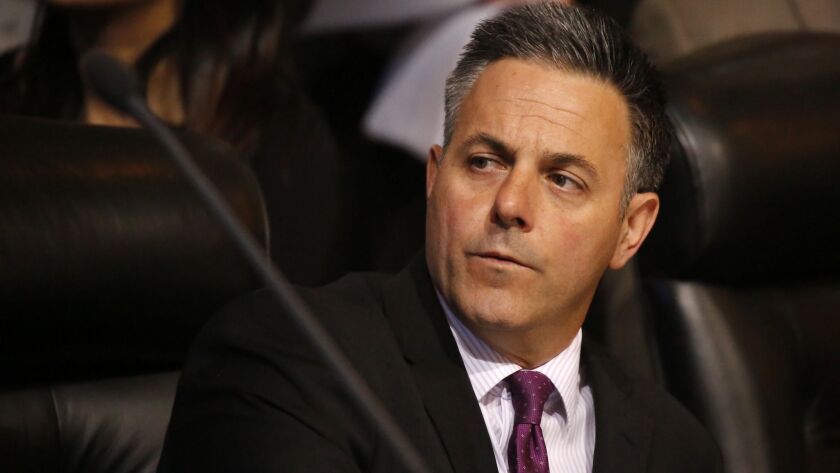 The Los Angeles City Council rejected a proposed agreement Tuesday for a logistics company to continue using a warehouse near the Port of Los Angeles under a federal program, saying that privilege should not be provided to a firm accused of flouting labor laws.
The unanimous vote sends the decision back to the Board of Harbor Commissioners, which had backed the one-year agreement with California Cartage Co. LLC to continue operating the space in Wilmington under the Foreign-Trade Zone program, which allows for companies to delay paying fees.
For the record:
1:40 p.m. May 10, 2018This article was updated to include comment from California Cartage clarifying that the Tuesday decision does not halt all operations at the Wilmington facility.
Councilman Joe Buscaino argued that the city should not extend the agreement while the company faced accusations of exploiting workers.
Last year, City Atty. Mike Feuer sued trucking companies linked to California Cartage, alleging they had misclassified drivers as independent contractors, depriving them of employee benefits and improperly forcing them to bear company costs. Workplace safety regulators have been investigating complaints against the firm and have fined it in the past, federal records show.
"They've been forced into debt. They've worked past exhaustion. And they have been left with nothing. And that's completely, outright wrong," Buscaino said Tuesday.
"How can we incentivize a company that is treating its employees like crap? It's not going to fly with me, and it shouldn't fly with you," Buscaino told fellow lawmakers.
A California Cartage representative declined to comment after the vote Tuesday. The Long Beach company and its affiliates were acquired last year by a Delaware corporation, NFI, which did not respond to requests for comment.
Later in the week, California Cartage issued a statement calling the decision "very disappointing" and "based on misinformation and unsubstantiated claims."
"Cal Cartage has been a contributing member of the Los Angeles community for more than 75 years," the company said in a written statement Thursday. "Being a good corporate citizen is, and will always be, an important Cal Cartage priority and guiding principle."
The company added that the decision would not halt all operations at the Wilmington facility.
The warehouse is part of the federal Foreign-Trade Zone program that allows importers to hold goods until they are needed and put off paying fees until products are brought into the country. The zones are restricted-access sites on U.S. Customs and Border Protection territory.
California Cartage, which has been storing roughly $1.8 million in cargo annually at the Wilmington site, has been operating there since 1995, according to port officials. If the proposed agreement were approved, the harbor department would have received $7,750 from the company in a year.
California Cartage said Thursday that the decision would not stop it from performing "non-FTZ operations" at the Wilmington site.
"Those other operations will continue," the company wrote.
Port spokesman Phillip Sanfield said that while "the company can't receive the benefits the federal program allows them," California Cartage "can still operate at the site and do all their other operations, which includes trucking and warehousing."
Earlier this month, port officials cautioned Buscaino that rejecting the warehouse agreement could have "significant legal implications."
Michael DiBernardo, deputy executive director at the port, said that the port had a "very limited" and "administrative" role in approving such agreements. If a company meets the requirements of the federal program, DiBernardo said, the port will approve it.
In a written report prepared for harbor commissioners, port staffers said that "the existence of pending litigation and claims against Cal Cartage" did not affect their decision to press forward with the proposed agreement.
DiBernardo told lawmakers earlier this month that it was unclear how the company and the U.S. Department of Commerce might react if the agreement were rejected, but that a dispute could potentially lead to a lawsuit, federal fines or losing privileges to Foreign-Trade Zone sites.
The company could also go to another zone inside or outside the state and shift its operations elsewhere, officials said in their report.
In reaction, Buscaino pointed to a section of the proposed agreement requiring the company to operate in line with federal, state and local laws. The councilman said he was concerned about the outpouring of complaints that lawmakers had heard from truck drivers, as well as claims of management retaliation and threats being heard before the National Labor Relations Board.
In February, an NLRB administrative law judge concluded that California Cartage and a partner company had violated federal law by interrogating and "impliedly threatening" workers about legally protected activities and ordered the firm to stop. California Cartage has since contested many of those findings, and the case remains open.
Buscaino also cited a series of stories on the issue by USA Today, which reported last year that more than 40 drivers who worked for California Cartage affiliates had filed wage complaints and lawsuits in civil court since 2012.
Labor groups and their allies applauded the Tuesday decision.
"This shows we're not going to keep allowing lawbreakers to get special treatment," said Celene Perez, co-executive director of the Warehouse Worker Resource Center, following the vote at City Hall. "We would like this warehouse operator to follow the law — and if not, to have a warehouse operator that will."
Sanfield said Tuesday that officials were unsure Tuesday about what might happen after the warehouse agreement was rejected. The previous agreement for California Cartage to use the Wilmington site under the federal program expired in late April, port officials said.
Dennis Gleason, policy director for Buscaino, said the councilman would be open to approving a shorter-term agreement that would give the company enough time to shut down operations under the program.
"It's kind of uncharted territory here," Gleason said. "We don't know exactly what the applicant is going to do."
Twitter: @AlpertReyes
---
UPDATES:
5:20 p.m.: This article was updated with minor edits.
This article was originally published at 12:20 p.m.
---
For reporting and exclusive analysis from bureau chief John Myers, get our California Politics newsletter.
You may occasionally receive promotional content from the Los Angeles Times.