Anaheim considers declaring local emergency as homeless population continues to grow along Santa Ana River trail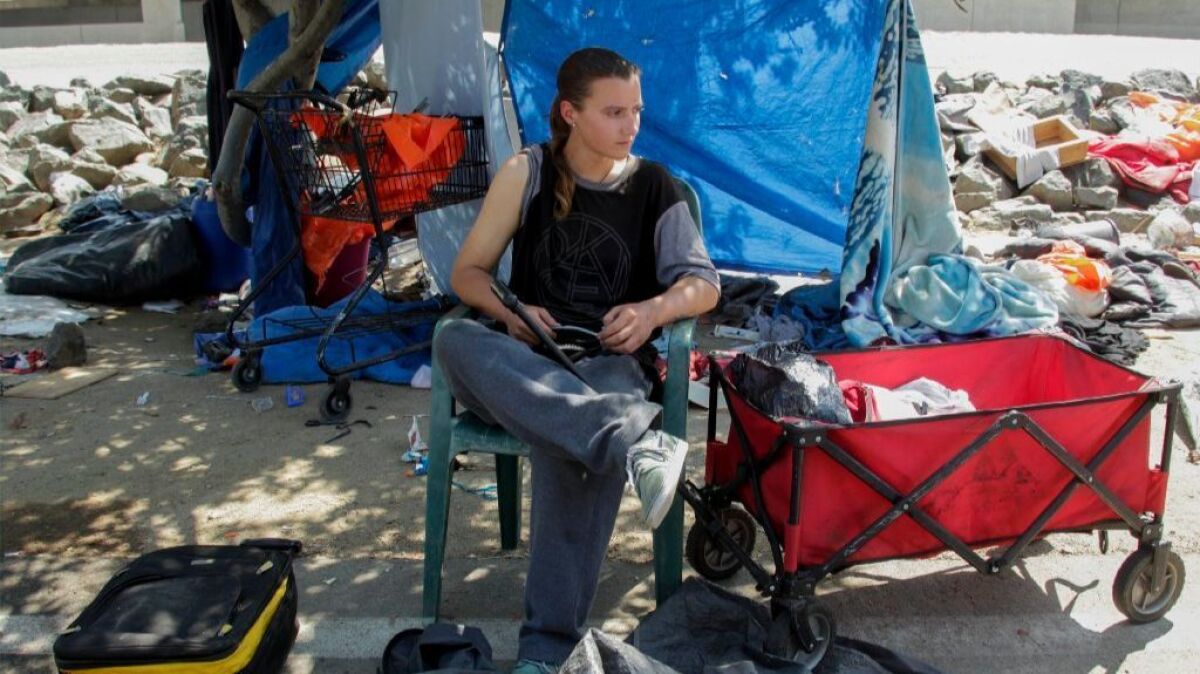 She is only 23, but Breana Rynn's teary eyes speak of defeat.
Recently, someone stole nearly all of Rynn's belongings, crammed into a makeshift space along the dusty, needle-littered Santa Ana River trail where she lives along with hundreds of others of Orange County's homeless.

For the record:
12:29 p.m. March 25, 2023A previous version of this article misspelled police spokeswoman Kristina Hamm's last name as Ham.
Rynn's bedding, her dishes, her cold-weather gear, a few items of personal hygiene — are all gone.
The Connecticut high school graduate who once dreamed of joining the Marines — but now lives outdoors in the shadows of Angel Stadium in Anaheim — couldn't stop crying.
"What little we have, what are we to do?" she asked a visitor. Then, in a whisper, she inquired, "Do you have a blanket?"
There are dozens of youths, middle-aged and elderly people living in the stench along the encampment, and every day brings more hunger, more pain. Some say city officials and residents do not understand their plight and instead are focused on finding ways to get rid of them since they took over a designated National Recreation Trail.
Hikers and enthusiasts who use the trail for biking, jogging and horseback riding say it is full of drug users and violent transients.
Tensions have boiled over as more than 11,000 people have signed a petition aimed at reclaiming the trail. They are urging officials to enforce anti-camping ordinances in the area and to crack down on crime.
The City Council plans to meet Tuesday to consider declaring a local emergency at the trail site. Officials said they want to link forces with county, state and federal agencies, as well as with faith groups and nonprofits to help relocate the homeless and to discourage others from settling in the riverbed area.
"We can no longer tolerate the way things are," said Anaheim resident George Gonzales, 45, who lives near the Honda Center and whose family uses the recreational path on weekends to stay fit.
"We don't want to join a gym because we prefer the outdoors," he said. "But if the outdoors means running into addicts and thieves, how can we enjoy it?"
Anaheim police said officers have been vigilant in monitoring the site.
"We have had very few crimes that have occurred in our city limits at the riverbed encampment," said Kristina Hamm, a Police Department spokeswoman. "We will respond to any crime in progress or threat to public safety within our city limits and determine the jurisdiction later."
Tammy Schuler, 41, who shares her cluttered tarp-covered plot on the trail with her boyfriend and younger brother, said she and her homeless neighbors make do "with this way of life. We trade and try to help each other. We have no choice. If we did, we would be safer."
The former eyeglass technician, who grew up in California, staked a spot next to her mother and her dog, named after the character Smeagol in "Lord of the Rings," one of five chihuahuas that the family owns.
"I'm grateful to see folks coming to visit this site to figure out what to do," said Schuler, who has lost a tent and more valuables to strangers. "Many times, things appear hopeless because we have nothing — not even restrooms."
Last May, members of the Orange County Poverty Alleviation Coalition placed three portable toilets on the trail for the homeless. But within days, Anaheim officials removed the outhouses, citing potential health hazards, leaving Schuler and others continuing to use buckets and bushes. Some of the homeless walk to the fast-food restaurants on Chapman Avenue to use their facilities, she said.
Homeless advocates have pushed city and county officials for a year to bring portable toilets to the riverbed or open up park bathrooms at night. They say it's inhumane to leave the population stranded without options.
Since Aug. 7, Orange County officials have extended the hours of operation at a recreational area along the flood control channel near Katella Avenue, providing security guards and around-the-clock bathrooms for the homeless, said county spokeswoman Carrie Braun.
A recent survey conducted by City Net, a nonprofit organization that works with the homeless, found 422 adults living along the trail from Chapman Avenue to Ball Road, Braun said.
In July, county supervisors approved a $720,000 contract with City Net to work to significantly reduce the population along the trail, guiding the homeless to temporary housing.
"This area is not intended for human habitation. We are trying to assess what needs are out there," Braun said, adding that county staff is in regularly in touch with officials from Anaheim, Fountain Valley, Orange and Santa Ana — the cities most affected by the trail — "because it's imperative that we work together to solve the problem."
Rynn, who camps out with a girlfriend along the trail, said the pair must try to relocate to a different spot along the riverbed where it might be "a tiny bit more stable."
Jodi Samhat, 34, has lived along the trail for the last 10 months.
There's usually a "code of behavior for people to respect each other's stuff," Samhat said. Born in Orange, Samhat said she took classes to become a medical assistant and worked in a doctor's office before becoming homeless.
"We're trying to live a quiet life, keep to ourselves," she said. "We appreciate any help, such as having a place to wash or shower."
Brenda Jean, a grandmother who patched together a tent to shelter herself under a bridge, said she was among the first people who chose the riverbed as a home seven years ago. She estimates that nearly 80% of the current population showed up in the last two years.
"I've learned to leave the area as I find it, keep my things tidy as best as I can," said Jean, 61, sitting next to a can of Spaghetti-Os. "There are troubles, but I'm not taking part in it."
Twitter: @newsterrier
The stories shaping California
Get up to speed with our Essential California newsletter, sent six days a week.
You may occasionally receive promotional content from the Los Angeles Times.