Conditions were too dangerous to save mountain biker, officials say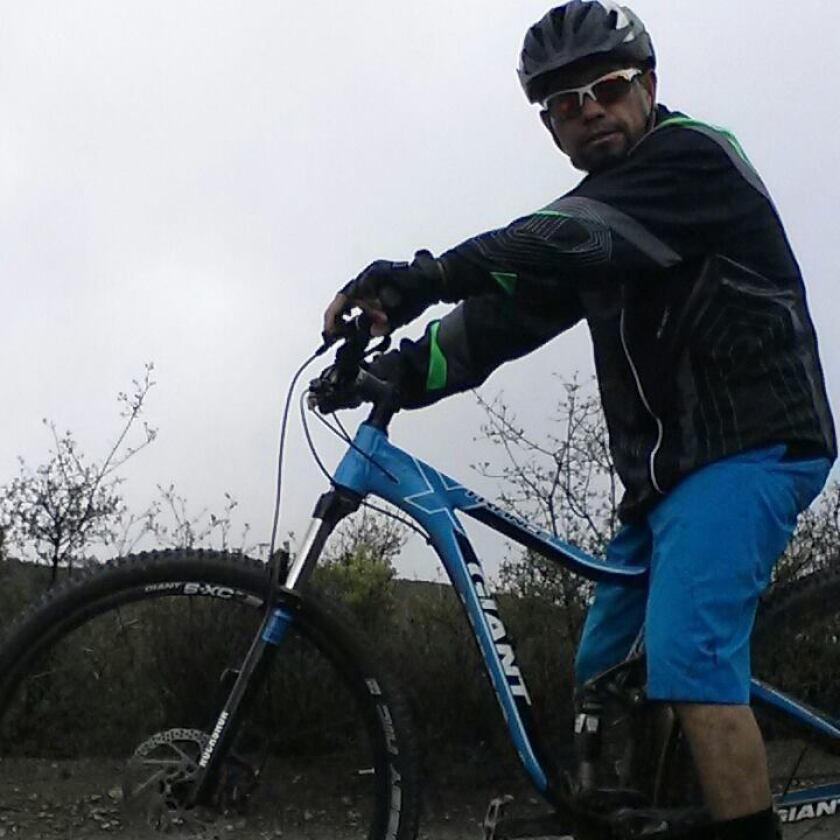 When his body was discovered, 34-year-old Andres Marin was still sitting on his light blue mountain bike, leaning against the side of a hill in the Cleveland National Forest.
He had his helmet on and his binoculars were around his neck; his hands were on the handlebars and his feet on the pedals.
"He was still trying, he was still fighting," his wife, Christyna Arista, said. "He froze to death up there."
On Tuesday, Arista, 33, said she's not sure what happened to her husband during his birthday bike ride, but she was angry that the Riverside County Sheriff's Department had suspended its rescue efforts.
"They devalued the life of my husband," she said. "They just assumed he's a young, experienced biker and he could make it."
Arista reported her husband missing to the Sheriff's Department about 5:30 p.m. Saturday after she failed to reach park rangers in the mountains.
She shared a map that outlined his route. She said for weeks they studied the maps, including landpoints such as cellphone towers and park ranger stations. Marin was familiar with some of the trails and had four years of mountain biking experience.
"If he thought the conditions were dangerous, he wouldn't have gone out there," she said. "He didn't go out there in foolishness."
She said something happened to her husband during the ride. During their last cellphone conversation, he told her he had fallen and he couldn't remember much.
"His speech was low and slow, and his response was delayed," she said. "I had to ask him things twice. He seem disoriented."
She told investigators that her husband was injured and was not prepared for the cold conditions, but she felt that they showed no compassion.
Sheriff Lt. Zachary Hall said rescue efforts were suspended because of poor weather conditions, a decision mountain experts backed.
Noel Isla, a meteorologist with the National Weather Service, said fog, thunderstorms and heavy showers were forecast that Saturday and weren't expected to taper off until late at night.
Authorities said that rain prevented the use of a helicopter and motorized vehicles.
Hall said the rain's toll was visible at the trail heads. The clay soil and rocks were slippery. They feared the possibility of mudslides and rock slides deeper along the trails.
"We were setting ourselves up for a self-rescue," he said. "Had we known his exact location it would have been easier to find him, but we didn't have that, we had a possible area."
Even with a location, conditions were still too dangerous to send in rescue teams, Hall said.
"I'm upset we didn't find him in time," he said. "At the end of the day, it was too dangerous to send crews in."
But Arista doesn't believe conditions were as bad as authorities claimed.
She and six other family members went searching for Marin early Sunday, several hours before search crews started. A friend with a motorized vehicle also assisted in the search.
She said they hiked up to her husband's last known location at Santiago Peak with food and flashlights. They took Indian Truck Trail, the same road he was supposed to use to head down the mountain.
"I took an inexperienced hiker up there and he made it," she said, adding that rescue workers "had more resources and more experience."
"They should have done more," she said.
"I think on some level they're lucky," Hall said. "Just because you can do something it doesn't mean it's safe."
Marin's body was discovered on North Main Divide Road in an Orange County portion of Cleveland National Park. Coroner officials have not determined his cause of death.
Arista believes her husband probably turned around, but was overcome by the cold weather.
She said she hopes that the department will be more compassionate in future incidents and that officials will do more to rescue those who are stranded in the mountains.
Hall said the incident is being reviewed for areas of improvement.
In the meantime, Arista has placed her husband's light blue 29-inch Giant Trance trail bike by a makeshift memorial in their Corona home. She said she is trying to raise money for funeral services.
Marin, a forklift operator at Acker-Stone in Corona, also leaves behind four children: Andres Jr., 14; Jazmyn, 10; Christal, 7; and Julyan, 4.
Twitter: @latvives
---
The stories shaping California
Get up to speed with our Essential California newsletter, sent six days a week.
You may occasionally receive promotional content from the Los Angeles Times.