'Secret witness' at Durst hearing testifies that her now-dead friend pretended to be his missing wife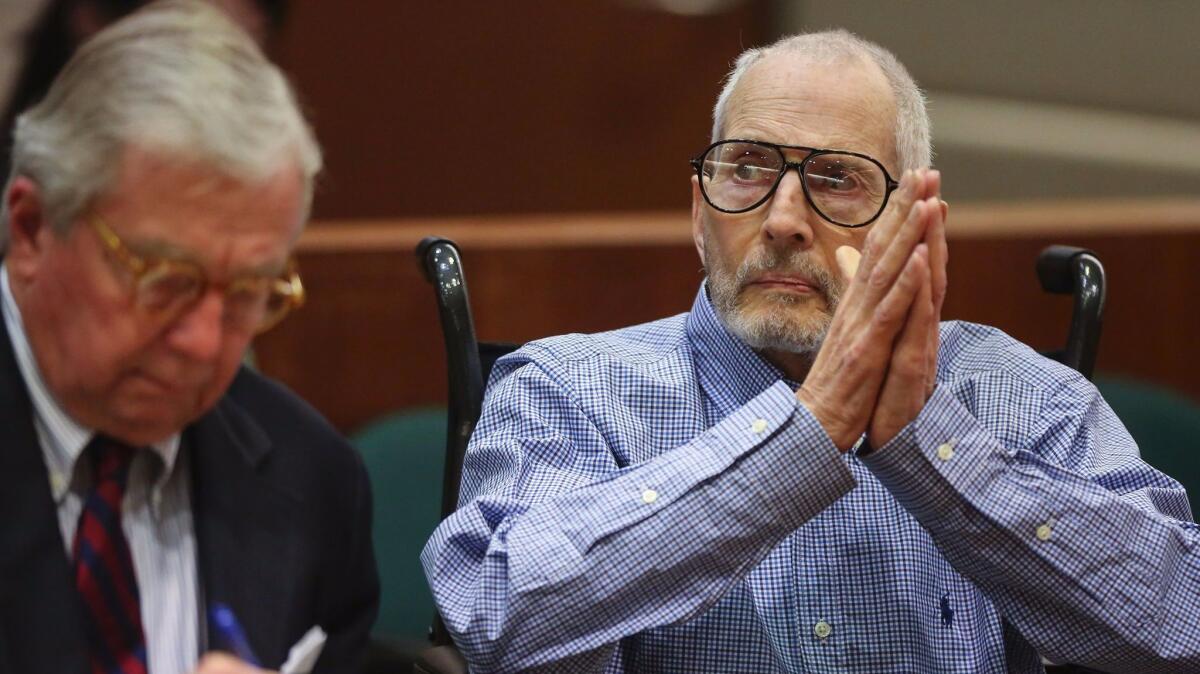 A friend of Robert Durst placed a phone call to a New York medical school his wife attended at the time she vanished, pretending to be her, according to testimony that could prove critical at the real estate scion's murder trial.
Durst, 74, is accused in the execution-style killing of Susan Berman, his longtime friend. According to prosecutors, Durst shot Berman in the back of the head inside her Benedict Canyon home in 2000 because she knew too much about the 1982 disappearance of his first wife, Kathleen.
Lynda Obst — a producer who has worked on major films such as "Sleepless in Seattle" and "Interstellar" — was revealed Wednesday as the latest "secret witness" called by the prosecution in a series of hearings before the trial begins. Her identity had been withheld from the public until she took the stand.
A friend of Berman's, Obst testified Wednesday that Berman had told her she pretended to be Kathleen Durst in a call to the Albert Einstein College of Medicine. Prosecutors have said there is evidence that Kathleen Durst, who was expected to begin a clerkship in pediatrics at the facility, was dead at the time a doctor there got a call from someone identifying herself as Kathleen.
The doctor who received the call testified earlier this year that he was unsure if he was actually speaking to her that day. Albert Kuperman, who was associate dean of the medical school at the time, previously has said the call came Feb. 1, 1982 — the day after police believe Kathleen vanished.
For years, Obst said, she didn't think much about what Berman had told her. It wasn't until she watched an episode of "The Jinx," the HBO documentary that examined Durst's life and the series of killings linked to him, that she realized other people didn't know Berman claimed to have made the call.
"This was a very disturbing episode to me," Obst said. "I was struck. My heart started racing.... It was terrifying to me, because I assumed everyone knew this."
Obst said that she waited a while to contact authorities because she was afraid of Durst and hoped to avoid getting involved in the investigation.
"I find the defendant a very scary person," she said Wednesday. "He kills witnesses."
Under cross-examination, Durst's attorney, Dick DeGuerin, asked Obst why she hadn't told producers of "The Jinx" — to whom she gave a lengthy interview — about Berman's statements. Obst said she did not remember the conversation with Berman until she watched the documentary.
Her testimony came one day after another friend of Berman's, Miriam Barnes, recalled a chilling conversation she'd had with the victim years before her death.
Barnes said that soon after Kathleen's disappearance, Berman called asking her to come to her apartment. When she arrived, Berman was pacing and asked her to sit down, Barnes testified.
"I'm going to tell you something, but I need you not to ask me any questions," Berman said, according to Barnes. "I did something today."
Berman did not elaborate, according to Barnes' testimony, other than to say the favor was for Durst.
Then, Barnes recalled, her friend offered an ominous warning that didn't fully hit her until she attended Berman's funeral years later: "If anything ever happens to me, Bobby did it."
Barnes was the second person to suggest under oath that Berman knew details about Kathleen's disappearance. Earlier this year, Nick Chavin — a mutual friend of Durst and Berman — testified that the multimillionaire once confessed to killing Berman. He also testified that Berman had told him years earlier that Durst told her he'd killed Kathleen.
Born into prominence as the son of a real estate tycoon, Durst gained broader notoriety in the spring of 2015 with the premiere of the six-part HBO documentary examining Kathleen's disappearance, Berman's death and a 2001 slaying in Texas. In that case, Durst admitted to shooting his neighbor, Morris Black, and chopping up his body; he argued self-defense and was acquitted in 2003.
During the last episode of "The Jinx," Durst mumbles: "What the hell did I do? Killed them all, of course," which some viewers considered a broad confession. A day before the episode aired, FBI agents arrested Durst at a hotel in New Orleans, where he was staying under a fake name.
Berman, a writer and daughter of Las Vegas mob royalty, had served as Durst's unofficial spokeswoman when Kathleen's disappearance became tabloid fodder. Before Berman's death, authorities had been hoping to interview her about the events of 1982.
The pretrial hearings will continue Thursday. Judge Mark E. Windham is expected to rule on a contentious evidentiary issue that could shape Durst's murder trial, which is unlikely to begin before 2018.
For months, prosecutors and Durst's legal team have argued over documents seized from the defendant's hotel room in New Orleans and his Houston home. Durst's attorneys believe some of the documents may be protected by attorney-client privilege, and prosecutors have asked for the appointment of a special master to review the documents.
For more crime news from Southern California, follow us on Twitter: @marisagerber and @JamesQueallyLAT.
ALSO:
'I'm a professional liar,' key witness against Robert Durst once told prosecutors in recorded call
What Robert Durst said he meant when he told lawyers: 'I kill a lot'
Robert Durst confessed to killing Susan Berman, 'secret witness' says in court
---
UPDATES:
6:50 p.m.: This article was updated with additional testimony from Obst and details about what is expected to take place in court Thursday.
3:45 p.m.: This article was updated with testimony from producer Lynda Obst.
This article was originally published at 1:05 p.m.
Sign up for Essential California for news, features and recommendations from the L.A. Times and beyond in your inbox six days a week.
You may occasionally receive promotional content from the Los Angeles Times.