Community honors slain Newman police officer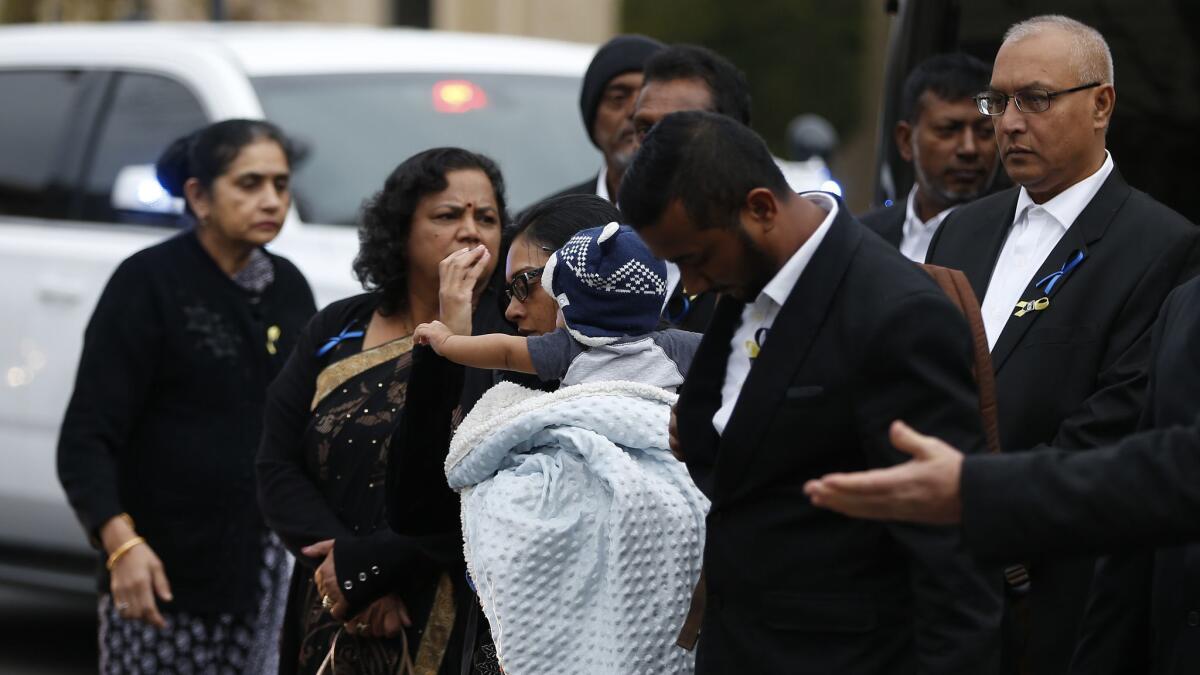 Reporting from Modesto —
A sea of blue lined the pews facing the flag-draped casket inside CrossPoint Community Church.
Hundreds of law enforcement officers from across the country turned out Saturday to pay tribute to Newman Police Cpl. Ronil Singh, 33, who was fatally shot during a traffic stop in Stanislaus County last month by a man authorities say was in the country illegally.
Newman Police Chief Randy Richardson grew emotional as he talked about Singh, his first hire in 2011 in what would become an 11-officer department.
Singh, born in Fiji, immigrated to the United States as a teenager in 2003 and was proud to be an American, friends and family said.
"He told me he came to this country with one purpose, and that purpose was to become a police officer," Richardson said.
Amid somber reflections were memories that captured Singh's jovial spirit and prompted the room to break out in laughter.
Singh was able to bring a smile to the faces of even those he arrested, Richardson said.
"We will say goodbye today, but you will always be in our hearts," the chief said. "I love you."
When Singh's brother, Reggie, took the stage, bathed in blue light, he thanked the officers who had arrested the suspected gunman, Gustavo Perez Arriaga, 32, who police said has known gang ties and had been arrested twice on suspicion of driving under the influence.
Police believe Arriaga was driving drunk when Singh stopped him in the early morning hours of Dec. 26.
Someone had tipped off the corporal to an intoxicated man in a silver pickup. A short time later, Singh radioed that he was pulling over a vehicle.
Minutes later, he called out "shots fired." The officers who responded found Singh had been wounded, and the driver he stopped had fled. The corporal was taken to a hospital, where he died.
His was the first death in the line of duty for the Newman Police Department.
The motive in the shooting is not clear.
After a four-day manhunt, authorities arrested Arriaga in the Lamont, Calif., area. Police believe he was trying to flee to his native Mexico.
Arriaga's previous brushes with the law and his subsequent release by law enforcement prompted angry comments from Stanislaus County Sheriff Adam Christianson about Senate Bill 54, the state's so-called sanctuary law. The law, which took effect in 2018, prohibits state and local police agencies from notifying federal officials in many cases when immigrants potentially subject to deportation are about to be released from custody.
"This is a criminal illegal alien with prior criminal activity that should have been reported to ICE," Christianson said. "Law enforcement was prohibited because of sanctuary laws, and that led to the encounter with Officer Singh."
President Trump, who has made immigration enforcement one of his top priorities, took to Twitter to comment on the case: "Time to get tough on Border Security. Build the Wall!"
This week, Trump called Singh's wife, Amanika "Mika" Chand-Singh, Richardson and Christianson, praising Singh's service and offering condolences.
At the funeral service, Reggie Singh recounted that when his family first got their television, his older brother began watching the reality show "Cops."
"He always wanted to become [a] law enforcement [officer] in America," Reggie Singh said.
Ronil Singh began his career as a volunteer with the Modesto Police Department in 2005. He then worked as a cadet for the Turlock Police Department and later as a reserve deputy for the Merced County Sheriff's Department.
He was hired by the Newman Police Department in 2011.
"Ronil was very proud to become a police officer and deeply loyal to his department," said Modesto Police Det. Ra Pouv, a longtime friend of Singh's.
Outside the church, blue bows were tied to lampposts and trees. The general public watched the proceedings in a chapel across the street.
Among them was Gopal Ramaiya, a family friend who wore a beanie with a blue-line flag on it.
Ramaiya's family is also from Fiji, and his son is a Walnut police officer.
"It's heartbreaking what happened here," he said.
Others did not know Singh but wanted to attend to show their support and appreciation for law enforcement.
"My heart really goes out to them. They're the ones who run in when we run out," said Barbara Harmony, who grew teary-eyed as she spoke. "It's senseless."
Inside the church, a tribute video flashed across the screen, in which Newman officers and others from across the county recounted memories of Singh.
Throughout the service, the corporal's 5-month-old son cooed in his mother's arms. A family video showed the baby's feet balanced on his father's as the two walked together. Singh had been teaching his son to walk and talk.
He was looking forward to hearing his son call him "papa."
Twitter: @Brittny_Mejia
Sign up for Essential California for news, features and recommendations from the L.A. Times and beyond in your inbox six days a week.
You may occasionally receive promotional content from the Los Angeles Times.