FBI releases timeline of slayings linked to convicted California serial killer Sam Little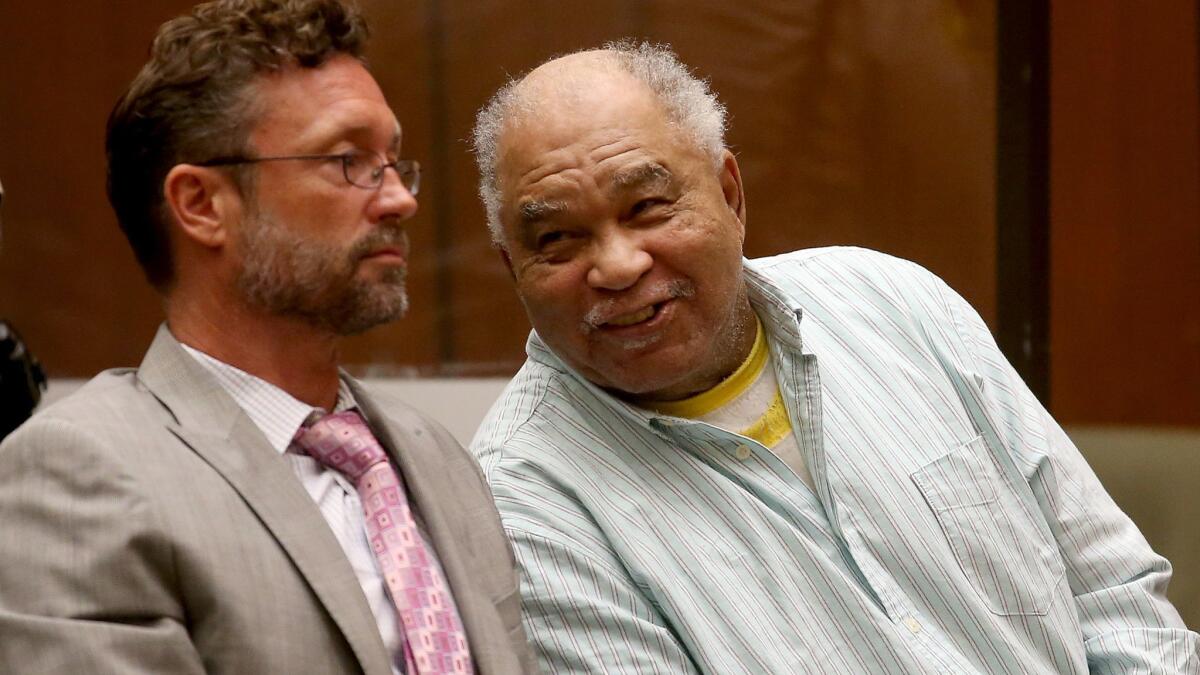 Sam Little, the convicted murderer who earlier this year claimed he had killed at least 90 women across the U.S., has confessed to slayings in at least 37 cities stretching back decades, including more than a dozen in Southern California, according to an FBI timeline made public Tuesday.
Little, 78, had been a target of law enforcement for decades after he was linked to the strangulation deaths of prostitutes in Mississippi and Florida in the 1980s, but he eluded conviction.
In 2012, a cold-case investigation by the Los Angeles Police Department led to Little's capture in Louisville, Ky., and his eventual conviction in 2014 in three murders. He stayed silent in a California prison until May, when Texas Ranger James Holland began to develop a rapport with him, investigators have said.
Since September, Little has confessed to 90 killings, and the FBI team working with Holland has corroborated his involvement in 34 of those cases, with "many more pending confirmation," according to an article published on the FBI's website Tuesday.
Shayne Buchwald, a spokeswoman for the FBI, said she could not immediately release the list of corroborated killings. The Times has independently confirmed Little's suspected involvement in killings in Los Angeles; Gulfport, Miss.; Pascagoula, Miss.; and Gainesville, Fla., during interviews with several investigators.
Little "went through city and state and gave Ranger Holland the number of people he had killed in each place," including three people in Phoenix, and one each in Jackson, Miss., Cincinnati and Las Vegas, said Christina Palazzolo, a criminal analyst with the FBI's Violent Criminal Apprehension Program.
According to a map made public by the FBI on Tuesday, Little has confessed to homicides in 37 cities. A former boxer, Little stunned or knocked out his victims with a punch in many cases before strangling them to death. Deputy Dist. Atty. Beth Silverman, the prosecutor who secured a conviction against Little in Los Angeles in 2014, has said he killed for sexual gratification.
Eighteen of those killings, including the three for which Little was convicted in 2014, took place in Los Angeles, according to the FBI.
The additional 15 slayings he confessed to took place between 1987 and 1996, according to the FBI, but none of those have been corroborated. Little also confessed to the 1984 killing of a woman in San Bernardino, but that death also has yet to be corroborated.
Little, who was known to float in and out of cities in the Southeast and was described by investigators as a transient, also confessed to 10 killings in Florida, four of which took place in Miami. The other uncorroborated killings took place in Arkansas, Georgia, Illinois, Louisiana, Maryland, New Mexico, Ohio, Tennessee, South Carolina and Texas, according to the FBI.
Police in San Bernardino, Phoenix and Omaha also told The Times they had been made aware of Little's confessions and were trying to corroborate his involvement in cold case slayings in those cities.
The Times chronicled Little's professed string of killings earlier this week. Some investigators have suggested Little's choice of victims may have insulated him from capture for years. Lt. Darren Versiga, an investigator in Pascagoula, where Little has confessed to one slaying and may have attacked at least two other women, said police may have been hesitant to believe assault claims from black prostitutes in the Deep South 30 or 40 years ago.
"At that time frame, through societal ways, we just didn't believe prostitutes when they cried rape," Versiga told The Times last week.
Little remembered his victims and the individual slayings in "great detail," according to the FBI, in some cases drawing pictures of victims and crime scenes. He has struggled to remember the exact dates of the killings, however, sometimes describing incidents that took place in a different year from any comparable cases, the FBI said.
His transience, and the manner in which he killed women, also made Little elusive. Federal investigators said Little has been in and out of police custody since 1956, often stealing money for alcohol and drugs as he moved. In at least one instance, he drove from New Jersey to California in just a few days, Palazzolo said. In many cases, police detained and released Little, just hoping he'd leave their jurisdiction, she said.
Little's attacks did not always leave visible injuries, according to the FBI, meaning many of his attacks were not initially ruled homicides.
"With no stab marks or bullet wounds, many of these deaths were not classified as homicides but attributed to drug overdoses, accidents or natural cause," the FBI said.
Still, Little's repeated trips in and out of police custody have frustrated some detectives and prosecutors who hunted him.
"Did he kill 10 women? Did he kill 20?" Silverman said. "I think he made a mockery of the justice system up and down the United States."
In Los Angeles, Little said he killed six black women in 1987, all between the ages of 19 and 50. He claimed to have killed an additional five victims between 1990 and 1993 and another four women in 1996.
Mitzi Roberts, the Los Angeles police detective who guided Little's arrest in 2012, said the department has put together a task force to investigate the killings here, and hopes to gather enough evidence to prosecute him for each murder.
"We definitely have a strategy and it's just not going to be an easy process but we're definitely focused on it and we're going to do everything we can," she said.
Little is being held in Odessa, Texas, where he has been charged with murder in the 1994 death of Denise Brothers. His attorney has not responded to requests for comment. The FBI said Little "is in poor health and will likely stay in prison in Texas until his death."
Follow @JamesQueallyLAT for crime and police news in California.
---
UPDATES:
1:30 p.m.: This story was updated with additional information from the LAPD and the FBI.
This story was first published at 11 a.m.
Sign up for Essential California for news, features and recommendations from the L.A. Times and beyond in your inbox six days a week.
You may occasionally receive promotional content from the Los Angeles Times.