'Nightmare' at racehorse training facility leaves pain, promise in wake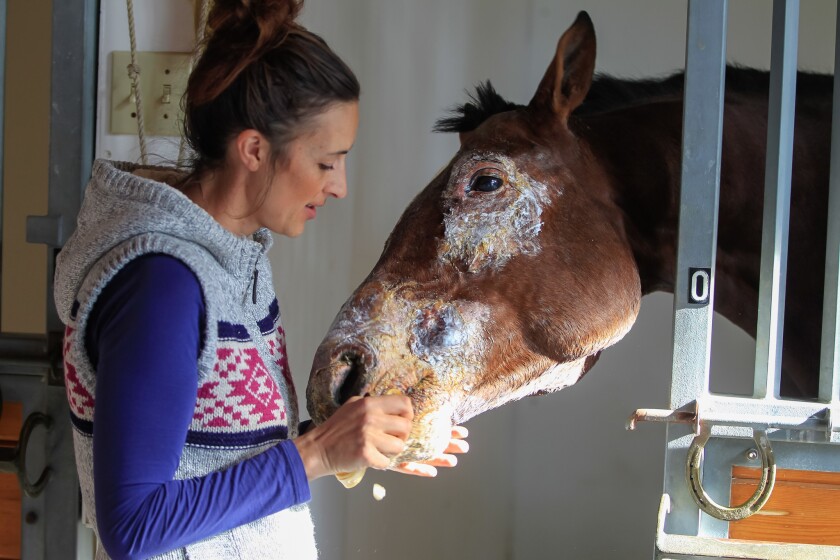 Reporting from Bonsall, Calif. —
The Lilac fire that tore across northern San Diego County killed at least 46 horses at San Luis Rey Downs, transforming a place brimming with life into one devastated by death.
Outside Barn E, the car of trainer Martine Bellocq was gutted by flames as its driver rushed to save as many horses as possible. Bellocq suffered second- and third-degree burns over 50% of her body.
Trainer Peter Miller was forced to wait outside San Luis Rey for an hour as police locked down the area. When he finally navigated his way onto the still-burning property, he was stunned.
"It was like a nightmare," said Miller, an Encinitas resident who had more than 75 horses stabled at the facility, which housed about 450. "Like a living nightmare…. It was surreal.
"It was worse than I ever could have imagined. Much worse."
Leandro Mora was horrified, too. The assistant to trainer Doug O'Neill, who molded Kentucky Derby winners Nyquist and I'll Have Another, held onto a pair of horses as he coughed and weighed it all through stinging eyes.
"Right then, two horses ran by," said Mora, a 40-year veteran. "They were burned from end to end, the hair was gone and they were screaming. That's the moment when I made the decision to let our horses go.
"That's going to be in my brain the rest of my life. That's ugly. Ugly stuff."
So many horses were involved that it quickly became confusing and overwhelming — for humans and animals alike. California Diamond, a Miller-trained star who won nearly $500,000, had been set free, only to return to his stall and an unwitting death sentence.
"That's their home," Miller reasoned. "He was one of the coolest, neatest, kindest, gamest horses I'll ever have. When I saw him in there, my heart sank."
The night of the fire, Miller visited neighboring Trifecta Farms. Rumblings circulated that Conquest Typhoon, the 2014 winner of the Del Mar's Cecil B. DeMille Stakes, had found his way there.
"He was unrecognizable," said Miller, staring at the ground. "His head was swollen and the hair was singed. It was horrific. Those images will never go away."
Husband-and-wife veterinarians Korin Potenza and Nick Huggons triaged Conquest Typhoon, smothering him in silver-and-white burn ointment and love. Potenza's sister stayed overnight to feed the horse applesauce and grain-mash soup. On Thursday, he bounced around his hospital stall while gobbling up bananas.
The veterinarians helped walk horses down Camino del Rey to Trifecta Farms. Jumping in proved critical, because blocked roads made it impossible for horse trailers and vans to reach the track.
At one point, Potenza and an intern drove past a police barricade with lights flashing in pursuit. "They said humans were the main concern," Potenza said. "I said, 'Not for us.' "
Potenza and the others were able to lead about 100 horses away from the fire. If everyone at San Luis Rey hadn't reacted like that, said Del Mar racetrack spokesman Mac McBride, "It could have been one of the greatest horse tragedies in the history of this country."
Yet in that horrible wake, goodness refuses to relent.
Horse owner Joe Ciaglia bought 200 pairs of shoes to give to displaced workers. An anonymous donor cut a check for $28,000, allowing Del Mar employees to hand out $400 envelopes to 70 workers this week.
Potenza and Huggons, who worked without sleep for a night and without power for three, continue donating their services and necessary supplies. Trainers Todd Pletcher, Bill Mott and Mark Casse shipped a truckload of horse supplies from the East Coast.
A GoFundMe page launched by Santa Anita's Stronach Group and the Del Mar Thoroughbred Club had eclipsed $640,000 last week. The first payouts of $500 were given to 224 workers. Trainers received $600 per each horse affected.
The emotional toll, though, is impossible to calculate.
The fire enveloped trainer Joe Herrick in Barn I as he rushed to save Lovely Finish, a filly who ran second in a race at Del Mar last month — her first race. The filly was saved, but Herrick was left with second- and third-degree burns over 23% of his body.
Even as he recovers at the UC San Diego Medical Center burn unit, he finds solace in the life he protected. "The smoke was so thick and black," Herrick said. "A couple seconds more and she wouldn't have had a chance."
Mora, O'Neill's assistant, freed 35 horses as the flames whipped. He, like so many others, refused to walk away.
"It was better to let them go then to watch them charred in a stall," Mora said. "People say it's just a business, blah, blah, blah."
The longtime horseman shook his head.
"No. No way."
Kevin Habell, San Luis Rey's general manager, said the facility lost nine of its 15 barns and demolition-related costs alone could top $1 million.
But Habell still smiles as he walks into the Thoroughbred Room, a place where track workers eat and pass the time. The room had filled from end to end with food and supplies from anonymous donors within 24 hours of the fire.
There are towels and shoes, toaster ovens and toothpaste — even bras next to Spanish-language Bibles. The offerings are piled waist high in spots.
A fire led to a heartwarming flood.
"It's like the Lone Ranger," Habell said. "I didn't even get their name."
bryce.miller@sduniontribune.com
Miller writes for the San Diego Union-Tribune.
---
The stories shaping California
Get up to speed with our Essential California newsletter, sent six days a week.
You may occasionally receive promotional content from the Los Angeles Times.