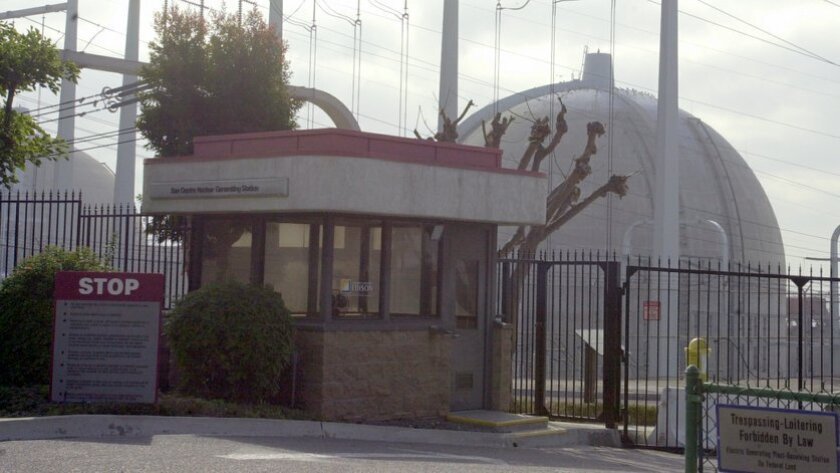 U.S. nuclear regulators have granted Southern California Edison permission to arm private security guards at the defunct San Onofre power plant with assault rifles and "ammunition feeding devices."
The Nuclear Regulatory Commission granted Edison and five other nuclear power plants the special exemptions as a way to secure the facilities and the spent nuclear waste they store on-site.
The Diablo Canyon Power Plant, the last nuclear generating station operating in California, got the exemption, as well as four plants in New York state.
"The requested amendments would permit licensee security personnel to use certain firearms and ammunition feeding devices not previously permitted, notwithstanding state, local and certain federal firearms laws or regulations that otherwise prohibit such actions," the commission wrote.
See the most-read stories this hour >>
Edison spokeswoman Maureen Brown declined to identify specific weapons permitted, but said the utility's security plan complies with U.S. government mandates.
"Federal agencies require the use of special weapons in order to protect nuclear facilities across the country," Brown said in a statement. "The types of weapons covered by federal preemption are required by the NRC and included in the NRC-approved security plans for San Onofre."
According to NRC records, the special exemptions cover the number and type of weapons the private security teams are permitted to buy for the San Onofre Nuclear Generating Station on San Diego County's north coast. They include semiautomatic assault rifles "needed to accommodate changes in the SONGS defensive strategy," records state.
Federal regulators said the Edison exemption became necessary after state Atty. Gen. Kamala Harris was not willing to extend a state exemption granted by a previous attorney general in 2004.
"The lack of a written exemption from the current California Attorney General prevents the licensee's security personnel from having access to firearms and devices needed to implement the licensee's protective strategy at SONGS, since firearms dealers are not willing to honor the 2004 exemption letter," the NRC stated.
A spokesman for Harris, who is considered the front-runner for an open seat in the U.S. Senate, did not immediately respond to questions about why the Attorney General's Office was unwilling to extend the 2004 exemption.
MORE LOCAL NEWS
California primary live updates: Rematches and Democratic battles take shape for fall
Abandoned Echo Park oil wells to be sealed off for safety
Black bear takes a dip in La Cañada Flintridge neighborhood
McDonald writes for the San Diego Union-Tribune.
---