Sanctuary and Meatball's biggest fan tiff over bear's copyrighted name
Fish and Game Lt. Martin Wall shoots a tranquilizer dart at the 400-pound black bear, known to some as "Glen Bearian" or "Meatball," after he cornered the bear in an apartment complex in La Crescenta in April. The bear was marked with an orange ear tag so he could be easily identified by officials.
(Irfan Khan / Los Angeles Times )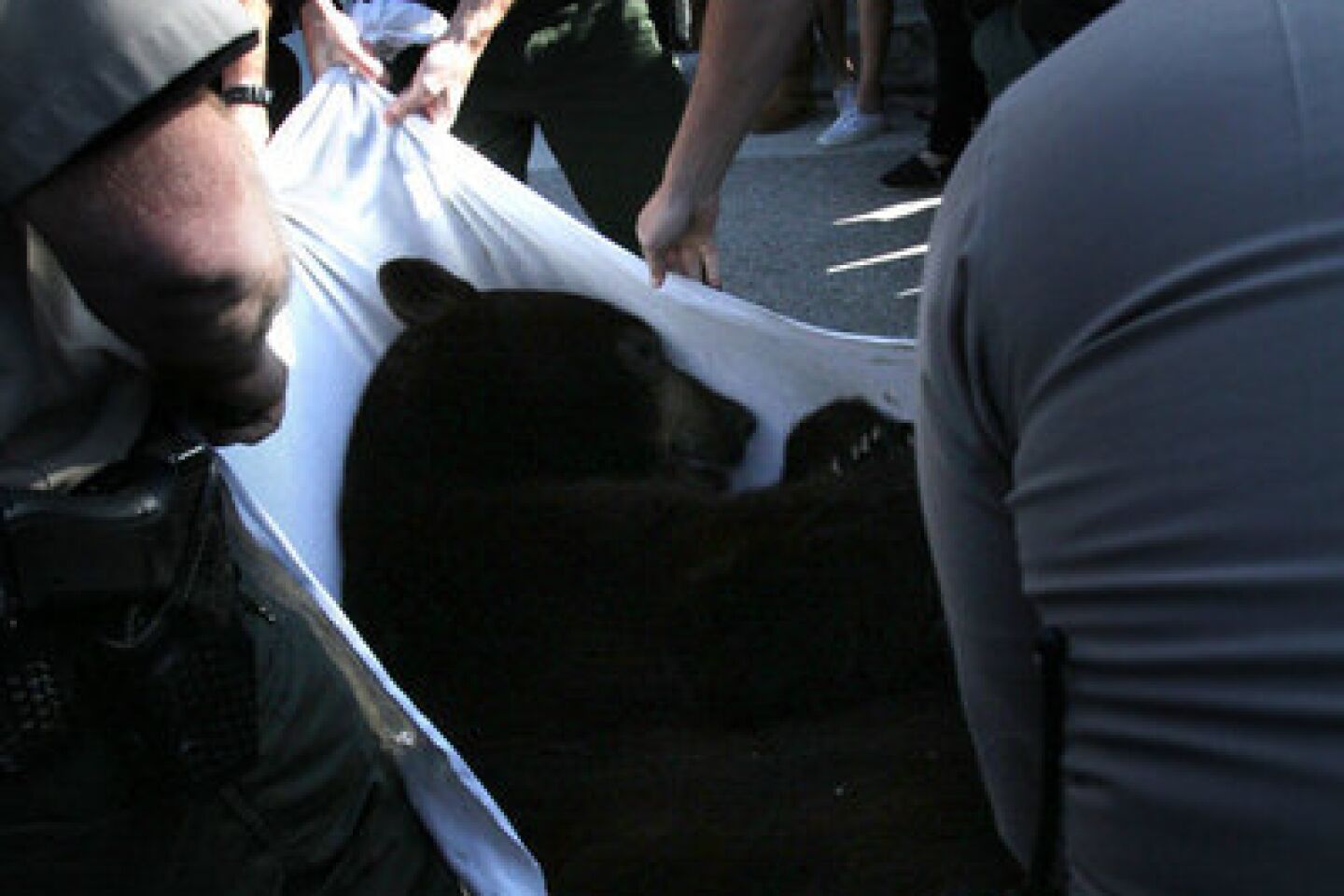 L.A. County sheriff's deputies and Fish and Game officers carry the 400-pound bear after it was shot with four tranquilizer darts in April. The bear was taken deep into the Angeles National Forest, but returned to the Glendale area several times.
(Irfan Khan / Los Angeles Times)
The San Diego County animal sanctuary that took in "Meatball" the Glendale bear now wants the woman who turned him into a social media darling to sign away all legal claims to the bear's name.
Meatball, who got his nickname after he was caught eating frozen Costco meatballs from a garage refrigerator in 2012, had been slated to be euthanized after repeatedly returning to Glendale despite being relocated deep within Angeles National Forest.
But then Sarah Aujero stepped in, branding Meatball on Twitter with @TheGlendaleBear and campaigning to relocate him to a permanent animal sanctuary.
The tactic worked. Amid a surge of public interest, wildlife officials trapped the bear a third time.
The effort to find Meatball a permanent home quickly grew into a full-fledged fundraising campaign, complete with branded shirts, tote bags and stickers to help pay for a new enclosure at Lions, Tigers & Bears, the animal sanctuary in Alpine.
But now the Glendale News-Press reports that the sanctuary where Meatball has been living for more than a year wants Aujero to sign a contract handing over full control of the Twitter account and all rights to the bear's name, which the Glendale resident copyrighted.
Attorneys for the sanctuary sent a "cease and desist" letter demanding that she stop tweeting as Meatball.
She declined but told the sanctuary in an Oct. 31 email that it was free to use Meatball's name for fundraising efforts.
Her refusal to sign got a tart response from Lions, Tigers & Bears: No longer would Aujero be allowed on the sanctuary's property.
"I've done nothing but help them because they have the bear; and all of a sudden, they cut me out of the picture," Aujero said. "I feel like I'm being bullied a little bit."
In a statement, Lions, Tigers & Bears founder Bobbi Brink said that after Aujero refused to relinquish trademark rights, attorneys for the sanctuary advised that they "ask her not [to] enter the property."
The tiff over the bear's name came after a publisher asked Aujero to write a children's book about Meatball. Aujero said she planned to donate a portion of the proceeds to the sanctuary.
But Brink said a donor already wrote a book about Meatball and wanted to give 100% of the proceeds to the nonprofit.
Lions, Tigers & Bears is still fundraising for a new habitat for Meatball, the price of which has grown from $250,000 to $325,000. The sanctuary remains $80,000 short.
Since starting the Twitter account, Aujero has launched a range of merchandise to raise funds for the sanctuary, often using her own money to bridge the gap between expenditures and donations.
"I don't make money off the bear," Aujero said.
But Brink nonetheless cast doubt over Aujero's intentions.
"It is our mission to protect animals from exploitation," Brink said.
Not signing over the rights to Meatball's name is just that, said sanctuary spokesman Jen Jenkins.
Despite the flap, Aujero said she doesn't want others to stop donating to Meatball's cause.
"All I want from [Lions, Tigers & Bears] is to let me continue to help the bear that I helped save," she said.
ALSO:
Nine-year-old girl and aunt injured in South L.A. shooting
Two condor deaths in Kern water tanks are major blow to species
Gunmen killed Stockton family members as they slept, neighbors say
brittany.levine@latimes.com
Twitter: @brittanylevine
Brittany Levine is a Times Community News staff writer.
The stories shaping California
Get up to speed with our Essential California newsletter, sent six days a week.
You may occasionally receive promotional content from the Los Angeles Times.