Two raging California wildfires grow, killing 1 and prompting closures in Los Padres National Forest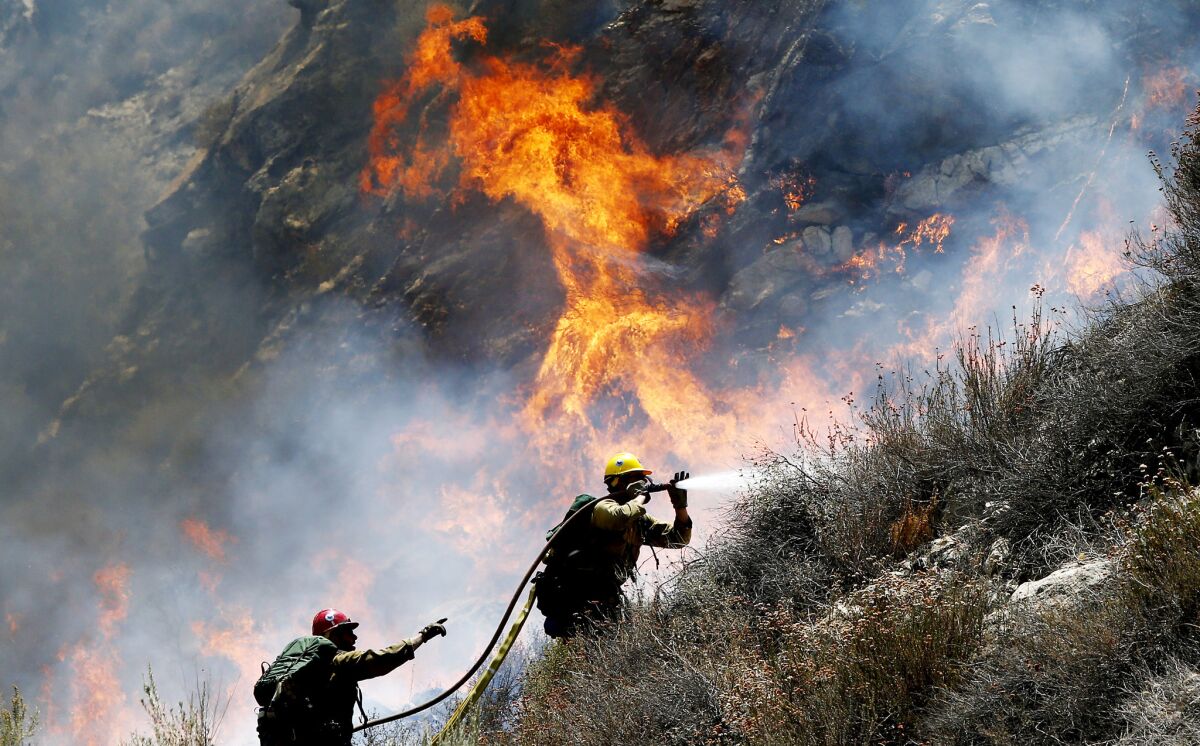 As fire crews made progress controlling a deadly wildfire in Southern California on Wednesday, another blaze continued to rage along the state's picturesque Central Coast, killing a heavy equipment operator and triggering numerous trail closures and hiker rescues in Los Padres National Forest.
The Sand and Soberanes fires, both of which erupted on Friday, tore through wildlands in Southern and Central California overnight with thousands of firefighters tackling unpredictable flames. Firefighters managed to gain 40% containment of the Sand fire, which has caused one death and destroyed 18 homes.
In Monterey County, a bulldozer operator who was called in to help battle the Soberanes fire was killed overnight, according to the California Department of Forestry and Fire Protection. The operator suffered fatal injuries in a remote area on the southeast end of the fire.
"Firefighting is an inherently dangerous job with great risk involved," said Cal Fire incident commander Todd Derum. "Please keep your heartfelt thoughts and prayers with the family of our fallen cooperator and the firefighting community."
The destructive blaze, which started in Soberanes Creek north of Big Sur, grew to 23,568 acres as fire activity increased overnight through the entire area, prompting the closure of all trails and roads in the Monterey District of Los Padres National Forest, Cal Fire said.
"The order prohibits going into or being upon National Forest System lands within the Soberanes fire area," Cal Fire said.
Only 10% contained, the blaze is threatening 2,000 structures and has already destroyed 20 homes as well as two outbuildings. At least 300 homes have been evacuated in Palo Colorado and the areas of Rocky Creek, Garza Trail, Weston Ridge Road, Garrapatos Road and Highway 1 south to Old Coast Road at Bixby Creek Road.
On Wednesday afternoon, the Monterey County Sheriff's Department expanded its evacuation orders to communities east of Carmel Highlands and Garrapata State Park.
Downed power lines, falling trees and flames were hampering efforts to inspect burned areas for damage, said Cal Fire Battalion Chief Robert Fish.
Burning along the Pacific Coast, erratic flames ran through brush-choked canyons and sent embers into the rocky hills in Garrapata State Park in Carmel.
"It's just really difficult to fight this fire," Fish said.
Flames have severely affected soil along the rugged mountains and weakened trees already dry from years of drought, he said. Crews were working feverishly to remove any falling trees to avoid injuries to firefighters and damage to equipment.
High temperatures and low humidity have intensified the flames, which have already forced the closure of all state parks from Point Lobos State Natural Reserve to Julia Pfeiffer Burns State Park, fire officials said. Andrew Molera State Park, Pfeiffer Big Sur State Park campground and Point Sur Historic Lighthouse are part of the closure.
On Tuesday, firefighters rescued eight men who had been lost for six days and were surrounded by flames, KGO-TV reported. Cal Fire officials said the men were not injured.
The chaos continued when another privately hired bulldozer rolled over while fighting the fire, resulting in minor damage. The operator was not injured, Cal Fire said.
Palo Colorado, Robinson Canyon Road and Weston Ridge roads at Highway 1 were closed.
Meanwhile, in the Santa Clarita Valley, the Sand fire grew more than 800 acres overnight to a total of 38,545 acres with little perimeter growth.
Nearly 3,000 firefighters worked around the clock to construct defensive lines and mop up embers while other crews defended homes from encroaching flames. Assisting firefighters from the skies, aircraft dropped fire retardant and water over the flames.
Robert Bresnick, 67, was discovered dead about 7:20 p.m. Saturday inside a burned car in a driveway outside a home in the 26700 block of Iron Canyon Road. Coroner's officials said he ignored evacuation orders and was burned in the blaze.
Read more about California wildfires »
On Tuesday, acting Gov. Tom Torlakson declared a state of emergency for Los Angeles and Monterey counties due to the large fires.
Los Angeles County supervisors on Tuesday were also weighing whether they should purchase or continue to lease two Superscoopers from Canada.
Thick smoke has triggered air-quality concerns throughout Central and Southern California and advisories as far away as Reno.
The fire danger will remain elevated as high temperatures, gusty winds and low humidity persist through Thursday in Los Angeles County, according to the National Weather Service.
A heat wave in Central California and the Bay Area will continue with temperatures reaching the 90s inland. Meteorologists say the Soberanes fire is above the marine layer, which is allowing it to move and become more destructive.
With the fire above the marine layer, Fish said the smoke is "sandwiched" close to the ground and changed fire activity.
For breaking news in California, follow VeronicaRochaLA on Twitter.
MORE LOCAL NEWS
LAPD officers killed one resident of this Watts housing project. 12 hours later, they saved another's life
L.A. County supervisors pull marijuana tax measure from November ballot
Supervisor wants L.A. County to put a new animal shelter in a jail
---
UPDATES:
2:12 p.m.: This article was updated with comments from a Cal Fire battalion chief and evacuation orders.
11:30 a.m.: This article was updated with comments from a Cal Fire incident commander on the fatality.
8:30 a.m.: This article was updated with one person killed in the Soberanes fire.
This article was originally published at 8:20 a.m.
The stories shaping California
Get up to speed with our Essential California newsletter, sent six days a week.
You may occasionally receive promotional content from the Los Angeles Times.