Sheriff-elect Jim McDonnell set to be sworn in Monday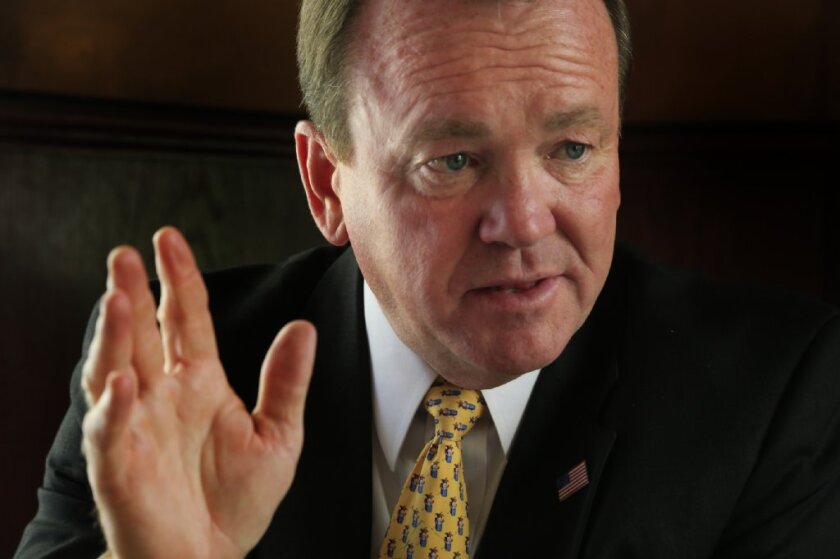 After a decisive victory in the Nov. 4 race for Los Angeles County sheriff. Jim McDonnell is set to be sworn in Monday.
The former Long Beach police chief will be sworn in during a 2 p.m. ceremony at the Kenneth Hahn Hall of Administration downtown. He will replace interim-Sheriff John L. Scott.
Former Sheriff Lee Baca announced his retirement in January, a month after federal prosecutors filed criminal charges against 18 current and former sheriff's deputies accused of beating jail inmates and visitors, trying to obstruct the FBI and other crimes following an investigation into corruption in the nation's largest jail system.
McDonnell, the 32nd sheriff since the office's founding in 1850, is the first outsider in a century to helm the department.
With a total of 18,000 employees, including 9,100 sworn officers, the Sheriff's Department is the fourth largest in the country after the municipal police of New York City, Chicago and Los Angeles. The Sheriff's Department covers unincorporated areas, marinas and 42 of the county's 88 municipalities.
McDonnell began his career at the Los Angeles Police Department before being persuaded to lead the Long Beach department in 2010, over the objections of some who would have preferred an in-house candidate. While there, he weathered concerns about officer-involved shootings of unarmed civilians.
McDonnell will again be an outsider as he steps into his new role as sheriff, but he won election by a wide margin against former Undersheriff Paul Tanaka, who had clashed with Baca and also came under scrutiny in the federal investigation of the county jail system.
"My goal has been to police in a constitutional manner, to be respectful, to solve problems instead of addressing symptoms, to be compassionate," McDonnell said in an earlier Times report. "We're often dealing with people on the worst day of their lives."
Twitter: @aminawrite
---
The stories shaping California
Get up to speed with our Essential California newsletter, sent six days a week.
You may occasionally receive promotional content from the Los Angeles Times.