2 men arrested in connection with West Adams shooting that left 3 dead and 12 wounded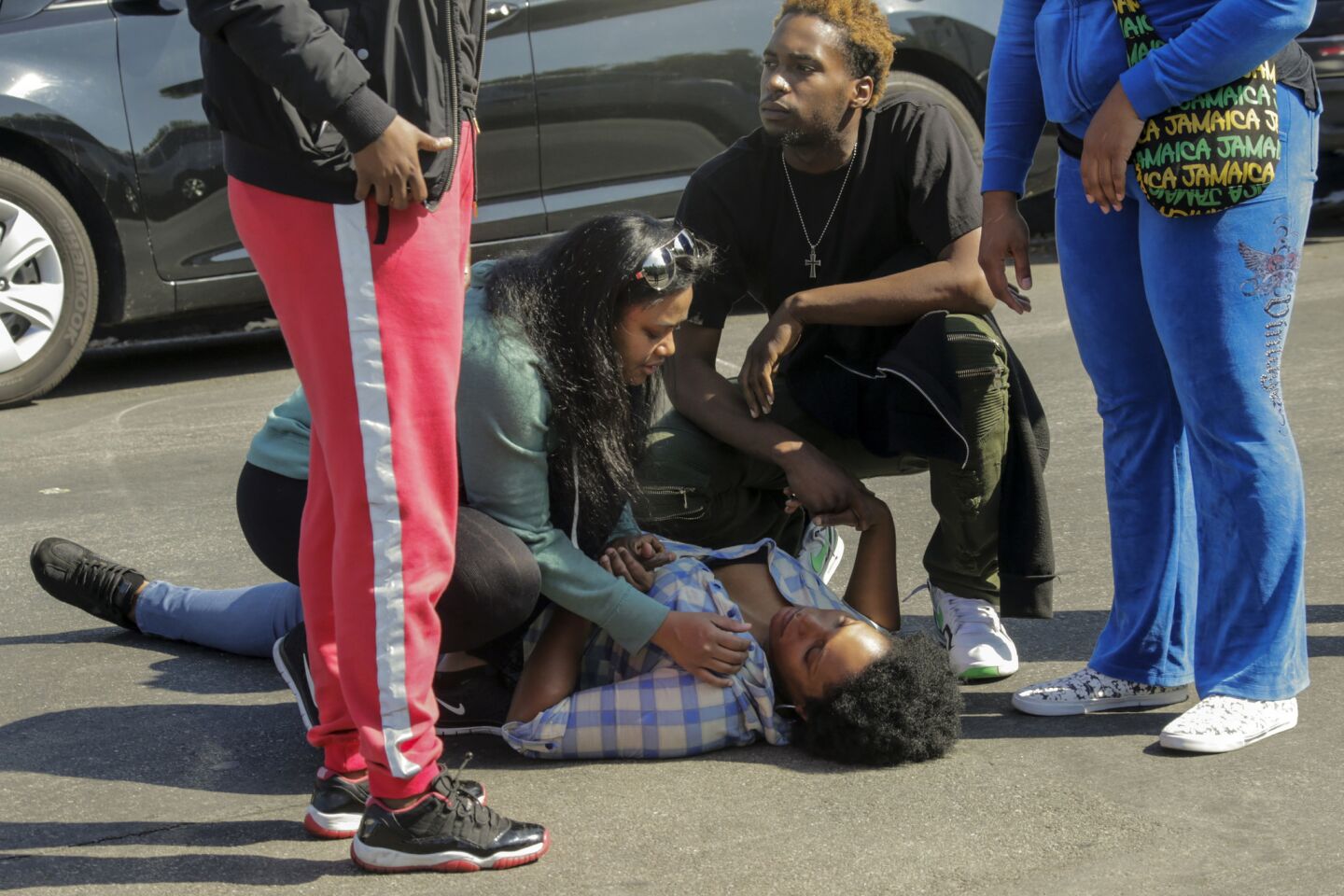 People tend to a woman who fainted after hearing of a friend's death in the West Adams shooting.
(Irfan Khan / Los Angeles Times)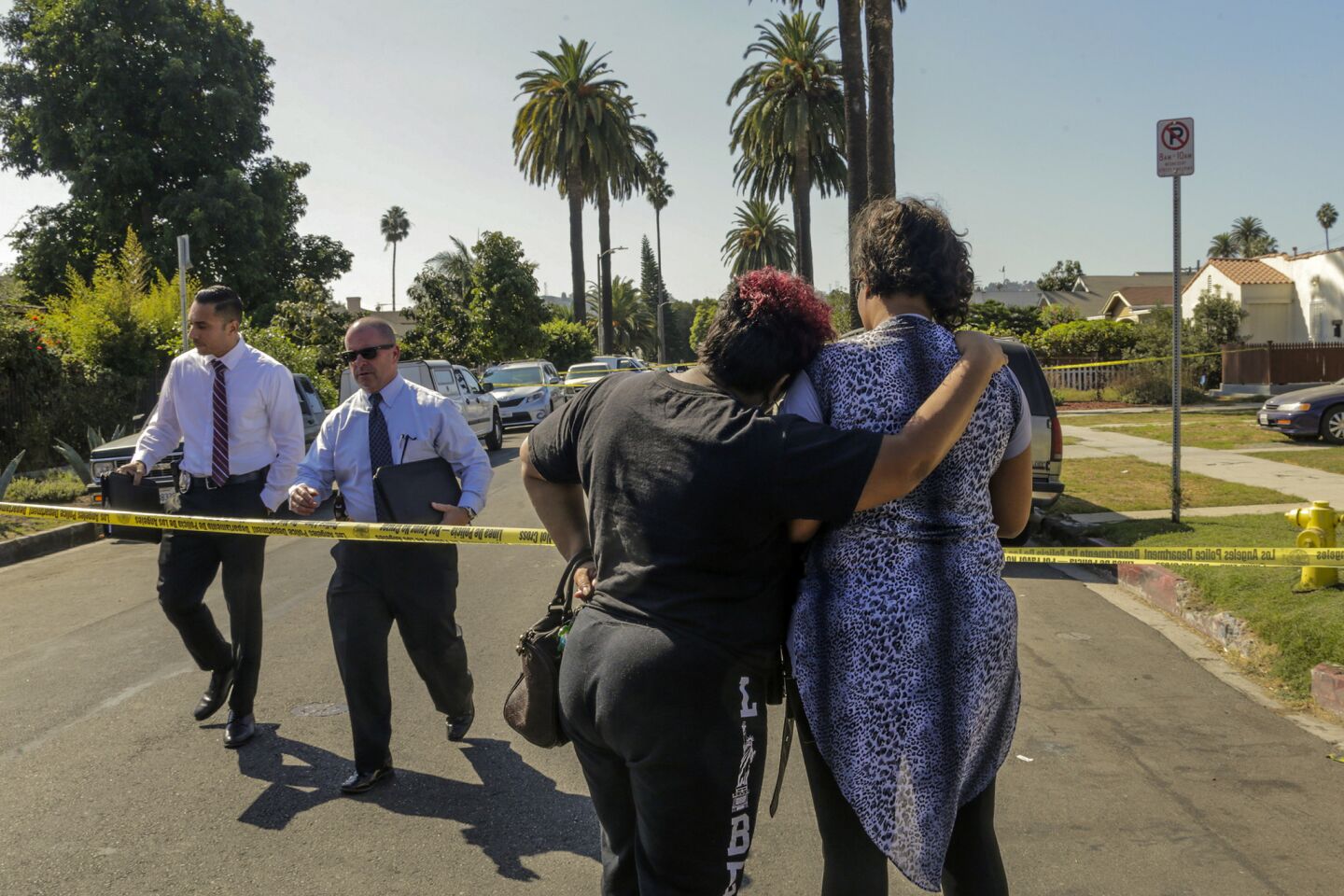 Detectives pass a woman, left, comforting the wife of a man who died in the shooting.
(Irfan Khan / Los Angeles Times)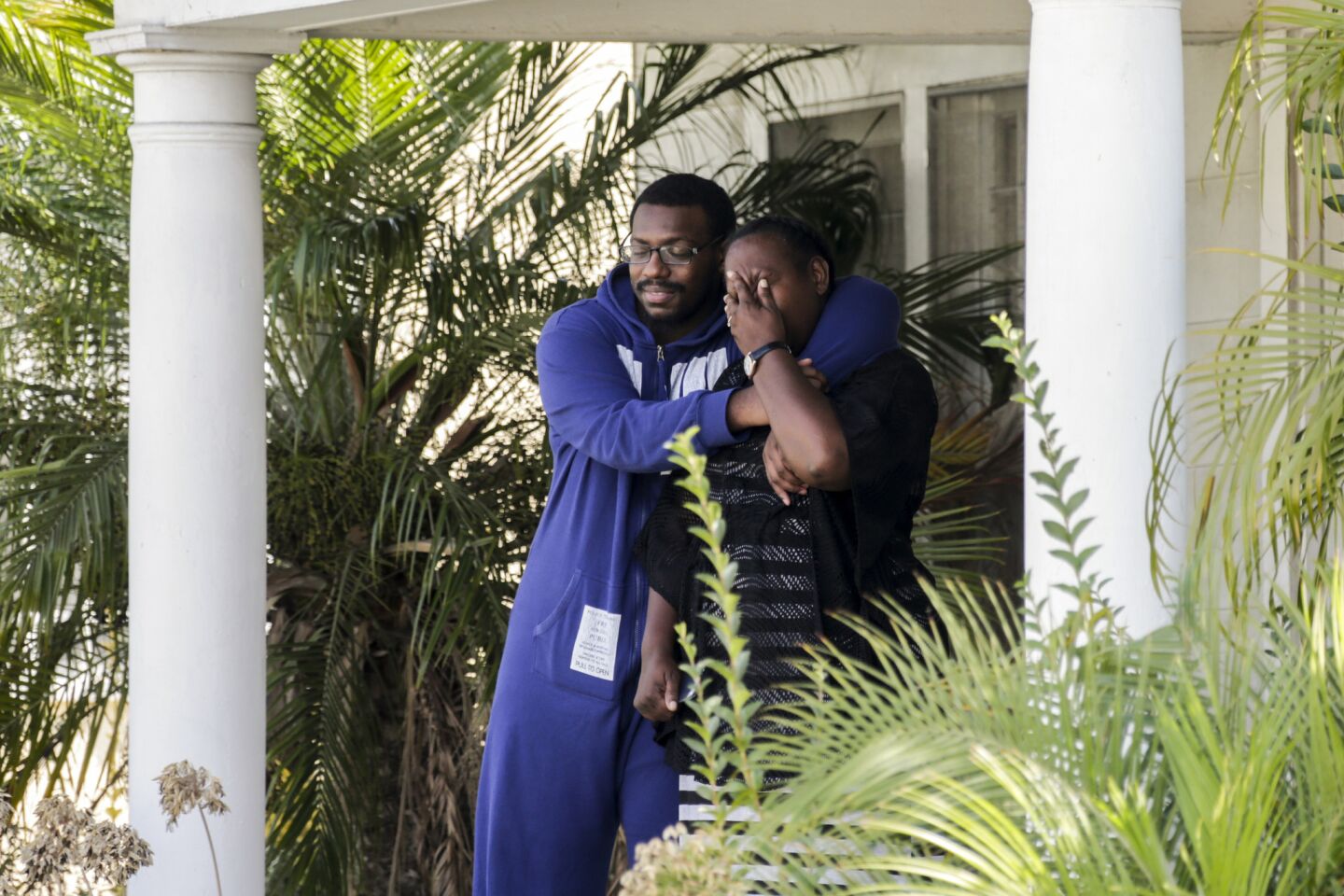 Two neighbors huddle together near the shooting scene.
(Irfan Khan / Los Angeles Times)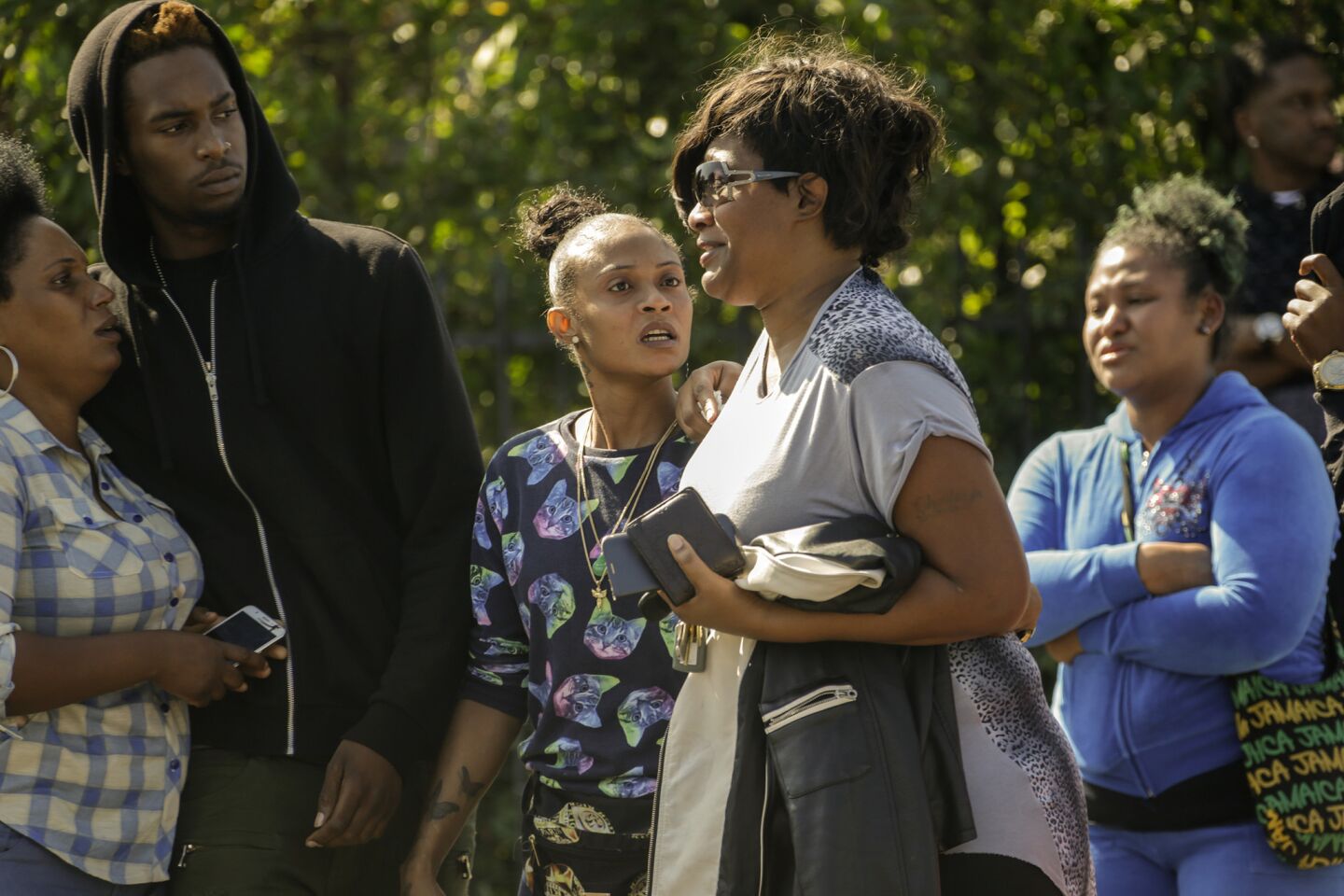 A woman, second from right, weeps after hearing her husband, 53, died in the shooting.
(Irfan Khan / Los Angeles Times)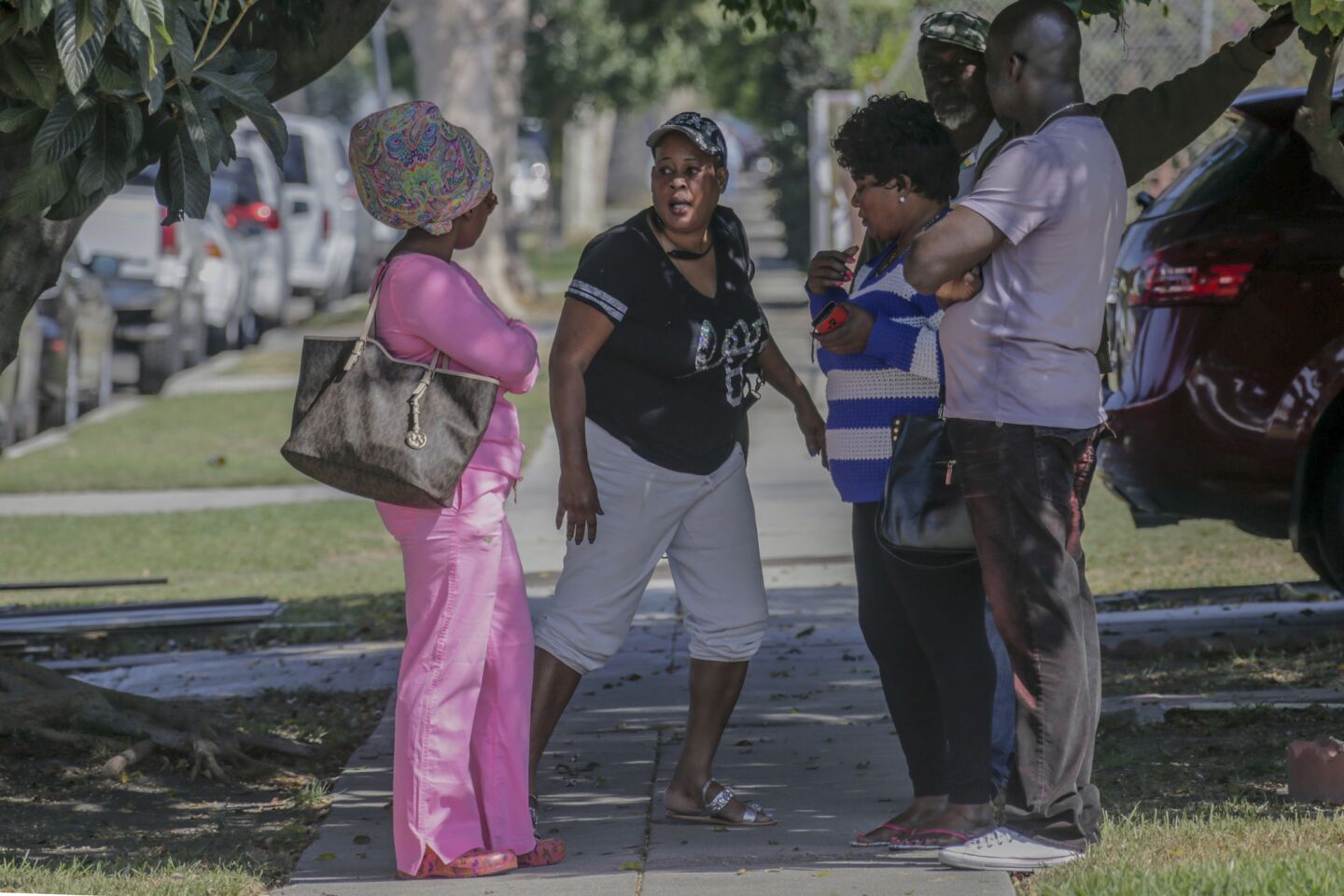 Residents and Jamaican community members gather near the shooting scene.
(Irfan Khan / Los Angeles Times)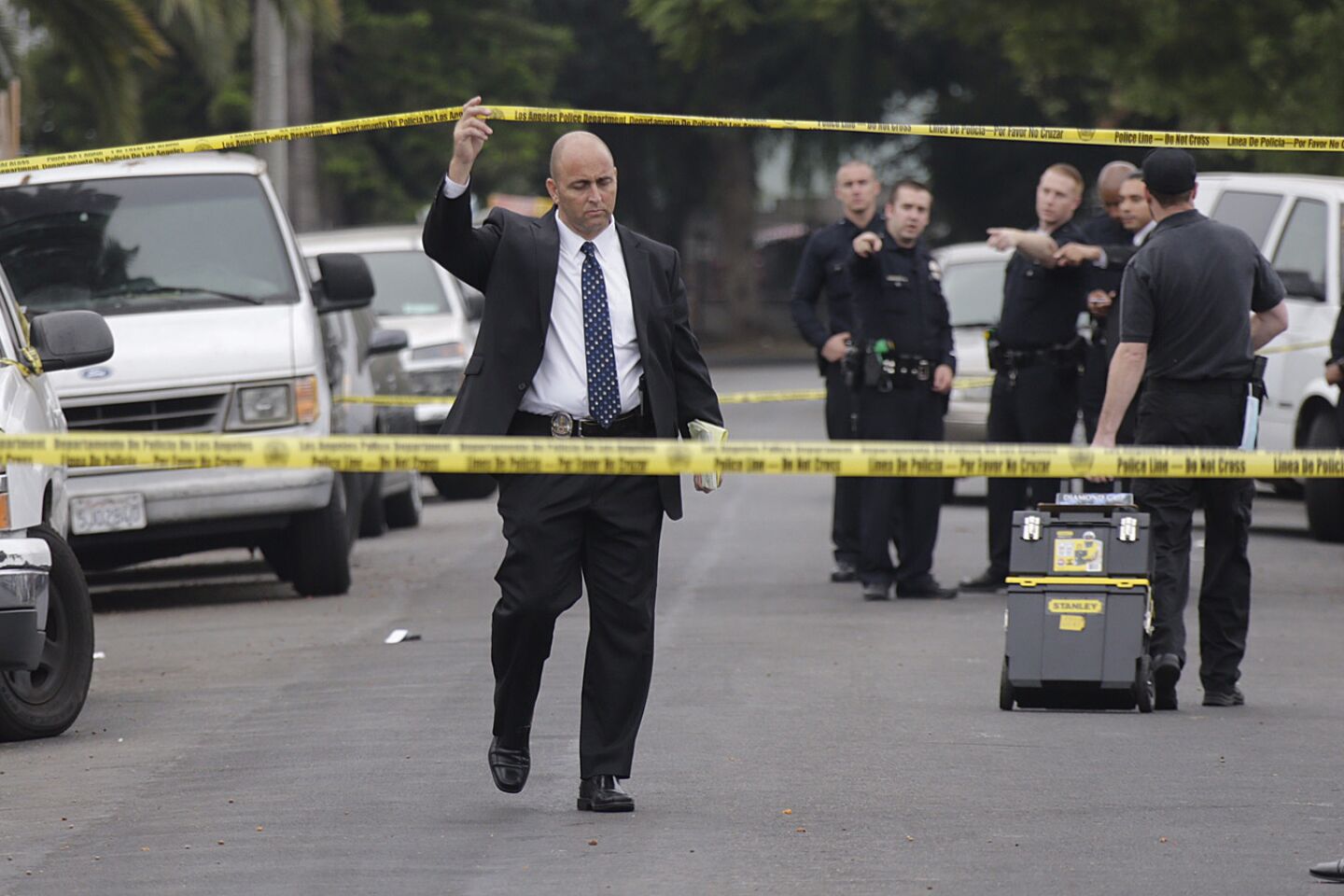 Police investigate the scene of a shooting at a West Adams restaurant on Oct. 15, 2016.
(Irfan Khan / Los Angeles Times)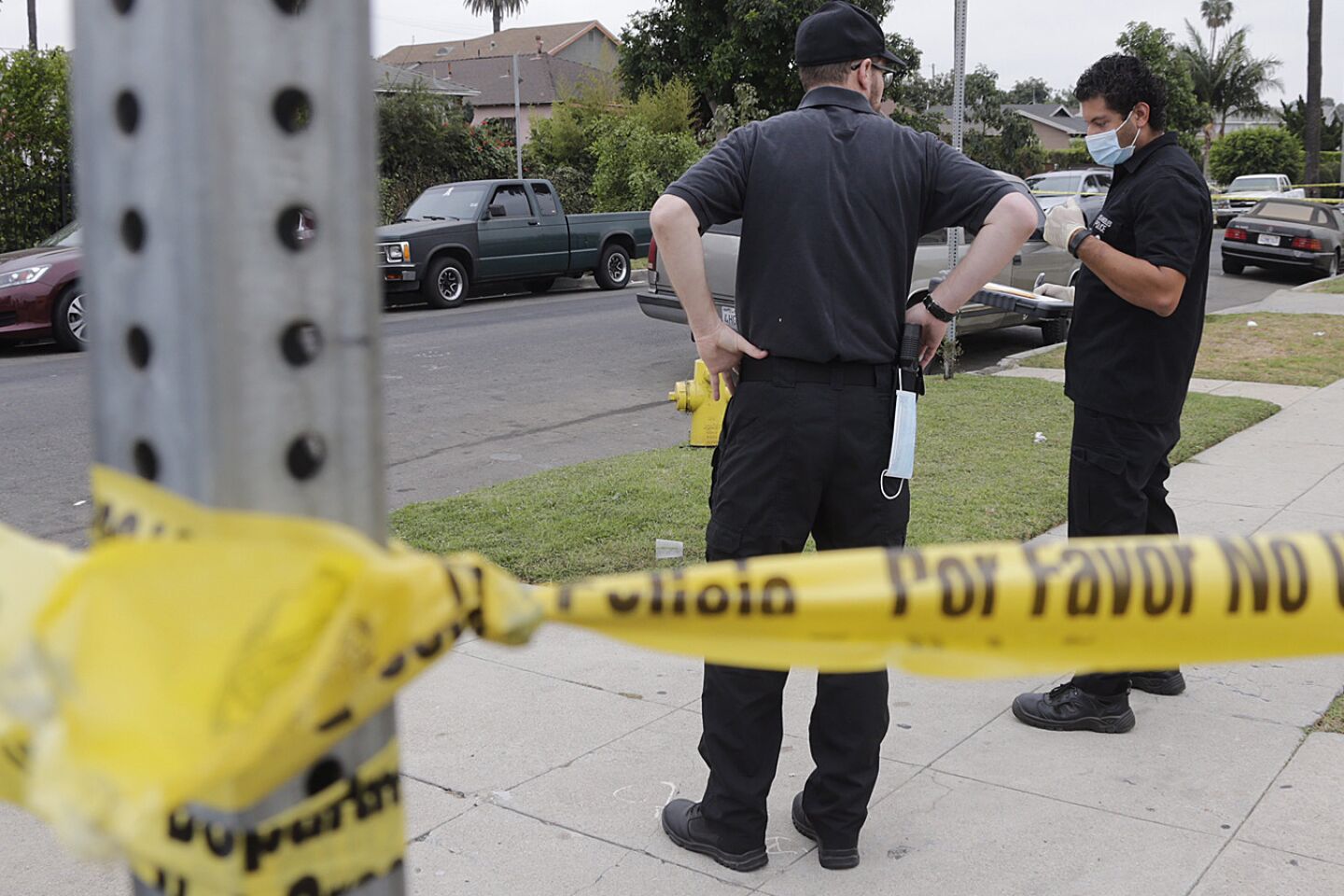 Officers cordon off the area near the West Adams restaurant where three people were shot to death early Saturday morning.
(Irfan Khan / Los Angeles Times)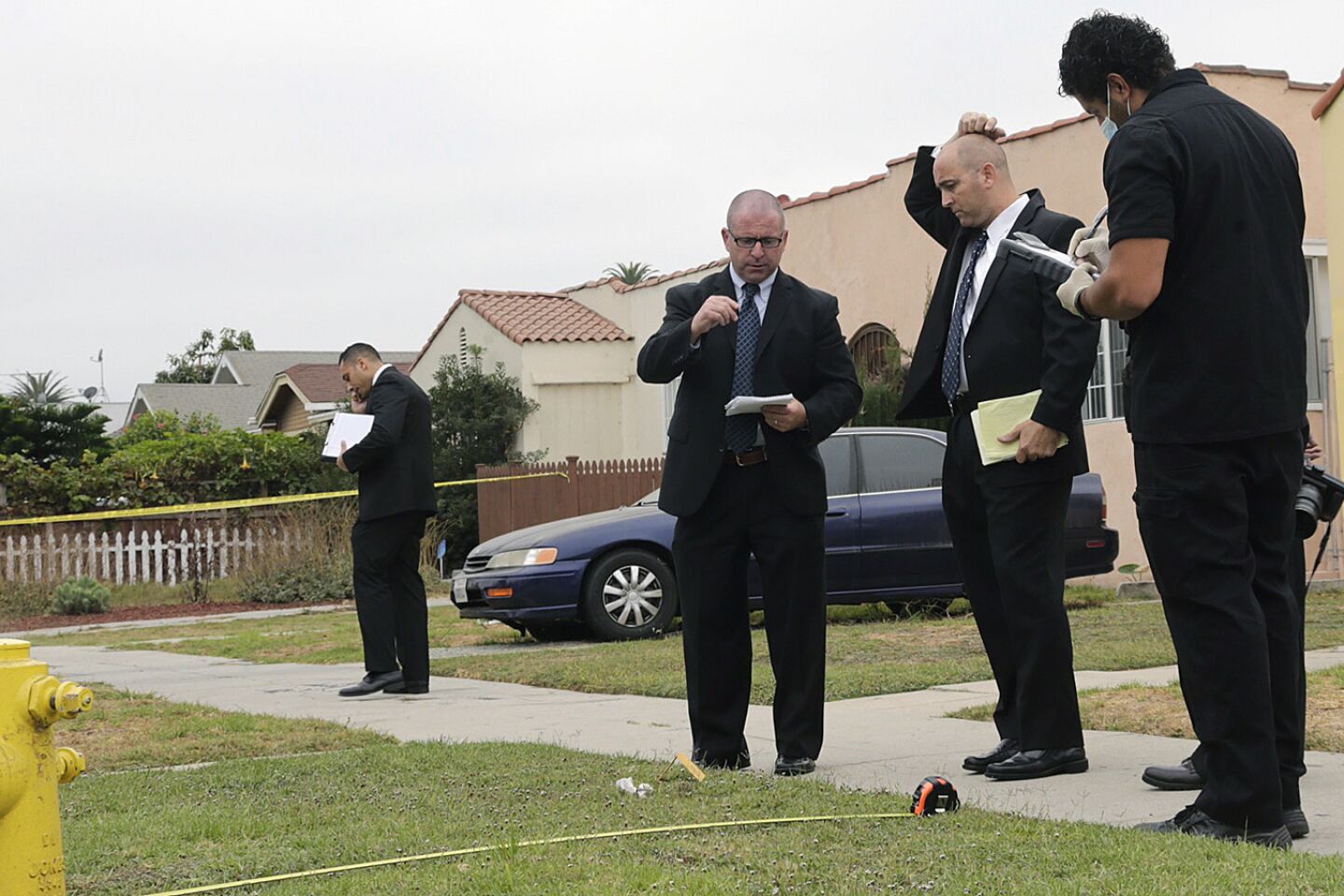 Investigators gather evidence after the shooting that left three dead and 12 wounded.
(Irfan Khan / Los Angeles Times)
Two suspects were arrested early Sunday in connection with a shooting at a popular Jamaican restaurant in Los Angeles that left three people dead and 12 others wounded, police said.
Police tracked down Mowayne McKay, 33, and Diego Reid, 25, both Jamaican nationals, at area hospitals where they had sought treatment for gunshot wounds, said Los Angeles Police Capt. Peter Whittingham.
Eyewitness accounts and other evidence, including videos, led police to the men, Whittingham said. They are expected to be booked on murder charges.
The two men are suspected of taking part in a gun battle that erupted after an initial shooting at a house in the 2900 block of Rimpau Boulevard, out of which the owner runs an informal eatery.
In the first volley of gunfire about 12:30 a.m. Saturday, a man was shot and killed after being confronted by two others in what was probably a dispute over a drug deal gone bad, Whittingham said.
With dozens of people at the house celebrating a birthday, gunfire then erupted between two groups, one associated with the man who had been killed and the other backing the two men who confronted him, Whittingham said.
Police responding to the scene encountered chaos as panicked partygoers scattered in fear and the wounded lay bleeding. Three people were pronounced dead at the scene and 12 others were transported to hospitals. Three of the wounded were in critical condition.
McKay and Reid are not thought to be the men who initially confronted and killed the first victim, Whittingham said. Those men remain at large.
Police on Sunday were still working to piece together the details of the messy crime scene. It is not yet known how many, if any, people were killed by shots fired by McKay or Reid, Whittingham said. After consulting with prosecutors, police decided the evidence against the men was strong enough to arrest them, he added.
Coroner officials declined to identify any of the dead, saying the victims' families had not yet been notified.
Several residents interviewed by The Times described the Jamaican eatery in the West Adams neighborhood as a popular gathering spot in the community. But some neighbors have complained about parking and loud music.
The owner of the eatery, who identified himself only as Dilly, told The Times he has run a catering business out of his house since 2003 and served food on Saturdays. He said he was hosting a birthday party Friday night but that he did not know what prompted the shooting.
"People come over and I cook food for them," said Dilly, 63, who moved to the U.S. from Kingston, Jamaica, 22 years ago.
"There's no menu, just whatever he's cooking that day, which is usually at least seven different things," one Internet reviewer wrote.
This is not the first time gunfire has erupted at the house on the tree-lined block of modest bungalows and single-story homes in the gentrifying West Adams neighborhood.
In 2011, there was another fatal shooting that claimed a friend of his, said Dilly, who believes one person who died this weekend was also a friend.
Saturday's shooting occurred in a year of rising crime in Los Angeles.
According to The Times' Crime L.A. database, the West Adams district has seen 109 violent crimes over the last six months, but no homicides until now.
Through July 16, overall crime rose 6.3% across the city compared with the same period last year, LAPD records show. Property crime was up 3.8%, and violent offenses climbed 15.9%.
In a statement, Mayor Eric Garcetti said the West Adams shooting was "the latest example of a senseless gun violence epidemic that causes so much pain and sorrow in our city and across the nation."
"Our thoughts are with the families mourning or praying at bedsides today," Garcetti said. "We must take action against easy access to firearms and the thoughtless, indiscriminate, murderous use of them."
Times staff writers Matt Stevens, Brittny Mejia and Ruben Vives contributed to this report.
ALSO
Hit-and-run driver sought after four people are killed and four are injured in Pomona freeway accident
'All we do is clean and clean': There are big plans for MacArthur Park, but residents are skeptical
So much has changed in East L.A. since 1928 -- but not handball
---
UPDATES:
4:24 p.m.: This story was updated with new information from police.
This story was initially posted at 3:15 p.m.
The stories shaping California
Get up to speed with our Essential California newsletter, sent six days a week.
You may occasionally receive promotional content from the Los Angeles Times.