A wet start to winter brings piles of snow to California mountains and high hopes for water supply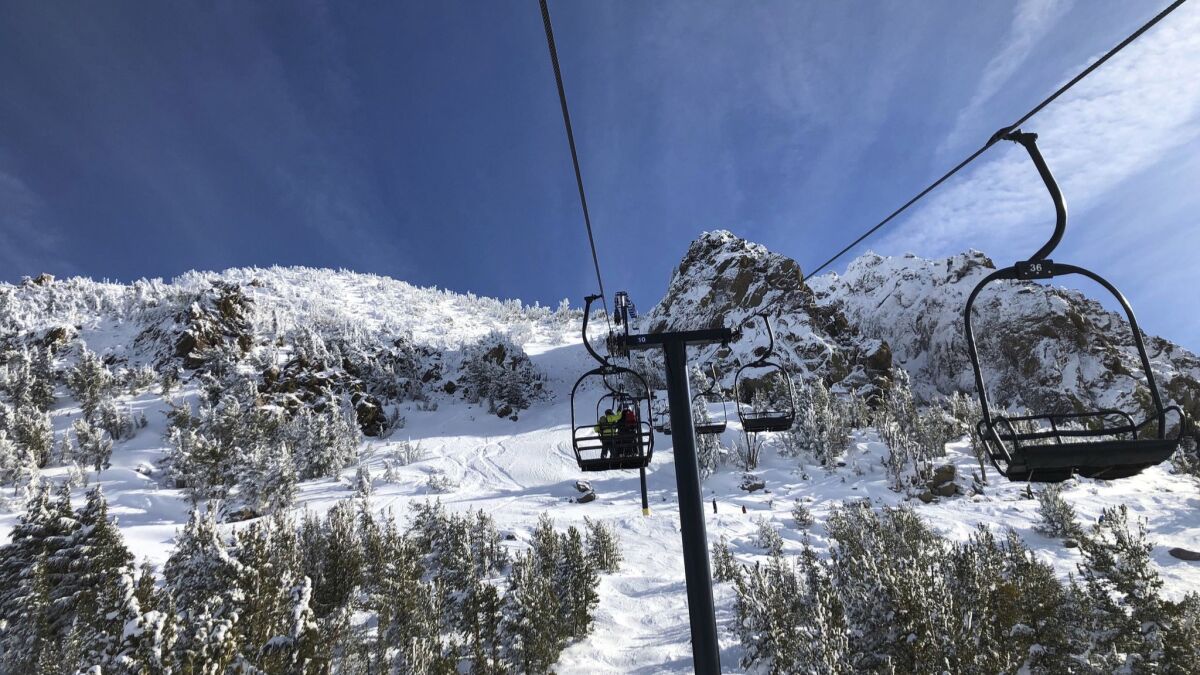 In a good sign for California's water supply, the Sierra Nevada has been blanketed by heavy snow thanks to a series of recent storms.
The snowpack measured 106% of average, according to the state's snow survey taken late last week. That's more than double the 47% of average measured on the same day last year.
The Sierra Nevada is a key source of water for California, which is still recovering from years of drought conditions.
Two storms beginning on Thanksgiving brought up to 2 feet of snow in parts of the northern Sierra, said Emily Heller, a meteorologist with the National Weather Service.
In the southern Sierra, the snowpack was recorded as high as 125% of average. Some areas northeast of Bakersfield reached up to 200% of average levels of snowpack.
The Sierra Nevada is likely to be on the drier side for the next few days, the weather service said, but a storm toward the end of this weekend may bring 6 to 15 inches of snow.
Despite the promising start, it's too early to predict whether it'll be a good snow year, said Chris Orrock, a spokesman for the California Department of Water Resources.
The snow season starts in December and ends on the first day of April, when experts trek to the mountains to take a final measurement of the snowpack, which determines decisions made by water departments across the state.
"Right now, we're looking good, but that could change tomorrow," Orrock said. "There's been years we've gotten a lot of snow earlier in the season and then we don't get any for the rest of the year."
Other years, the Sierra Nevada is dry several months into the winter season but then gets a storm toward the end that makes up for the deficit, he said. The state will need more consistent storms this winter for snowpack levels to remain near or above normal by the end of the season, said Julie Malingowski, a meteorologist with the National Weather Service.
The odds of at least normal levels of snowfall are good for the next couple of months, she said.
Southern California is always significantly drier than Northern California. But even the Southland has received a good amount of rain in the last few weeks.
Mount Baldy got 15 inches of snow and Mountain High received 10 to 13 inches, the National Weather Service said. Other areas, such as Wrightwood and Lockwood Valley, got 6 to 8 inches of snow.
Since the start of the water year on Oct. 1, downtown Los Angeles has received more than 4 inches of rain — more than the average amount of precipitation for this time of year and significantly more than last year, when about one-tenth of an inch of rain fell.
The last water year, which started Oct. 1, 2017, was the third driest in downtown L.A. since records began in 1877, dropping just 4.72 inches — about 32% of the average rainfall of 14.93 inches.
But there is no pattern, Orrock warned, and weather experts can't predict snowfall more than a couple of weeks ahead of time.
Climatologist Bill Patzert said people should remember a drought isn't easily remedied.
"We got a couple of nice little storms and everything looks so refreshed and the air so clean, but we're really behind the curve here in terms of our water supply," he said. "It takes you many years to get into a drought and into these deficit situations, and one wet year is not a drought buster."
Lake Mead in Nevada, for instance, takes 17 years of above-average flow from the Colorado River to refill, so one wet year on the Colorado River Watershed wouldn't do the trick, Patzert said. The same is true for groundwater basins in the Southland, which are at historically low levels.
Patzert said it's also difficult to predict how wet this season will be because of competing natural phenomena.
There's a "wannabe" El Niño in the Pacific Ocean along the equator, a weather phenomenon that can cause a series of subtropical storms to hit California, Patzert said. And in the northeastern Pacific Ocean, there's a "blob" of warm water that in years past has reinforced a drought-worsening ridge of high pressure that diverts storms away from the West Coast and into the central United States.
"It's a rematch of the blob versus El Niño," Patzert said. "Most forecasters are being cautious about January, February and March, which are usually our wettest months."
Still, researchers are predicting a climate pattern is emerging: one of extreme highs and extreme lows, or "whiplash events," said Neil Berg, a climate scientist at UCLA's Center for Climate Science.
California already has gotten a taste of this. When state snow survey chief Frank Gehrke made the cold hike through the Sierra Nevada earlier this year, he measured the snow at 94 inches deep — a stark contrast with just two years prior when the same spot was a bare field of dirt and weeds.
The 2016-17 winter created one of the largest snowpacks in the state's history and loaded California reservoirs and rivers for months, even to the point of flooding some communities. Overall, the snowpack was 163% of average, which when it melts equals 46 inches of rain.
That record relieved some water deficits the state had been suffering during a years-long drought. Then, after last season, the snowpack went back to below-average levels.
"I'm always particularly happy when we see these average years because I think those will become increasingly uncommon," Berg said. "That oscillation between dry and wet extremes is actually a phenomenon we are projecting will increase."
alejandra.reyesvelarde@latimes.com
Twitter: @r_valejandra
The stories shaping California
Get up to speed with our Essential California newsletter, sent six days a week.
You may occasionally receive promotional content from the Los Angeles Times.