Skid row residents criticize LAPD after death of mentally ill man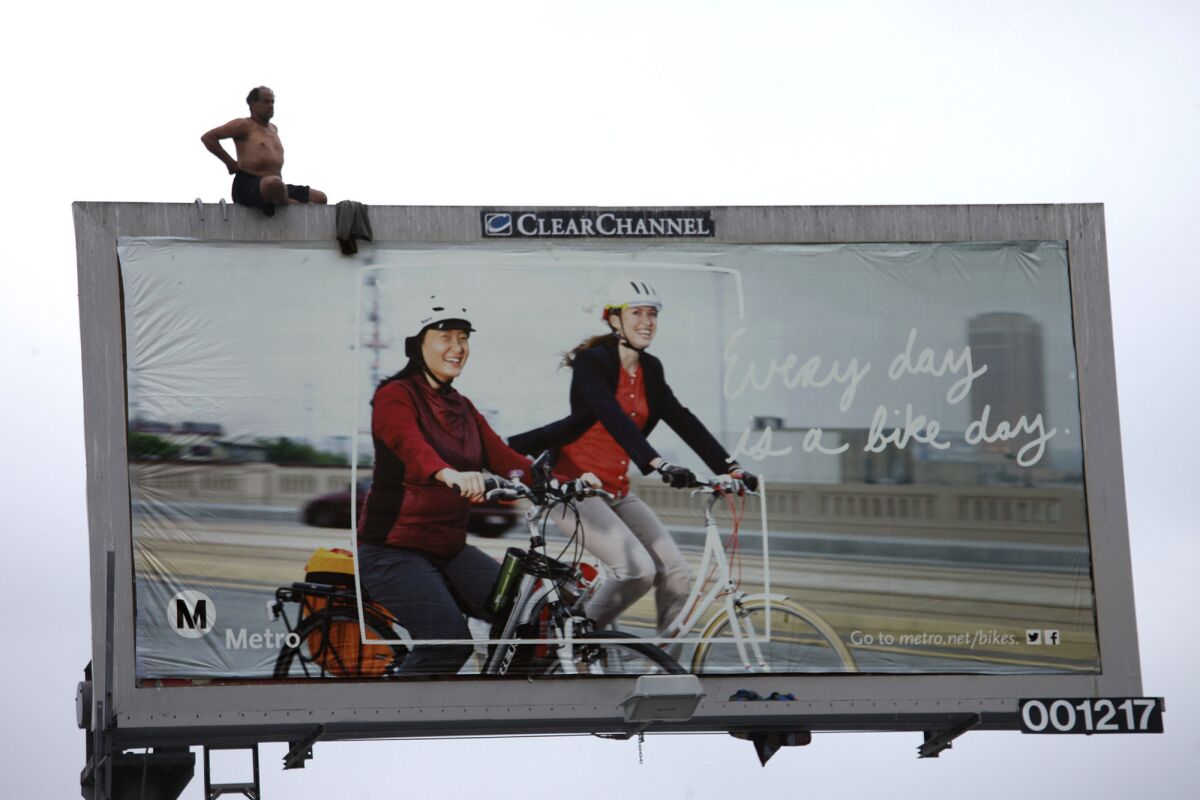 Skid row residents met Wednesday with Los Angeles police to protest the death of a mentally ill homeless man who fell off a rooftop after officers shocked him with a Taser as he attempted to avoid arrest.
The May 24 incident involving Carlos Ocana, 54, is under investigation by the police commission's inspector general as an "in-custody death," authorities said. The coroner's office listed the cause of death as blunt-force trauma to the head and said the death was accidental.
LAPD officials at the meeting, held at the James M. Wood Community Center, said they could not discuss details of the incident, but assured attendees that they were conducting a thorough, independent investigation.
Skid row residents and their supporters said police needed to change how they treat mentally ill people on skid row.
"This an outdoor asylum, and people need to be treated with compassion," Pastor Cue Jn'marie, a skid row street preacher, told police. "What are we going to do so someone doesn't get shot on the streets of skid row because they're mentally ill?"
Lt. Billy Brockway, head of the LAPD's Safer City Initiative task force on skid row, said his officers were getting intensive training in dealing with the mentally ill, and were working to coordinate responses with mental health treatment teams.
"We're not clinicians, but we're out here to help," he told the gathering of about 40 people.
In an interview later, Officer Norma Eisenman, an LAPD spokeswoman, said police were summoned to 5th and San Pedro streets after Ocana scaled a rooftop billboard.
After officers called in the SWAT team, Ocana climbed down to the roof, only to try to scramble back up the ladder to the billboard, Eisenman said.
Officers shot him with the stun gun and attempted to grab him, but lost their grip and he fell off the roof to the ground below, missing an airbag they had set up for his protection, Eisenman said.
Ocana later died at the Los Angeles County-USC Medical Center, the coroner said.
Ocana, known to his friends as Amado Ocania, was one of a group of Cuban emigres who spend their days at the skid row intersection.
Roberto, a member of the group who would give only his first name, said in an interview that Ocana had scrambled up the billboard after a security guard discovered him sleeping on top of the one-story building, which houses a mini-market, and called police.
Roberto, speaking through an interpreter, said Ocana had taken off his shirt and was waving it in an obvious signal of surrender when he came down the ladder. He also said Ocana had longstanding mental health issues that were well-known to the officers, and that police refused to let his friends try to talk him down.
"He was scared. SWAT came with big guns -- real, real guns," Roberto said.
Residents at the meeting, organized by Los Angeles Community Action Network and other skid row activists, said SWAT should not have been called in to confront the obviously disturbed man.
LAPD Lt. John McMahon said SWAT includes a crisis team experienced in negotiating with troubled people.
"Everybody would agree it's not law enforcement's role to address homelessness and mental illness, but these are core issues facing skid row and we confront them on a daily basis," McMahon said.
The inspector general's investigation could last eight months, authorities said.
"We'd like to hear from all witnesses in the case," Asst. Inspector Gen. Django Sibley told the gathering.
Follow @geholland for news about skid row and homelessness.
---
The stories shaping California
Get up to speed with our Essential California newsletter, sent six days a week.
You may occasionally receive promotional content from the Los Angeles Times.