Dog park opens for residents of skid row homeless center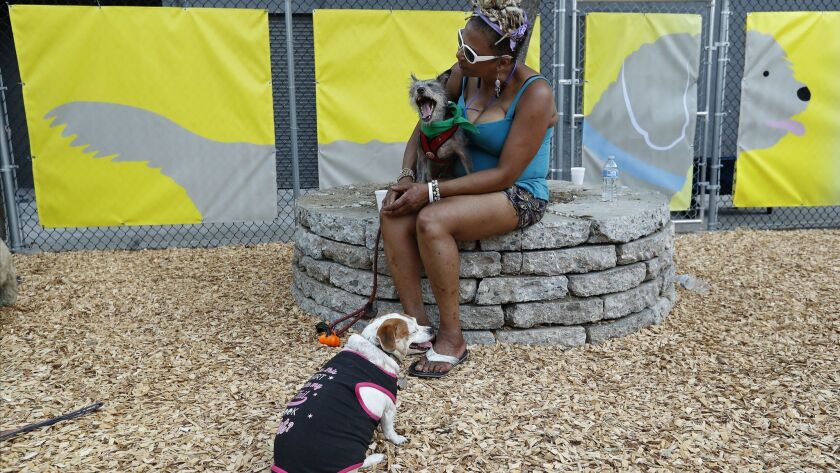 A dog park opened Friday on skid row to assist residents of a homeless services agency to get off the streets without being forced to give up their pets.
Shaded by a tree and lined with cheerful dog graphics, the Weingart Center's pocket park comes amid a growing consensus that shelter pet prohibitions have posed a major barrier to helping L.A.'s 53,000 homeless people turn their lives around.
As recently as five years ago, homeless pet owners on skid row were being targeted by social media campaigns as neglectful and venal people who bred puppies for fight pits and for sale, often to other homeless people.
While acknowledging a small percentage of homeless people do breed and abuse their pets, advocates say the overwhelming majority go without eating to feed their dogs, and are attentive caretakers. Most will not abandon their pets, even for housing or shelter, supporters said.
"They've lost everything, and now this pet is giving them unconditional love and protection," said Genevieve Frederick, founder of Pets of the Homeless, a national nonprofit that operates in Los Angeles.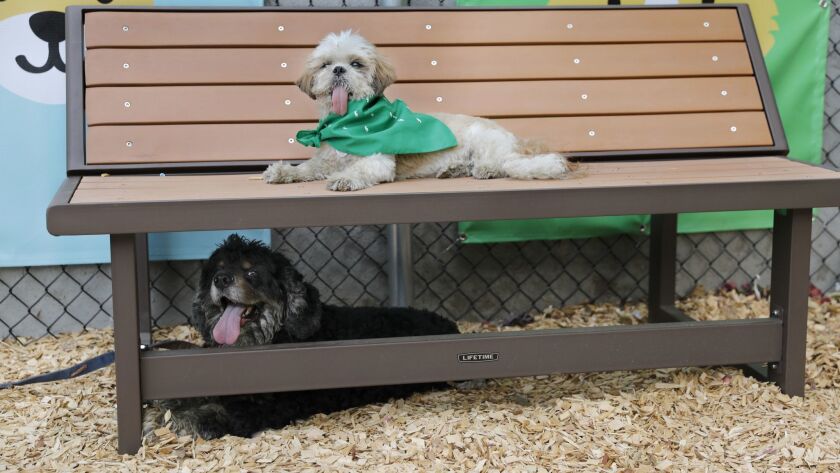 Two years ago, the Inner City Law Center and L.A. Animal Services opened a weekly pet resource center on skid row, providing free food and other supplies, veterinary care and spay and neuter services. Several big shelters have relaxed or eliminated pet bans, and now, Mayor Eric Garcetti plans to accept pets as part of his upcoming, $20-million citywide shelter expansion.
"People in the streets have always had dogs and now we're finally starting to incorporate services so they will want to go into housing," said Lori Weise, founder of Downtown Dog Rescue, which helps run the resource center.
Nearly half of skid row's pet owners are homeless and most of the rest live in motels, renovated flophouses or shelters, officials at skid row resource center said. The Weingart dog park will be restricted to use by the center's clients, 15 of whom currently live with dogs or cats in the 11-story center, the former El Rey Hotel.
"We'd love to provide a bigger program, " said Tonja Boykin, chief operating officer for the Weingart Center, "but we know that individuals sleeping on the street have pets for comfort, protection and solace, and faced with transitional housing that doesn't allow pets, they therefore stay on the streets longer.
"We want people to come in," she said.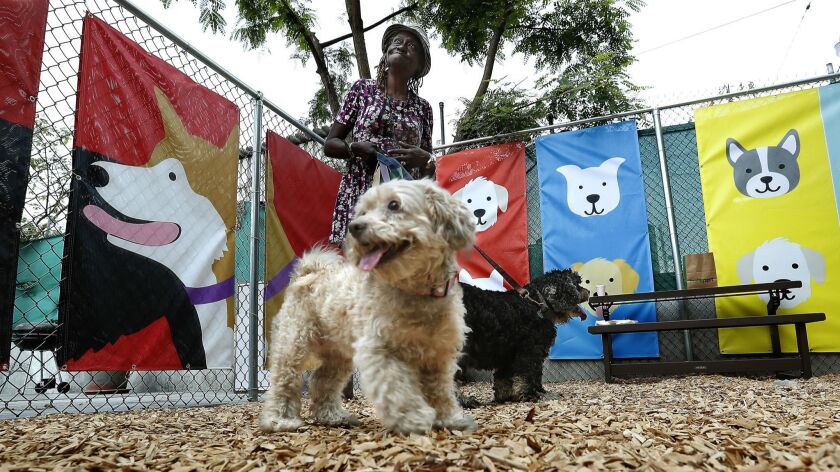 Several residents said the park will provide respite from their overheated and lonely rooms, as well as a place to exercise and socialize their pets without venturing into the often violent and rat- and needle-infested streets of skid row.
"They steal your clothes, you get robbed and cussed out for no reason," said Bobby Ann Luckett, 67, who had been pulling her two fluffy dogs, Chub-Chub Lee and Princess Ann, in a laundry cart to search out the neighborhood's few trees and greenery. "I can come down here and we can have time together at night."
Funded by a $15,000 Los Angeles Homeless Services Authority grant, the park will also offer obedience training, food and other pet supplies, veterinary care and spay and neuter services.
The homeless authority also granted four other agencies — Proyecto Pastoral, Volunteers of America Los Angeles, L.A. Family Housing and People Assisting the Homeless, or PATH — money to purchase kennels and crates, furnish pet and cleaning supplies, hire dog trainers and make shelter modifications to better accommodate companion animals, for a total of $150,000 in grants.
Moore Ruble Yudell Architects & Planners and designers Jen Ha and Victoria Lam donated their services to planning the park, which also features a couple of benches and succulent planters.
Steffen Baldwin, the center's dog trainer, said he will be working with individual and group behaviors so pets can adjust not only to living at Weingart but later in permanent housing. Key to the training is a space to let the dogs off-leash, he said.
"It's amazing what dogs can teach themselves if we let dogs be dogs," Baldwin said. "Fifteen minutes of group play is as stimulating as an hour walk."
Residents will be equipped with pooper scoopers and doggie bags, and trained to keep the park clean, Boykin said.
"The worst thing that could happen in my mind is for people to find they are not equipped to handle pets, and the landlords put them out," Boykin said.
Ducep Palermo, 42, said her dog Rex became anxious and fearful living in a tent at MacArthur Park and then on skid row since her barber shop business fell apart two years ago.
"I promised him when I rescued him I could take care of him, but I lied to him," Palermo said, tears running down her face.
Volunteers of America helped her get into the Weingart Center three months ago, and on Friday, she found out that she'd been cleared for permanent housing.
"I've seen more crime and violence in three months than the whole rest of my life," she said. "We've been chased by dogs and chased by people, and I was more concerned for him than for myself."
Twitter: @geholland
---
The stories shaping California
Get up to speed with our Essential California newsletter, sent six days a week.
You may occasionally receive promotional content from the Los Angeles Times.