Nearly 100 nuns at a nursing home near the Skirball fire were evacuated. With nowhere to go, staff took them in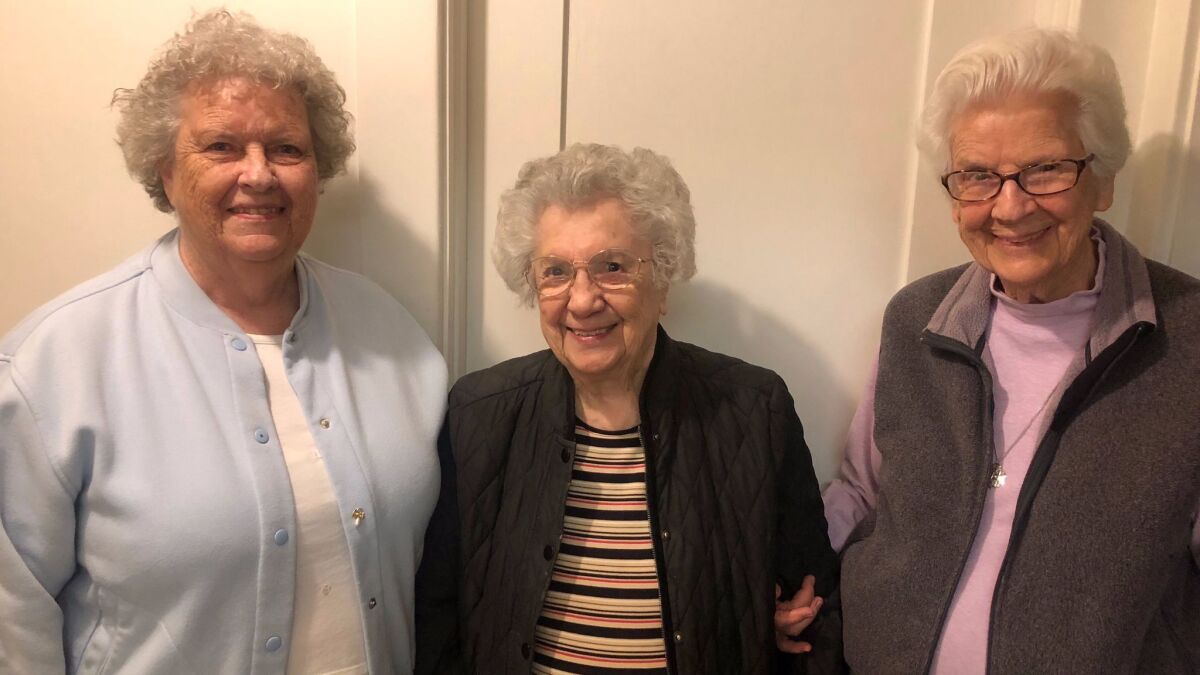 Mary Kowalski wasn't bothered when she was told by the nursing home staff to pack all her belongings and get ready to evacuate. It was at 5 a.m. Wednesday, and ash-filled smoke from the multimillion-dollar homes burning in the Skirball fire was all around. She got ready to leave.
Kowalski, 87, is among the nearly 100 retired nuns who live at the Carondelet Center in Brentwood — a nursing home for the Sisters of St. Joseph, a congregation of Catholic nuns.
The nursing home sits atop a hill and is surrounded by thick brush on all sides. It is also not far from the Sepulveda Pass. Firefighters Thursday worried that if winds picked up, the flames from the Skirball fire — which had already destroyed six homes and damaged 12 more — could jump the 405 Freeway and race west.
That would put the nursing home right in its path.
With wind gusts picking up and air quality already compromised, the nursing home staff didn't want to take the risk of staying. Everyone was evacuated by 7 a.m. Wednesday.
But now the nuns, many of whom are in their late 80s or older, suddenly needed places to stay.
The staff had an idea: Why not have them stay with us?
"We don't want to take the risk and put them through this again if we're asked to evacuate again," said Sister Anne McMullen, an administrator at the nursing home.
"So this was the safest and most comfortable option we could think of."
Maintenance workers, nurses, administrators and drivers offered up their homes.
McMullen is taking care of three nuns at her home in Koreatown. One of them is Sister Elizabeth Anne Malone, 91, who has been living at the Carondelet Center for 15 years.
"I'm feeling fine and taken care of," Malone said. "I just pray that all the sisters are safe."
David Chand, a driver for the Carondelet Center, has four of the nuns staying at his home in Glendora. On Thursday afternoon he returned to the nursing home to gather a hospital bed, medications and clothes for the them.
"They're all doing well," Chand said.
Residents need medical attention were transferred to other assisted-living centers. Six were evacuated to places in Orange County and the San Fernando Valley, McMullen said.
And at least 15 are staying at the Nazareth House, an assisted-living community in Culver City.
Kowalski is one of them.
As she lay in bed at Nazareth House late Thursday afternoon, she joked around with her nurse, Maria Guerra, who works at the Carondelet Center.
"I don't want ginger ale," she told Guerra. "I want some wine!"
"It's not happy hour yet," Guerra answered.
"I'll pretend it's white wine then," she said.
Constance Fitzgerald, 104, and her younger sister Ann Fitzgerald, 102, were also moved to Nazareth House. Although their living situation had been upended, their thoughts were with others.
"I'm more concerned for people whose homes were in the path of the fire," Ann said.
Her friend, Louise Bernstein, 87, chimed in: "I didn't think something like this would happen to me, especially at my age. But I think I'll be OK."
The stories shaping California
Get up to speed with our Essential California newsletter, sent six days a week.
You may occasionally receive promotional content from the Los Angeles Times.