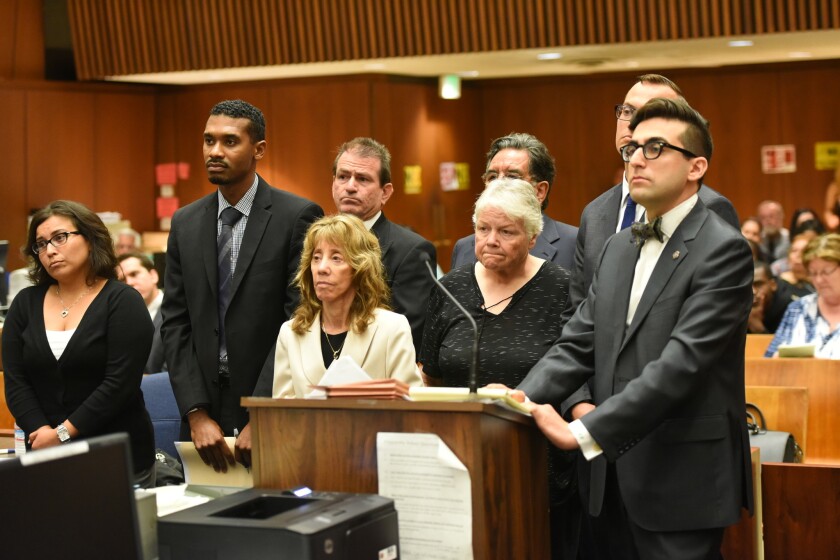 A Los Angeles County Superior Court judge denied a motion to drop charges of felony child abuse and falsifying public records against four social workers related to the torture and death of 8-year-old Gabriel Fernandez.
Stefanie Rodriguez, 31, Patricia Clement, 65, Kevin Bom, 37, and Gregory Merritt, 60, were arraigned Monday, after Judge M.L. Villar denied a defense motion that claimed there was insufficient legal basis for the charges.
They were each charged in April with one felony count of child abuse and one felony count of falsifying public records. No pleas were made.
The child's mother, Pearl Fernandez, and her then-boyfriend, Isauro Aguirre, face a separate trial on capital murder charges.
The former Los Angeles County Department of Children and Family Services child protective workers were present in court and sat together with their attorneys.
Clement, a former nun and chaplain in the county's juvenile detention centers, declined to comment, as did Rodriguez, Bom and Merritt.
Los Angeles County prosecutors allege that the four minimized the injuries that Gabriel suffered and allowed him to remain at home with his mother and Aguirre where the abuse continued.
Lance M. Filer, Rodriguez's attorney, said his client should not be held accountable for "the independent actions of criminals."
"Everyone is surprised that the county has brought these charges," he said. "Everyone is confident that when all the evidence is presented that my client will be cleared."
The arraignment comes three years after Gabriel's death on March 24, 2013. The boy suffered a cracked skull, three broken ribs, burns and bruises. He had BB pellets embedded in his lung and groin, and two teeth were knocked out of his mouth.
Fernandez and Aguirre allegedly tortured the boy for eight months, according to prosecutors, forcing him to eat his own vomit and cat feces, locking him in a cupboard to sleep in and hitting him with a small bat.
A Facebook page, "Gabriel's Justice," was created a day after his death, dedicated to supporting Gabriel and raising awareness of child abuse.
Founder Amanda Nevares was in court Monday with other supporters.
"The fact of the matter is these four people have absolutely no sense of responsibility," she said. "None."
The next hearing for the four workers is scheduled for Aug. 25.
ALSO
Former top L.A. County attorney alleges misconduct by supervisors in new suit
Judge throws out ex-L.A. County Sheriff Lee Baca's plea deal, saying six months in prison not enough
Transient sought in death of West Hollywood woman whose body was found in trash bin
---