Sriracha spat: 11 complaints prompt AQMD 'odor surveillance'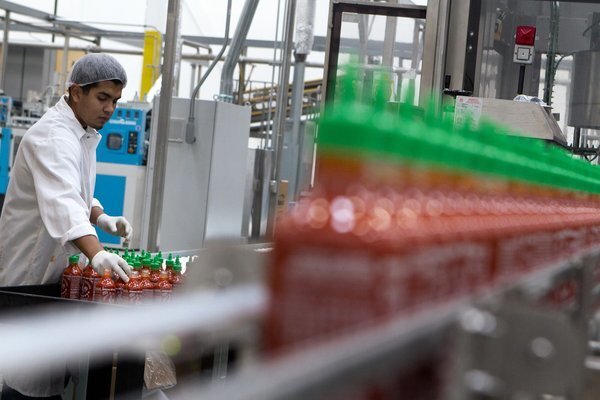 Jostein Reyes works in the packaging area at Huy Fong Foods Inc. in Irwindale. Huy Fong Foods Inc. is known for its Sriracha hot sauce.
(Cheryl A. Guerrero / Los Angeles Times)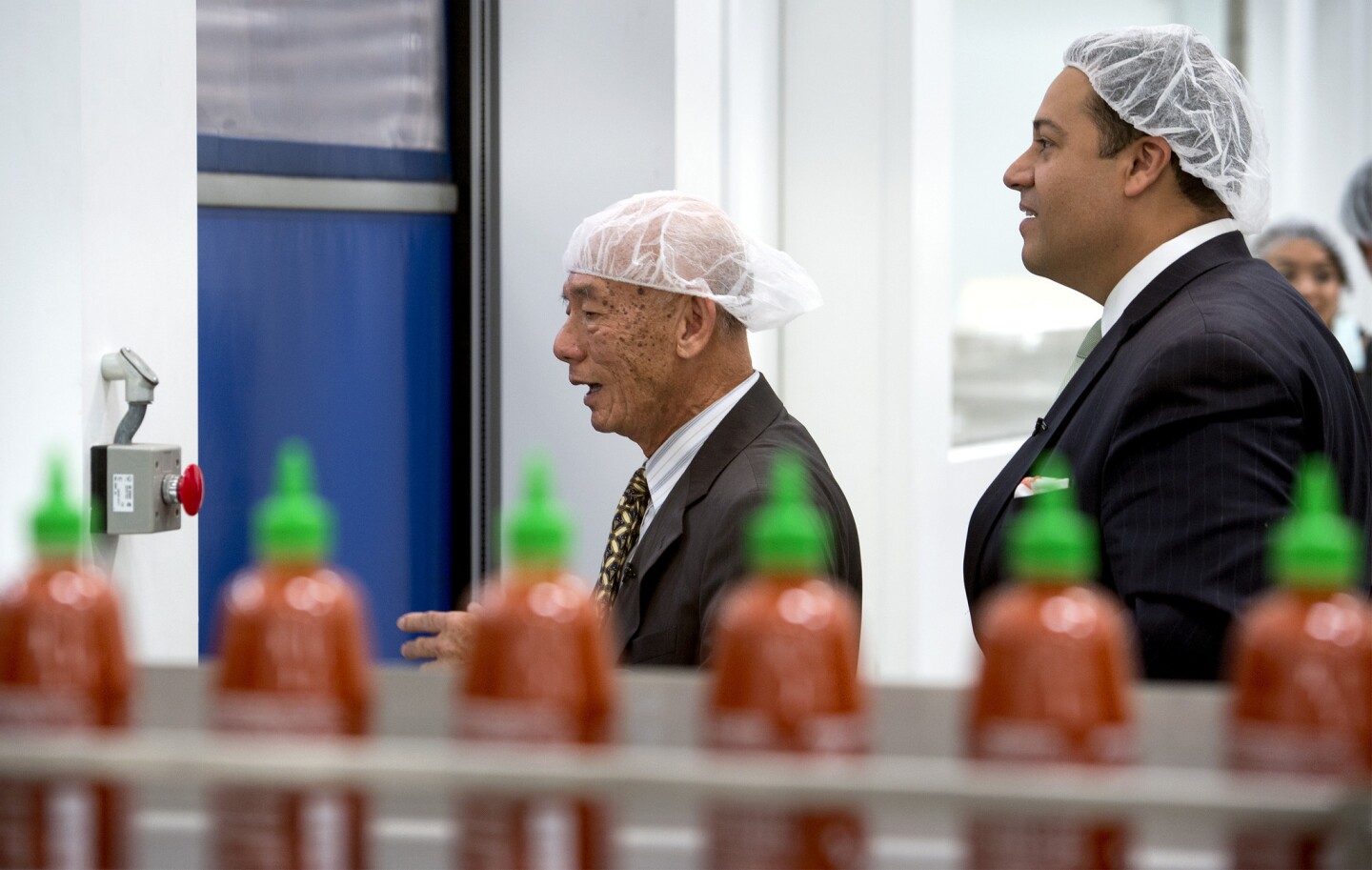 Texas state Rep. Jason Villalba, right, tours the Huy Fong Foods plant, maker of Sriracha hot sauce, with founder and Chief Executive David Tran in Irwindale.
(Leo Jarzomb / Associated Press)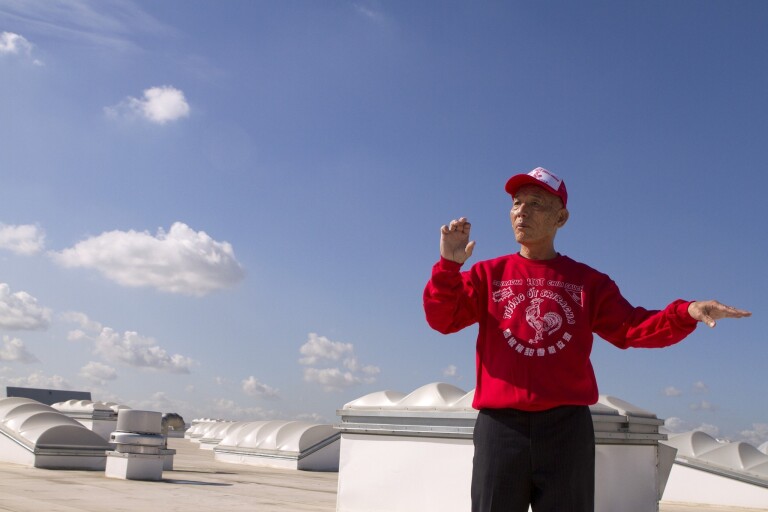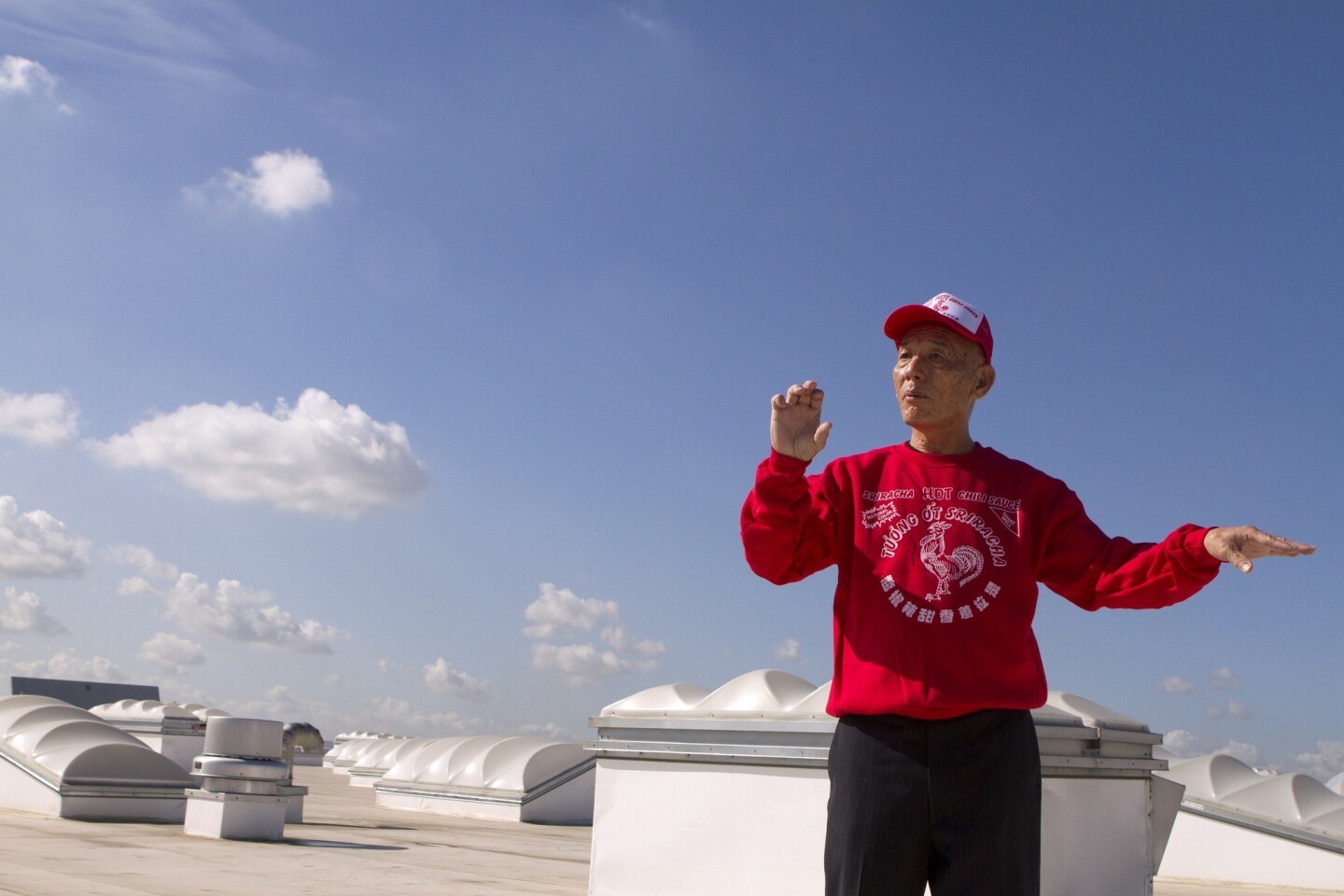 David Tran, chief executive and founder of Huy Fong Foods Inc., gives a tour of his facility in Irwindale. Nearby residents have complained about burning eyes, irritated throats and headaches.
(Cheryl A. Guerrero / Los Angeles Times)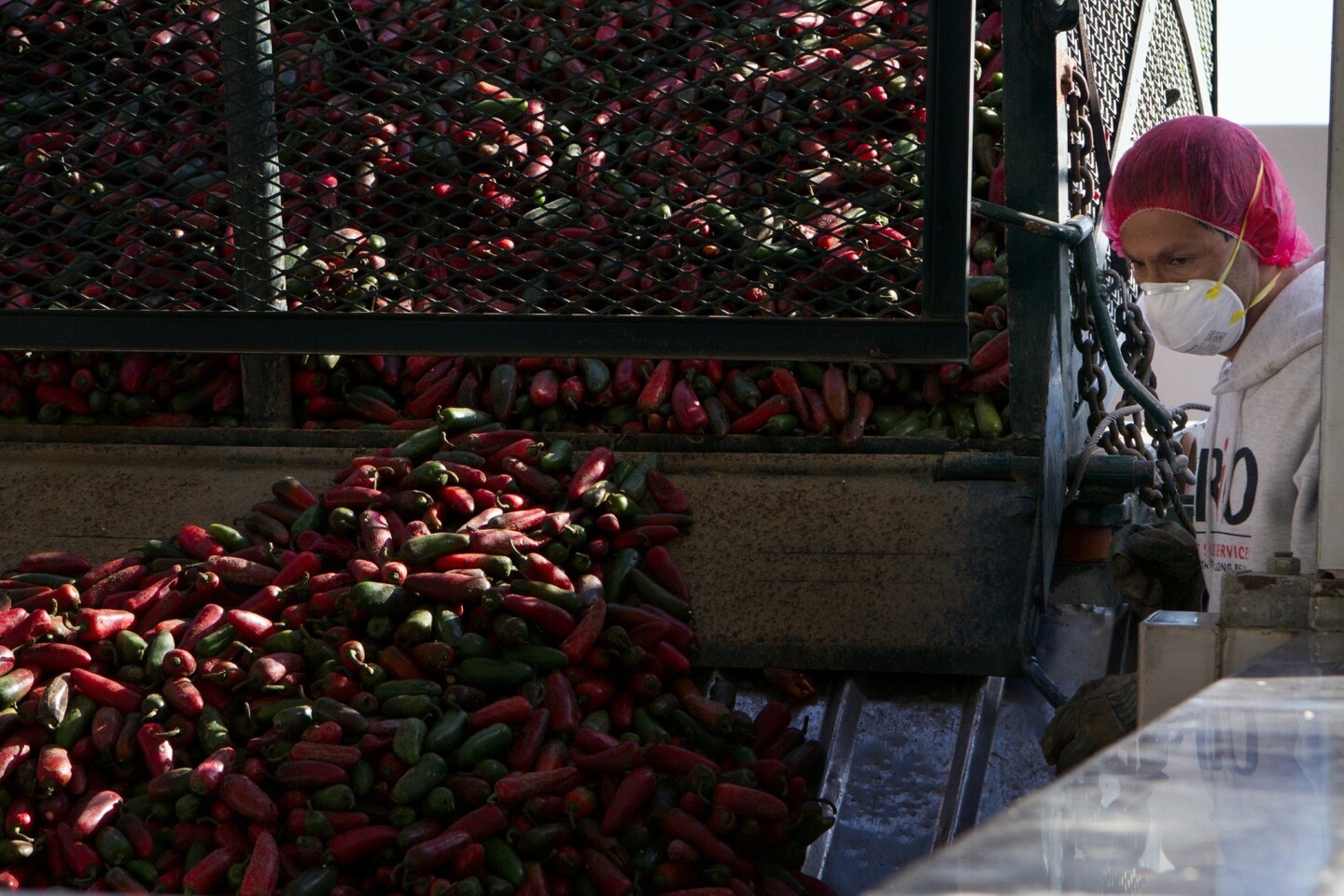 Salvador Segura oversees hybrid jalapenos unloaded from a truck at Huy Fong Foods Inc. in Irwindale.
(Cheryl A. Guerrero / Los Angeles Times)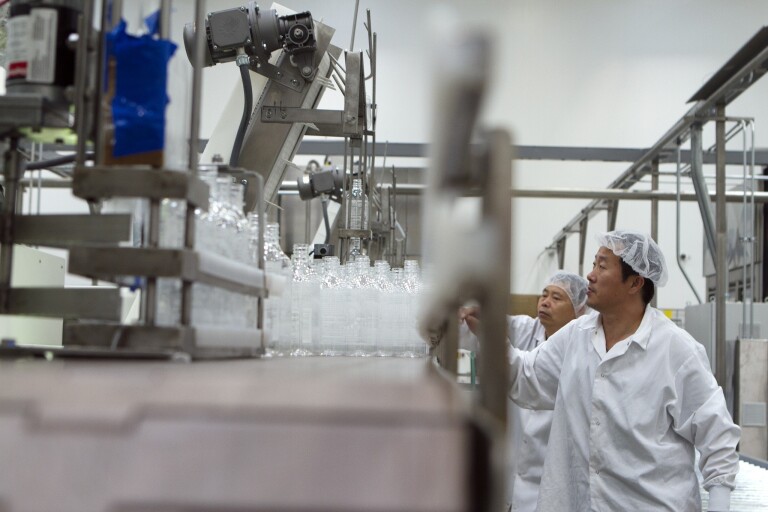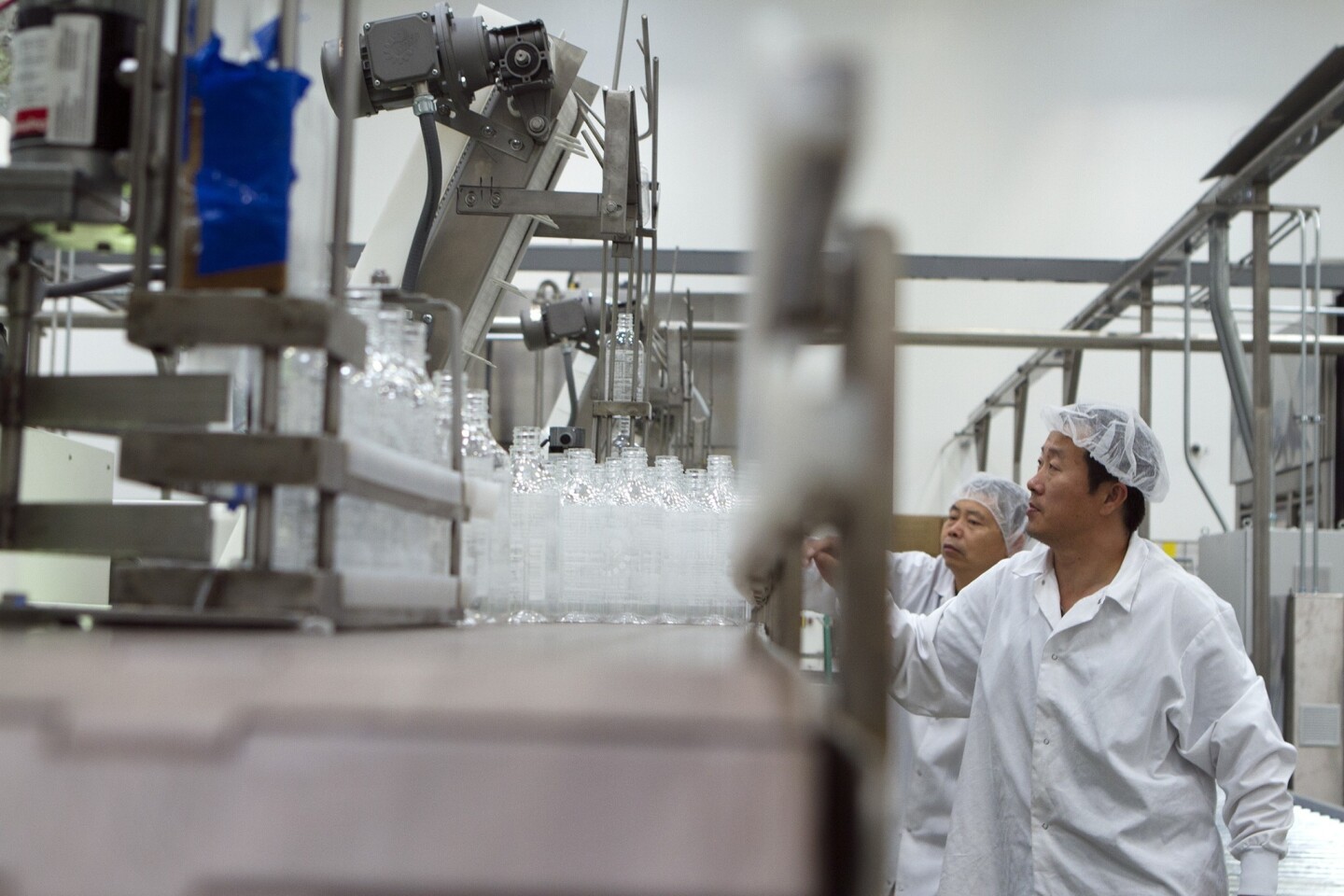 Wei Wang and Wei Zhang work in the packaging area at Huy Fong Foods Inc. in Irwindale.
(Cheryl A. Guerrero / Los Angeles Times)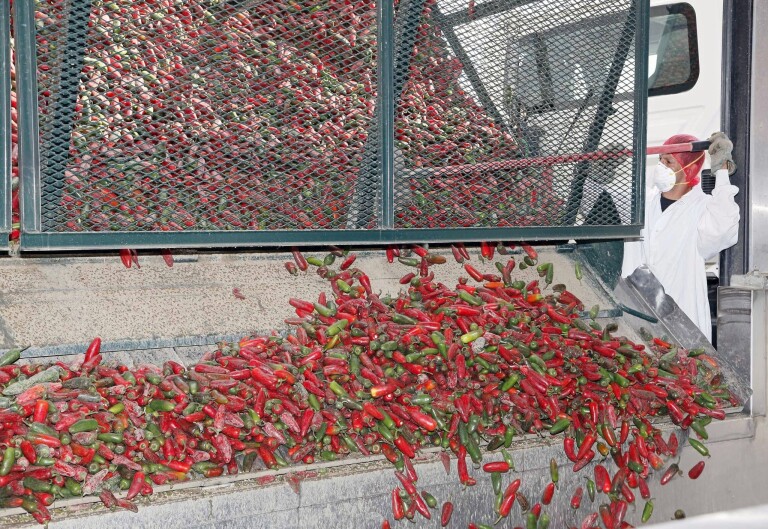 Sriracha chili sauce is produced at the Huy Fong Foods factory in Irwindale.
(Nick Ut / Associated Press)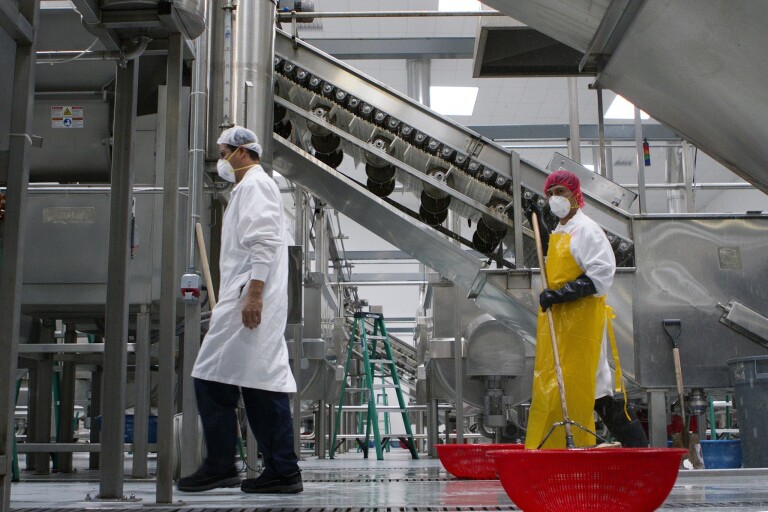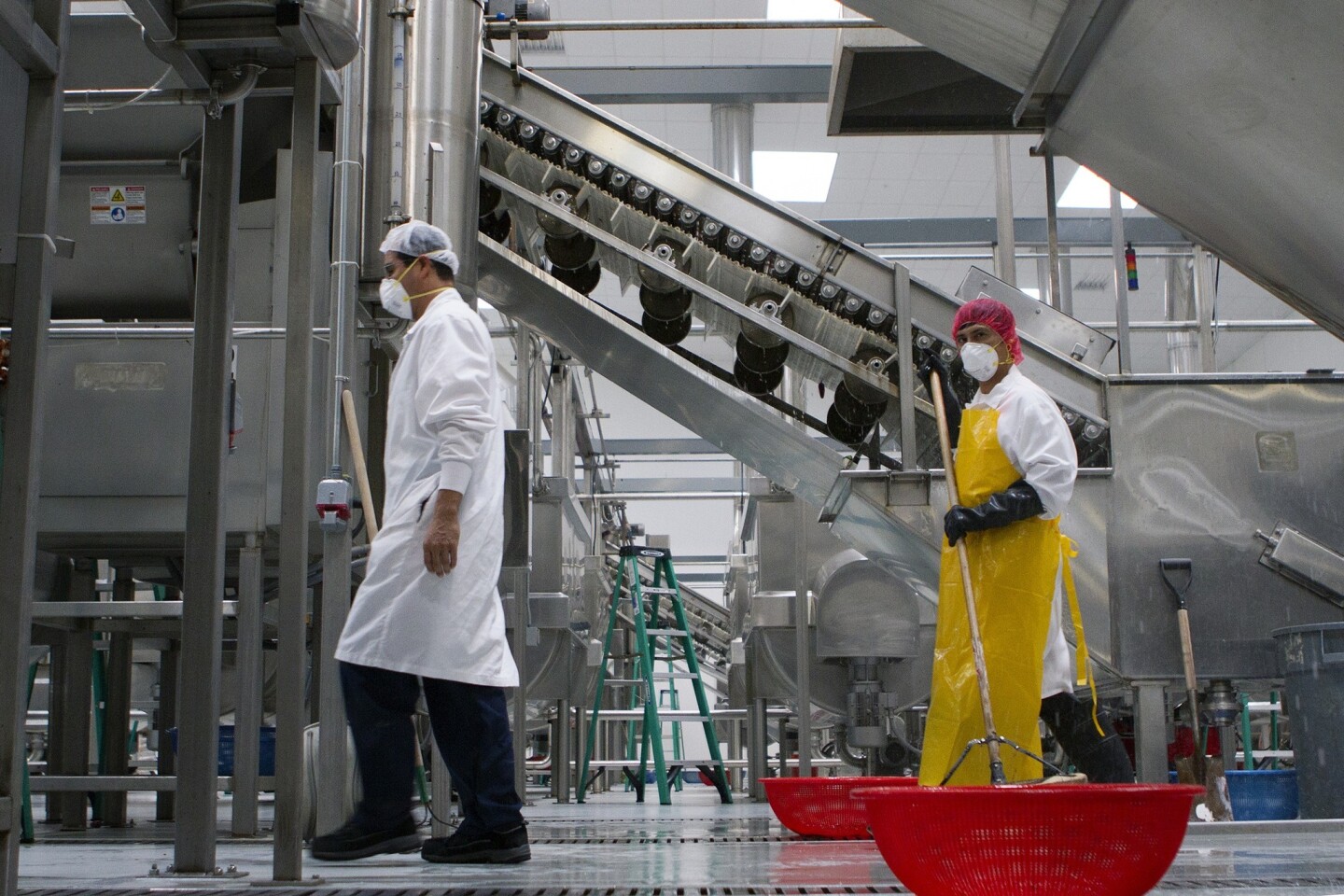 William Barrios sweeps the floor while hybrid jalapenos are washed at Huy Fong Foods Inc. in Irwindale.
(Cheryl A. Guerrero / Los Angeles Times)
The South Coast Air Quality Management District got 11 complaints about odors related to the Irwindale plant where the popular Sriracha hot sauce is made, all since Oct. 21, but none could be verified, a district spokesman said.
Inspectors conducted "odor surveillance" on two occasions in and around the neighborhood where Huy Fong Foods is located, said Sam Atwood of the AQMD.
"On both occasions, they could not detect any odor," he said.
Atwood said there was one complaint Tuesday and four Saturday. He said that odors can be fleeting, depending on factors like the weather, and that deep marine layers can trap odors and pollutants close to the ground.
"We will continue to take a look at that facility. We can do odor surveillance, and go out regardless of whether there's a complaint or not, and just have an inspector drive around the area," Atwood said.
But so far the district has not found any reason to take any action against Huy Fong Foods, he said.
After residents complained of burning eyes and throats and in some cases headaches, the city of Irwindale asked a judge Monday to halt operations at the plant. The plant, which processes raw materials for the sauce for about three months a year, is currently in the middle of a chile harvesting cycle.
Huy Fong Foods chief executive, David Tran, said the company was surprised by the lawsuit and has been working to address concerns. When the city approached the factory about the smell last year, Tran said the company installed active carbon filters and has since installed a second layer in response to smell complaints.
He warned that the price of Sriracha may go up if a court orders the hot sauce factory to halt production. A decision is expected Thursday.
"If the city shuts us down, the price of Sriracha will jump up a lot," Tran said.
The Irwindale plant turns out up to 12,000 bottles of hot sauce hourly and about 200,000 a day. It is operating at 70% of capacity.
The chile itself is a hybrid jalapeño pepper calibrated by Tran and a supplier for specific spice levels. It is ground fresh, not cooked, he said.
Chiles are off-loaded onto a conveyor belt at the back if the building, where they are washed, then ground. Above the grinder, exhaust fans suck the chile air into several filtered pipes that run up to the roof, where the pepper air is expelled.
There are about 50 full-time employees and about 200 temporary workers.
Sergio Garcia, a 27-year-old machine supervisor, works near the unfiltered chile air all day without a breathing mask.
"It's not so bad," Garcia said. "You get used to it"
Lisa Bailey, president of the Irwindale Chamber of Commerce, said she got a tour of the facility about three weeks ago, while chiles were being crushed. She said she wore a hair net but no mouth covering.
"I didn't have any adverse reaction while I was there," Bailey said. "No burning eyes, no throat constriction, and I've had that while cooking chiles at home."
A business- and industrial-heavy city, Irwindale is no stranger to smells, including some emanating from a dog food manufacturer — usually, it seems, when it's an overcast day, Bailey said. And there's the MillerCoors Brewery.
"But most people don't consider that a bad odor. It's like, 'Oh, beer!'" Bailey said with a laugh.
Bailey said she was surprised to find out about the city's suit. She said it was a treat for her to get to walk through the plant, describing her husband and herself as aficionados of Sriracha.
"My husband pretty much uses it like ketchup," Bailey said. "I use it mostly on tacos and stuff of that nature. We use it almost daily."
ALSO:
Driver in Lodi crash that killed family may have been drinking
Black bear on the loose after visiting golfers on Granada Hills course
Cops say one of two Craigslist killing suspects may have robbed others
---
Get breaking news, investigations, analysis and more signature journalism from the Los Angeles Times in your inbox.
You may occasionally receive promotional content from the Los Angeles Times.