Attorneys for Suge Knight indicted on charges tied to alleged witness tampering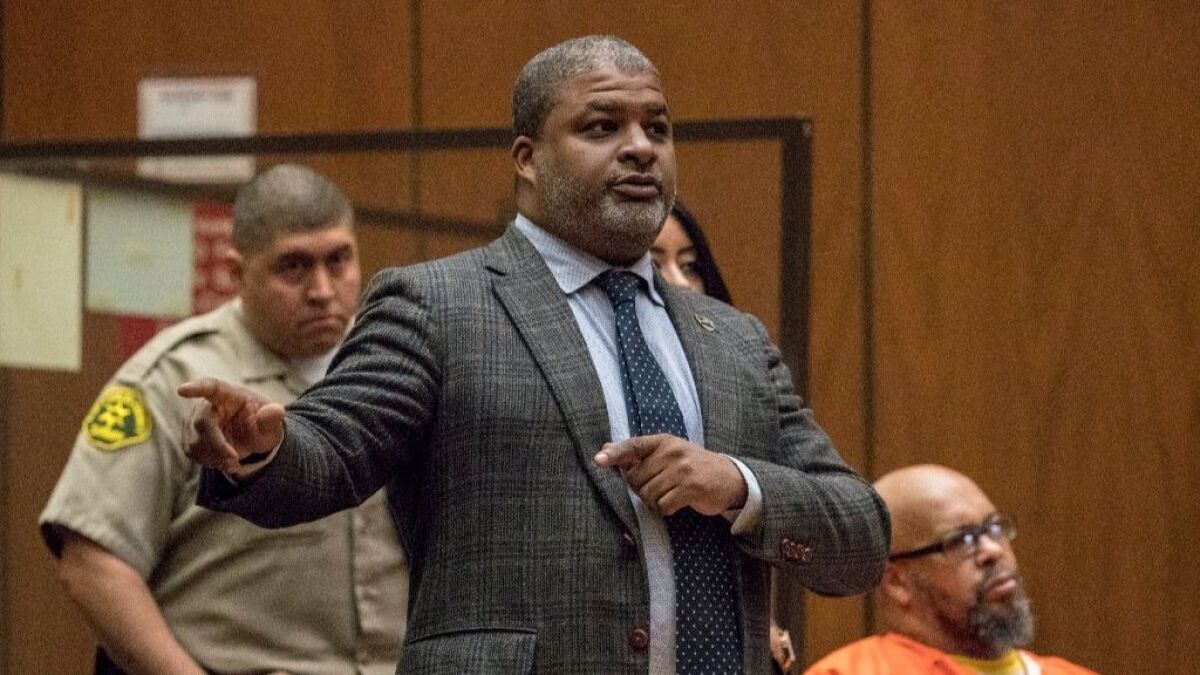 In the weeks and months after Marion "Suge" Knight barreled a truck into two men outside a famous Compton eatery, leaving one dead, defense attorneys and the rap impresario discussed how much it might cost to find something that would exonerate him on a murder charge, according to court records.
One of Knight's attorneys, Matthew Fletcher, found a man who would say there were guns at the crime scene, but the witness would need to be paid, Fletcher allegedly told Knight. In the same conversation, according to prosecutors, Fletcher told Knight that $25,000 was a "fair investment to secure his freedom."
The allegations are included in a 13-page indictment unsealed on Monday charging Fletcher and another of Knight's attorneys, Thaddeus Culpepper, with conspiracy to commit bribery, conspiracy to commit subornation of perjury, conspiracy to commit obstruction of justice and serving as accessories after the fact to the 2015 murder Knight is accused of.
Culpepper was charged with two additional conspiracy counts, and Fletcher faces an additional charge of perjury, prosecutors said. Both attorneys appeared in a downtown courtroom Monday. Neither man entered a plea, but both have previously denied wrongdoing.
Prosecutors sought to hold both men in lieu of $500,000 bail, but Judge Scott Gordon released them on their own recognizance. An arraignment was scheduled for March 16. If convicted on all counts, both men face up to three years and eight months in prison.
A grand jury returned the indictment against both men on Jan. 24, one day before they were arrested by Los Angeles County sheriff's detectives. Culpepper and Fletcher were released the next day, and law enforcement officials have yet to explain why the men were indicted, arrested and then freed. The Sheriff's Department said in a statement that the men were released Jan. 26 pending "further review" by prosecutors, even though the grand jury returned its indictment prior to their arrest.
Sheriff's officials would not comment further about the timing of the arrests. The district attorney's office did not respond to questions.
Knight has not denied he was driving the truck that careened through the parking lot of Tam's Burgers in January 2015, killing Terry Carter and wounding Cle "Bone" Sloan. But he has long claimed he acted in self-defense because there were armed men at the scene trying to kill him.
In a court filing made public last year, prosecutors accused Culpepper of agreeing to pay a man for "testimony that he was present at the time of the crime and [witnessed] evidence favorable to the defense." The man, who was an informant for the Sheriff's Department, had previously told Culpepper he was not at the crime scene but would testify on Knight's behalf, according to court documents.
Fletcher, at one point, also suggested paying off Sloan, according to the indictment.
Culpepper is representing Knight in the pending murder case and an unrelated robbery charge. Fletcher was previously an attorney of record in the murder case.
Knight has remained jailed in downtown Los Angeles since the January 2015 crash, which followed a dispute on the set of the N.W.A. biopic "Straight Outta Compton." His attorneys have repeatedly argued that either the victims or someone else at Tam's Burgers, where the crash took place, had a gun. Prosecutors say the evidence does not support that claim and a gun was never recovered.
His murder trial is scheduled to begin next month, and the years leading up to it have been marked by legal drama and accusations of misconduct. Knight has cycled through at least five attorneys in connection with the murder case, a 2014 robbery case that also involved comedian Micah "Katt" Williams and accusations that he threatened to harm F. Gary Gray, the director of "Straight Outta Compton."
The move to indict the attorneys is the latest in what some have called a series of troubling steps taken by prosecutors in their pursuit of Knight. Legal experts have said it is unorthodox, but not unheard of, to see defense attorneys arrested during a criminal proceeding.
In recent weeks, law enforcement officials also secured a three-year jail sentence against Knight's fiancee, Toi-Lin Kelly, for helping him violate a court order limiting his jail communications by arranging interviews with documentary filmmakers. Investigators later obtained a search warrant to review the contents of one of the filmmaker's phones.
In August, prosecutors filed a 22-page motion accusing Knight, his fiancee and several attorneys of discussing potential witness tampering during jailhouse phone calls. A judge had previously signed an order that allowed investigators to listen to the calls, which normally would have been protected by attorney-client privilege, after the Sheriff's Department developed information that Knight might be involved in witness tampering.
Speaking outside the courtroom Monday, Culpepper contended that the orders allowing prosecutors and investigators to listen to Knight's jailhouse conversations with attorneys were invalid.
"We are excited to have the opportunity to prove the district attorney's office has committed fraud upon the court and the grand jury from June 27, 2016, to the present date," Culpepper said, referring to the date prosecutors first obtained a court order to listen to Knight's phone calls.
Attorney Mark Geragos, who is representing Fletcher, echoed that sentiment, describing the court orders as "fatally flawed."
"I think the D.A.'s office has made an enormous mistake here, not just legally but factually," he said. "We look forward to exposing exactly what we think is going on here."
Geragos declined to elaborate on what he called "serious irregularities" in the prosecution's conduct. A call to Knight's attorney on the murder case seeking comment was not immediately returned.
According to transcripts of the recorded calls, which took place when Fletcher was still the attorney of record in the murder case, Fletcher made references to paying witnesses to say they saw firearms at the scene.
"And you all went over there and you saw these guns removed from these two people," Fletcher said, according to the motion. "Yes, yes. Fine, dude, you're done. Here's your money."
According to the indictment, during a March 2015 conversation, Fletcher also told Knight about a specific witness who would be paid to say there were firearms at the murder scene.
Kelly also said Fletcher had put "bread" out to get witnesses to come forward, presumably referring to cash, according to the motion.
The motion filed last year also detailed how a confidential informant working for the Sheriff's Department approached Knight on a prison transport bus in 2016.
"I'm on my way home, blood.… Anything you need," the informant said to Knight, according to the transcript.
Knight instructed the man to get in touch with one of his attorneys. The next day, the informant visited Fletcher's offices in Long Beach, and the two later spoke by phone. At one point, Fletcher suggested gaining helpful testimony might cost money, according to the filing.
"These … got a price; let's get that ... price paid," Fletcher said, according to the transcript. "I told Suge, 'You can always make some more money, you can't make any more freedom though.'"
The informant contacted Fletcher a week later, according to the motion, which did not include a transcript of their phone call. Culpepper offered the man money in exchange for his testimony, prosecutors alleged last year. According to the indictment, the informant told Culpepper he was not present at the crime scene, but Culpepper agreed to draft a declaration for him to sign. He also asked the informant to watch surveillance video of the murder, according to the indictment.
"I'll do whatever … but you know what, I'm gonna need a few dollars … maybe later down the line," the informant told Culpepper, according to the indictment.
"Of course, of course," Culpepper responded.
Follow @JamesQueallyLAT for crime and police news in California.
---
UPDATES:
6:25 p.m.: This article was updated with information about the sentencing of Toi-Lin Kelly, Knight's fiancee.
2:50 p.m.: This article was updated with comments from an attorney representing Matthew Fletcher.
1:00 p.m.: This article was updated with additional information from prosecutors, comments from Culpepper and details contained in the unsealed indictment.
This article was first published at 11 a.m.
---
The stories shaping California
Get up to speed with our Essential California newsletter, sent six days a week.
You may occasionally receive promotional content from the Los Angeles Times.