Marion 'Suge' Knight charged with threatening director of the film 'Straight Outta Compton'
Former rap impresario Marion "Suge" Knight entered a Los Angeles courtroom Thursday just as he has about once a month for the last two years, wearing jail scrubs and facing serious criminal charges.
He smiled at his family in the audience, including his son, who wore a T-shirt that read "FREE SUGE."
But Knight — who is charged with murder and robbery in separate cases — doesn't appear to be walking free anytime soon.
His latest appearance was to plead not guilty in a third criminal case, one that accuses him of threatening death or great bodily injury to the man who directed "Straight Outta Compton."
The hit film chronicled the rise of the seminal rap group N.W.A and included an unflattering portrayal of Knight's role in the city's rap movement of the 1980s and '90s. After the fall of N.W.A, Knight co-founded Death Row Records with one of the group's founding members, Dr. Dre.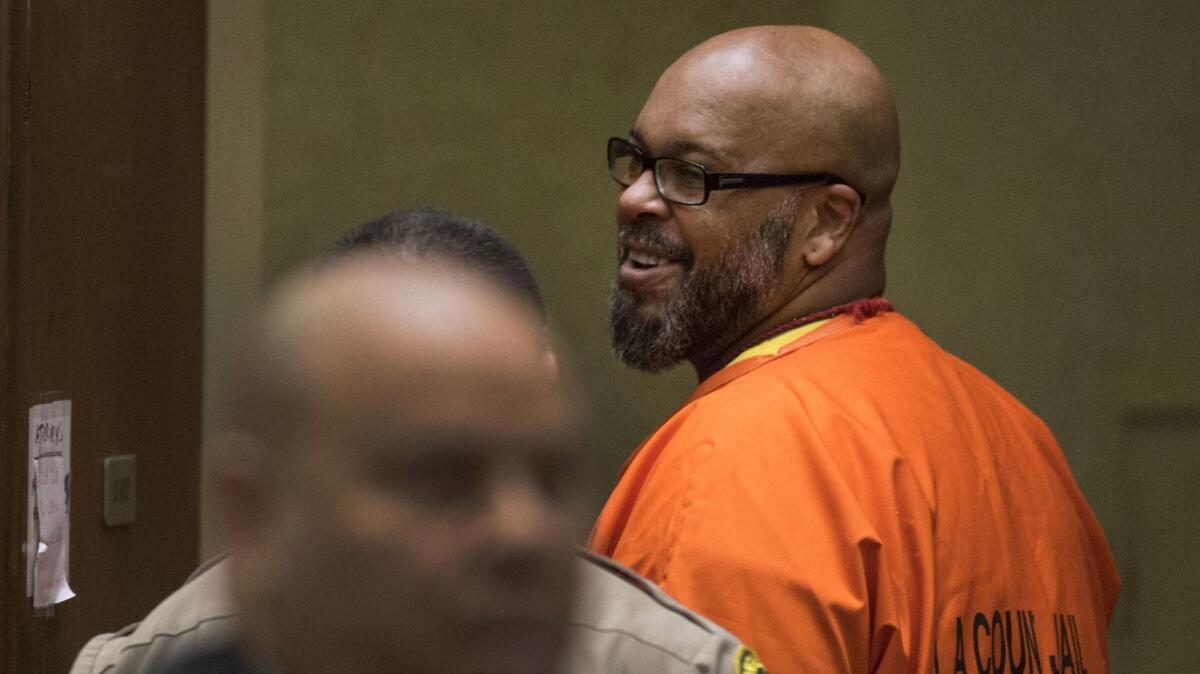 A grand jury indictment accuses Knight, 52, of threatening death or bodily injury against director F. Gary Gray on Aug. 8, 2014.
The threat, according to the indictment, "was so unequivocal, unconditional, immediate and specific as to convey to Felix Gary Gray a gravity of purpose and an immediate prospect of execution." The victim, the indictment reads, experienced "sustained fear" for his safety and the safety of his family.
Knight's attorney, Matthew Fletcher, told reporters after the hearing he'd yet to review materials in the case, but he thinks the threat charge stems from a text message sent to Gray.
Fletcher recalled the message, acknowledging he was paraphrasing, as saying: "You have family. I have family. We all need to eat. God bless you." Fletcher also said he thinks the text came from a phone that did not belong to his client.
Asked at a news conference about claims that Knight was frustrated over his portrayal in the movie, Toi-Lin Kelly, his fiancee, shook her head.
"He's never even seen the movie," she said. "It was more about his likeness was being used without being compensated for it."
Kelly added that she's been with Knight for more than 12 years and that he "doesn't send threatening texts."
In the movie, Knight — played by actor R. Marcos Taylor — is portrayed as a powerful and often menacing figure. During a scene inside a recording studio, Knight threatens rapper Eazy-E and then watches as two men beat him up. In another scene, Knight repeatedly pistol whips a man for taking his parking spot.
The new charge is the latest in a long history of legal troubles for Knight, who also faces murder and attempted murder charges in connection with a dispute during the filming of a commercial for "Straight Outta Compton" months after the alleged threat.
In that case, Knight is accused of barreling his red truck into two men in the parking lot of a Compton burger stand in late January 2015, killing 55-year-old Terry Carter and injuring Cle "Bone" Sloan. Footage from a security camera shows Knight — who has pleaded not guilty and says he acted in self-defense — plowing his truck into the men. Knight fled the scene but later turned himself in.
Knight, who was out on bail at the time of the fatal hit-and-run, is also charged in a separate robbery case.
The Death Row Records co-founder was at the wheel of a BMW in Las Vegas in 1996 when a white Cadillac pulled up beside him and someone in it shot rapper Tupac Shakur, who was seated in the passenger seat. The killing remains unsolved.
In 1997, a judge, who said there was a "danger element" to Knight, sentenced him to nine years in prison for violating the terms of his probation stemming from an assault case. He was released in 2001 but returned to jail two years later for violating parole when he hit a parking lot attendant.
Since his 2015 arrest, the former rap mogul has struggled with health problems behind bars that his attorneys say date back to 2014, when he was shot at a West Hollywood nightclub.
To read the article in Spanish, click here
For more news from the Los Angeles County courts, follow me on Twitter: @marisagerber
ALSO
Kidd Creole, founding member of Grandmaster Flash and the Furious Five, arrested on murder charge in New York
Hunt underway for university researcher accused of murder in Chicago stabbing
Woman who encouraged boyfriend to kill himself via text to be sentenced today
---
UPDATES:
7:35 p.m.: This article was updated with more details about Knight's life and legal problems.
3:50 p.m.: This article was updated with details about Knight's portrayal in the movie.
12:45 p.m.: This article was updated with details from the indictment and comments from Knight's attorney and fiancée.
This article was originally published at 9:35 a.m.
Sign up for Essential California for news, features and recommendations from the L.A. Times and beyond in your inbox six days a week.
You may occasionally receive promotional content from the Los Angeles Times.