Tanaka convicted on conspiracy and obstruction of justice charges
A federal jury on Wednesday convicted former Los Angeles County Undersheriff Paul Tanaka of deliberately impeding an FBI investigation, capping a jail abuse and obstruction scandal that reached to the top echelons of the Sheriff's Department.
Jurors spent less than two hours deliberating before delivering guilty verdicts on one count each of conspiracy to obstruct justice and obstruction of justice. Tanaka, who also serves as mayor of Gardena, faces as long as 15 years in federal prison when he is sentenced June 20, according to the U.S. attorney's office.
The conviction marks a dramatic fall that would have seemed impossible not long ago for a man who climbed rapidly through the department's upper ranks. A tough, overbearing leader who was feared as much as he was respected, Tanaka rose to become Sheriff Lee Baca's second-in-command, running the department's day-to-day operations with an iron hand and seeming impunity.
It was also a capstone for the FBI and the U.S. attorneys office, which spent years pursuing obstruction cases against many top sheriff's officials that arose out of a broader investigation into allegations of brutality and other misconduct by deputies in the department's jails.
Saying the verdict "closes a chapter" for the Sheriff's Department, U.S. Atty. Eileen Decker said the jury had sent a clear message that corruption within law enforcement would not be tolerated, "particularly when it comes from the very top of those organizations."
"In addition, they've sent a message that those who are being housed in our jails are entitled to civil rights and it is our job to protect that right," Decker said. She also credited reformers within the Sheriff's Department, some of whom, she said, paid a price for speaking out about abuses by jail deputies.
"Today, their work was vindicated," she said.
The president of the union that represents rank-and-file deputies issued a statement saying that the verdict meant the department could move forward now that the past "failed leadership" had been revealed in the courts.
"With this verdict, the department is rid of the culture that created the corruption," George Hofstetter said in the statement.
The criminal charges centered on allegations that in 2011 Tanaka orchestrated a scheme to derail the FBI's jail investigation by intimidating the lead agent in the case, pressuring deputies not to cooperate and concealing the whereabouts of an inmate who was working as a federal informant.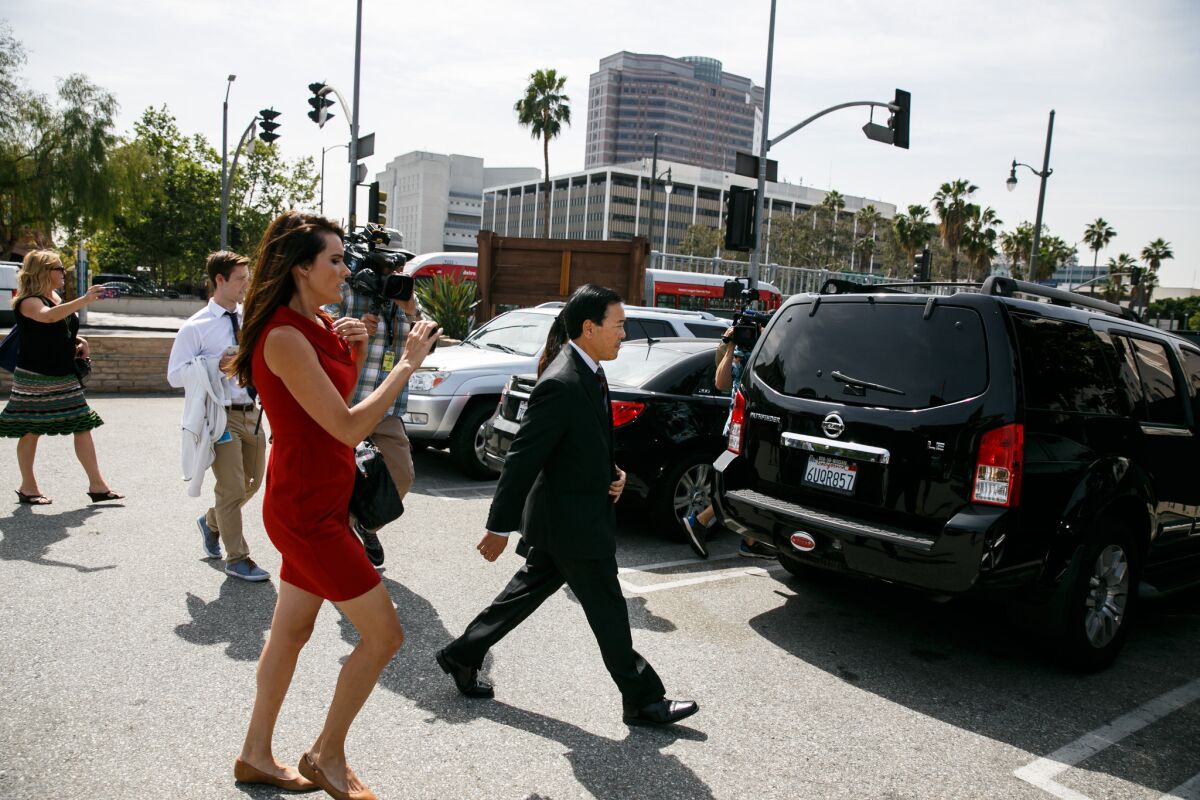 In all, 10 people have now been convicted or pleaded guilty for their roles in the plan. The group includes Baca, who stepped down two years ago amid the growing scandal and last month admitted to a charge that he lied to federal investigators. Under a deal with prosecutors, Baca will avoid more serious charges and can serve no more than six months in prison.
U.S. District Judge Percy Anderson, who has presided over all the obstruction-related cases, must still approve the agreement with Baca. Lower-ranking sheriff's officials convicted in the obstruction case have been sentenced to years in prison. They remain free while appealing their convictions.
Interested in the stories shaping California? Sign up for the free Essential California newsletter >>
In the face of what jurors described as overwhelming evidence of his direct involvement, Tanaka made the risky decision to take the stand in his own defense. He tried to convince jurors that it was Baca who, consumed with anger, formulated the department's response to the FBI and worked directly with subordinates. Tanaka said he was largely unaware of what was unfolding around him.
Jerome Haig, one of Tanaka's attorneys, reiterated the claim following the verdict, expressing frustration that Anderson had denied repeated requests that Baca be granted immunity in exchange for his testimony. Haig said it was Baca who ordered "all the people below him to do the many, many things that now the jury has stood and convicted Mr. Tanaka of."
"We think if there is a guilty party, he is the most guilty party," Haig said.
Leaving through a loading dock exit to avoid a throng of TV cameras awaiting him, Tanaka declined to comment on the verdict. Haig said his client was "disappointed and saddened" and was planning an appeal.
Jurors began deliberating Tuesday after hearing more than a week of testimony and evidence. Several jurors told The Times that they found Tanaka's claims unconvincing and thought he was evasive.
"The undersheriff runs the department," juror Mark Nolan said. "The sheriff is the face."
Particularly damning were records of phone calls between Tanaka and key lower-ranking sheriff's officials also implicated in the obstruction case. The records showed Baca frequently communicating with Tanaka, not the subordinates as Tanaka claimed.
Several jurors said they also found a now-infamous speech Tanaka made to deputies, in which he exhorted them to "work in the gray," to be disturbing. At trial, Assistant U.S. Atty. Brandon Fox grilled Tanaka about the episode, picking apart his explanation that it was a benign comment.
"Police have a thin blue line. You don't cross that line. There is no gray area in policing," said Corinne Zemliak, the jury forewoman.
Al Shaheen, an alternate juror, said he was struck by the number of times Tanaka claimed on the stand not to recall events or details. Shaheen also questioned the defense argument that Tanaka didn't know what was going on around him.
"The big contradiction is he seemed like a very controlling, detail-oriented person in terms of his leadership," Shaheen said. "He came across in other people's testimony as vindictive. During his testimony he became angry. I saw that side. I could see where it wouldn't take much to flip the switch for him. I really think that he became so enamored with the Sheriff's Department that he began to disregard the rights of people in the prisons."
Tanaka was a deeply polarizing figure in the Sheriff's Department.
He developed a fiercely loyal following among a segment of the force as Baca promoted him from a mid-level commander to undersheriff in just a few years. By the time the jail scandal came to light, though, he was viewed as someone who had created a fiefdom under Baca that he ran with impunity.
A blue-ribbon panel that investigated the jails and found widespread abuse faulted Baca for allowing his undersheriff to run the jails without effective oversight. Tanaka, it found, "failed to uphold the department's goals and values."
While Tanaka portrayed himself at trial as an exacting leader with a strong moral compass, prosecutors said behind the scenes he was directing sheriff's officials to shuttle the inmate informant to another jail facility under fake names to prevent FBI agents from finding him. In addition, prosecutors alleged, Tanaka was part of a decision to send sheriff's sergeants to the home of the lead FBI agent on the investigation, where they threatened to arrest her for running a sting operation in which a cellphone was smuggled to the informant in jail.
As federal authorities expanded their investigation to examine those events, Tanaka came forward, giving a long interview to Fox and FBI agents during which he first tried to blame Baca. He went on to testify before a grand jury as well as at the earlier obstruction trials of his underlings.
Fox and Decker said Tuesday that they viewed Tanaka's willingness to talk as a calculated ploy to shift focus away from himself and muddy the waters.
"I think he thought that if he just threw enough out there we would just say, 'It's too messy, we'll never figure it out, we'll never be able to parse it out, never be able to prove it beyond a reasonable doubt,' and that we'd just go away," Decker said.
But, Fox added, "All the evidence pointed to him."
For more news on the federal courts in Los Angeles, follow @joelrubin.
Times staff writer Matthew Fleischer contributed to this report.
ALSO
Merle Haggard dies at 79; prolific country music outlaw brought the Bakersfield sound
California's economy is expected to outpace that of the U.S. this year
Workers at Bel-Air home of ex-Oxy CEO allege that they were trafficked to the U.S. via the Middle East
---
Life is stressful. Our weekly mental wellness newsletter can help.
You may occasionally receive promotional content from the Los Angeles Times.