'It's public grief' — At close of 'Suge' Knight saga, Terry Carter's family focuses on the man who died, not the man who killed him
Nearly 3 million people have watched Terry Carter die.
The 55-year-old Compton native's final moments have been viewed over and over again on YouTube, courtesy of the gossip website TMZ, which published gruesome surveillance footage of the car crash that claimed Carter's life back in 2015.
But most people who have glimpsed the brutal clip weren't drawn in because of the man who died. They were likely more interested in the man who killed him — Marion "Suge" Knight.
The hip-hop icon's arrest on murder charges sparked a lengthy legal saga that turned routine court dates into carnival-like proceedings, drawing myriad cameras and relentless headlines. In the maelstrom of media attention, Nekaya Carter said, it sometimes felt like she never had a chance to be alone with the loss of her father.
"We had to go to court probably two or three times before we even buried him. We had to chase reporters from the lawn two days after," she said. "Everything is just on us. It's public grief."
Knight was sentenced to 28 years in state prison last week under a plea deal that averted a trial and could mark the final chapter of Knight's public life. It was a moment that couldn't come soon enough for Lillian Carter, who said the years of courtroom drama and breathless media coverage continually shifted the focus from her dead husband to the fate of the fallen rap impresario.
"He made everything about him. ... 'I don't see my mother, I don't see my kids.' Me. Me. Me. Me. Me," she said, speaking of Knight. "What about us?"
Carter's fade from the forefront highlights a common phenomenon in celebrity murder cases in Los Angeles. In retellings of the O.J. Simpson saga, Ron Goldman's name often disappears or takes a backseat to the narrative of the former football star and his wife. While Robert Durst's history is common knowledge to even the most casual observers of true-crime tales, the stories of his three purported victims in New York, Texas and California are far from well-known.
Similarly, Knight's murder case has long seemed divorced from the story of the man he killed. Terry Carter's name has rarely been mentioned in court since 2015. Knight did not deny he was driving the truck that plowed into Carter outside Tam's Burgers in Compton, so the subsequent homicide investigation focused more on Knight's claims of self-defense than who Carter was or how he came to be in Knight's path.
Carter wasn't even involved in the dispute that ended his life. In the moments before the crash, Knight and another man, Cle "Bone" Sloan, got into a physical altercation outside the burger joint, law enforcement officials have said. Knight, who has claimed he was trying to escape, backed up his truck before surging forward, striking Sloan and later Carter.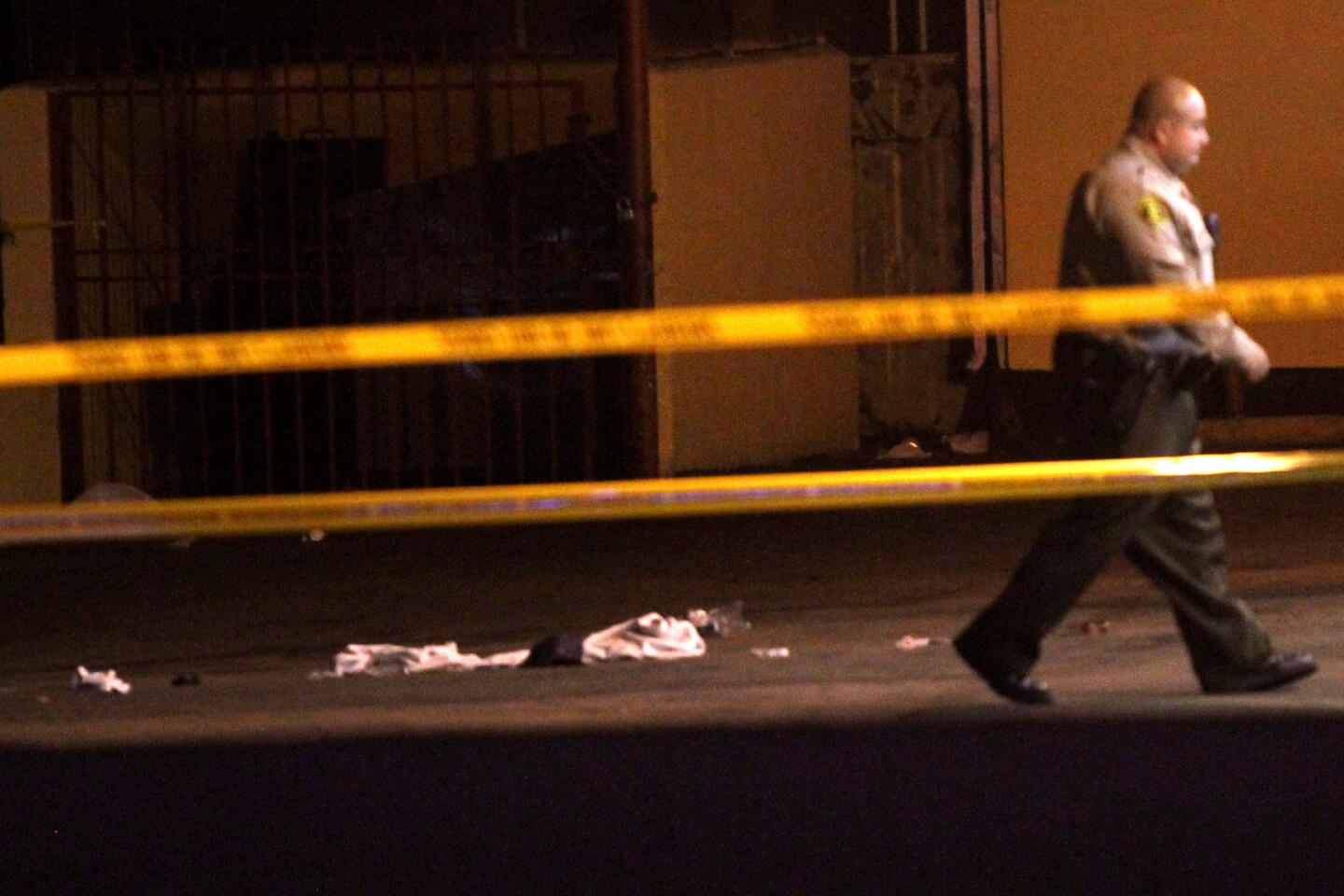 A Los Angeles County sheriff's deputy walks past part of the Tam's Burgers parking lot, where the hit-and-run occurred.
(Bob Chamberlin / Los Angeles Times)
Marion Suge Knight continues to talk while being led out of Los Angeles County Superior Court on Monday. During the hearing, he described his medical ailments and continued to speak over the judge, drawing a sharp rebuke.
(Mark Boster / Los Angeles Times)
Judge Ronald S. Coen accepts a plea from Marion "Suge" Knight of no contest to voluntary manslaughter in a downtown Los Angeles courtroom.
(Gary Coronado / Los Angeles Times)
Former rap mogul Marion "Suge" Knight, left, with his defense attorney Albert DeBlanc, listens to the terms of his plea of no contest to voluntary manslaughter Thursday in a downtown Los Angeles courtroom.
(Gary Coronado / Los Angeles Times)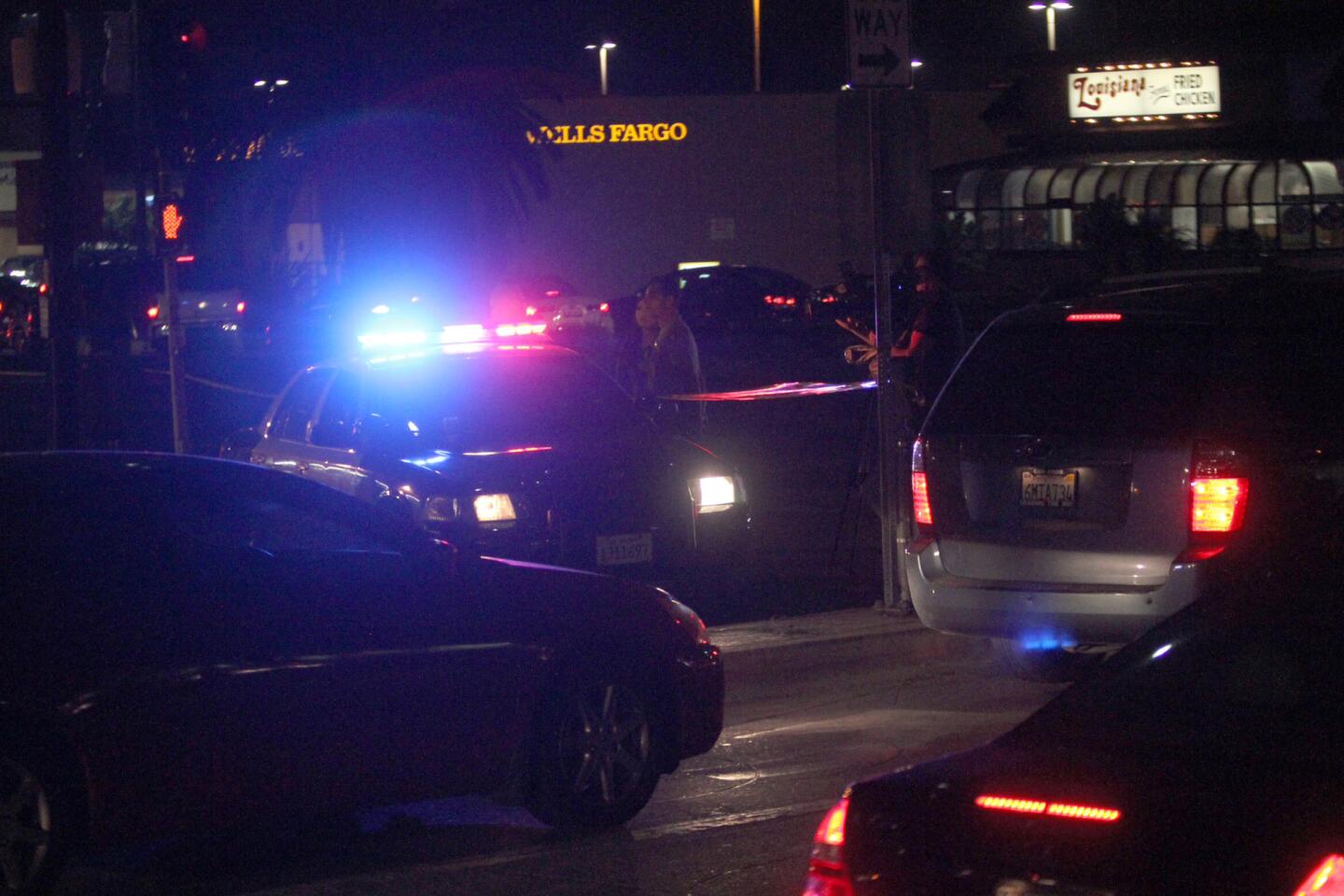 A Los Angeles County sheriff's patrol car blocks Central and East Rosecrans avenues in Compton, where a fatal hit-and-run occurred Thursday.
(Bob Chamberlin / Los Angeles Times)
Los Angeles County sheriff's officials at the site of a hit-and-run in Compton involving music mogul Suge Knight.
(Michael Robinson Chavez / Los Angeles Times)
An officer at the scene of the hit-and-run, a restaurant parking lot.
(Michael Robinson Chavez / Los Angeles Times)
Jose Salgado, 9, watches from Central Avenue as Los Angeles County sheriff's officials investigate the scene in a Tam's Burgers parking lot, where two men were struck in a hit-and-run involving music mogul Suge Knight.
(Bob Chamberlin / Los Angeles Times)
A family photo of Terry Carter and his wife Lillian Carter. Terry Carter was killed by Marion "Suge" Knight in 2015
(Genaro Molina / Los Angeles Times)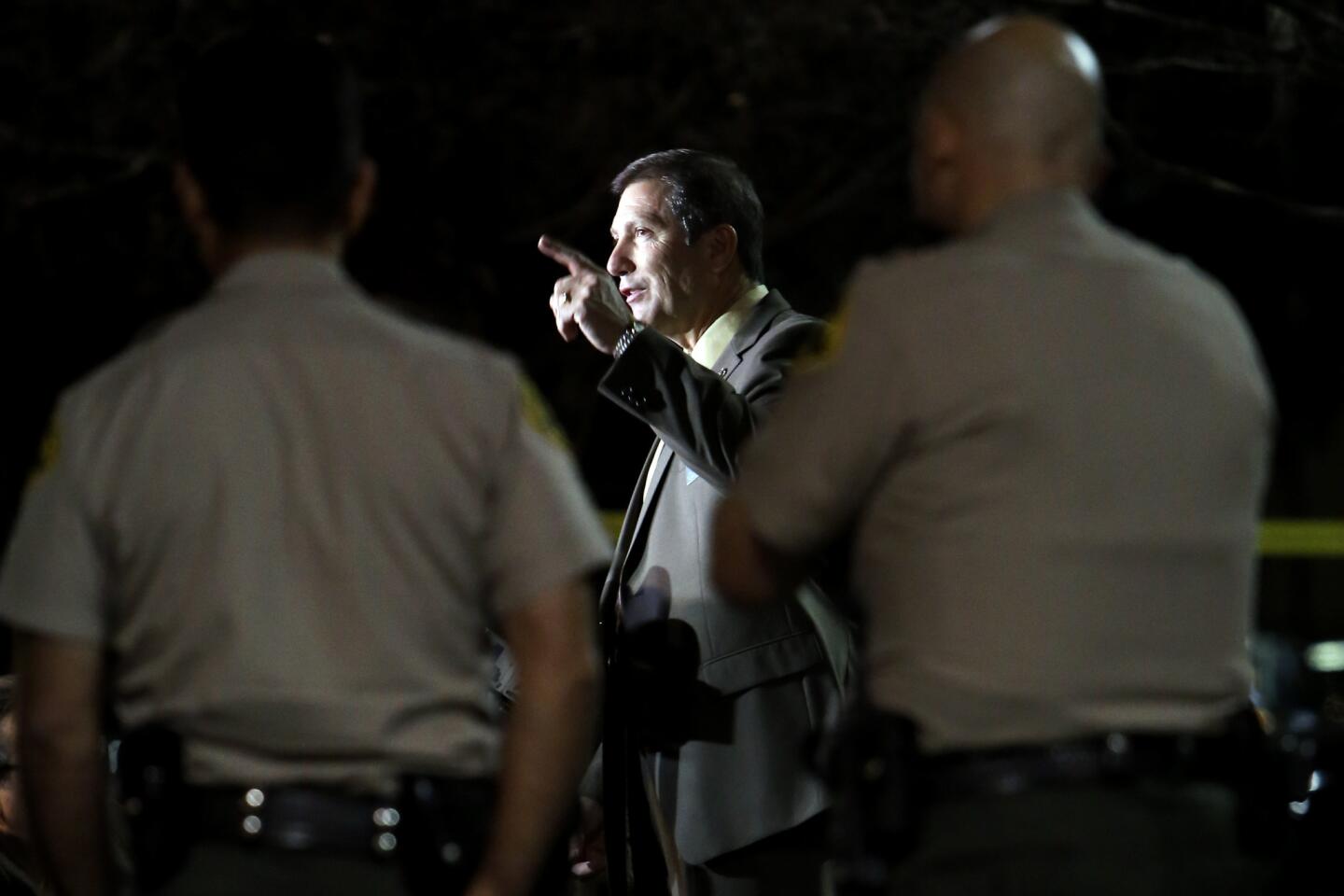 Lt. John Corina of the L.A. County Sheriff's Department at a news conference Thursday night on the hit-and-run involving music mogul Suge Knight. Investigators are treating it as a homicide.
(Michael Robinson Chavez / Los Angeles Times Times)
Rapper Tupac Shakur, left, and Marion "Suge" Knight attend an Aug. 15, 1996, voter registration event in South Central Los Angeles.
(Frank Wiese / Associated Press)
In a statement read aloud in court this week, Lillian Carter said her husband was "so much more than the guy who the defendant killed."
"When my husband's name is Googled, you don't see videos of our wedding ... what you do see is the defendant kill my husband."
Terry Carter, according to those who knew him, was a man born on a street long associated with Compton gang lore who lived a life dedicated to lifting people up from that area. He went by "Mr. Fix It," a nickname that mostly referred to his skill at building or repairing custom cars but also highlighted his knack for dispensing blunt but useful advice, relatives said. And he was a dutiful father figure, helping raise 11 children, many of them nieces or nephews.
"He's always been a very, very giving person," Lillian Carter said. "He was always one to help somebody all the time, almost to a fault."
Carter's daughters say their father exemplified the potential for improvement among Compton residents and stood in stark contrast to the the city's image as the haven for poverty and gangs often portrayed in national media or hip-hop retrospectives. It was branded as the birthplace of gangsta rap, a reputation only bolstered by the rise of Death Row Records and Knight's status as something of a hip-hop bogeyman.
Carter, meanwhile, acted as a father to young men who had lost their own and later in life sometimes mentored men trying to avoid or leave the gang life, friends and relatives said.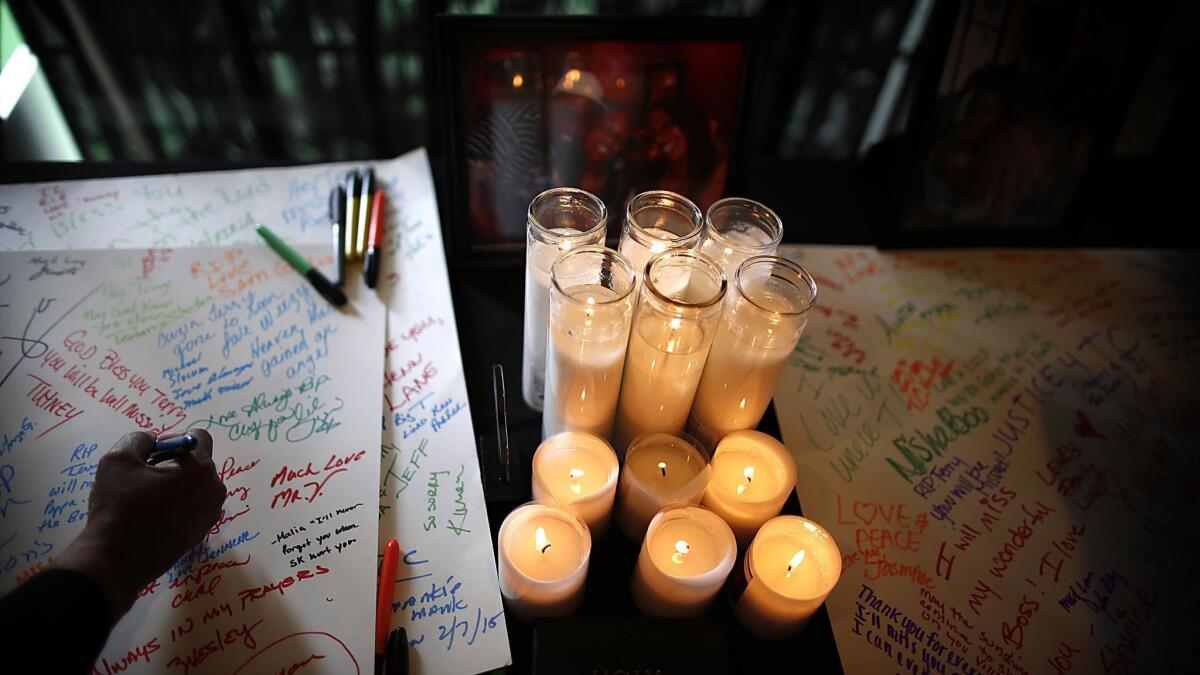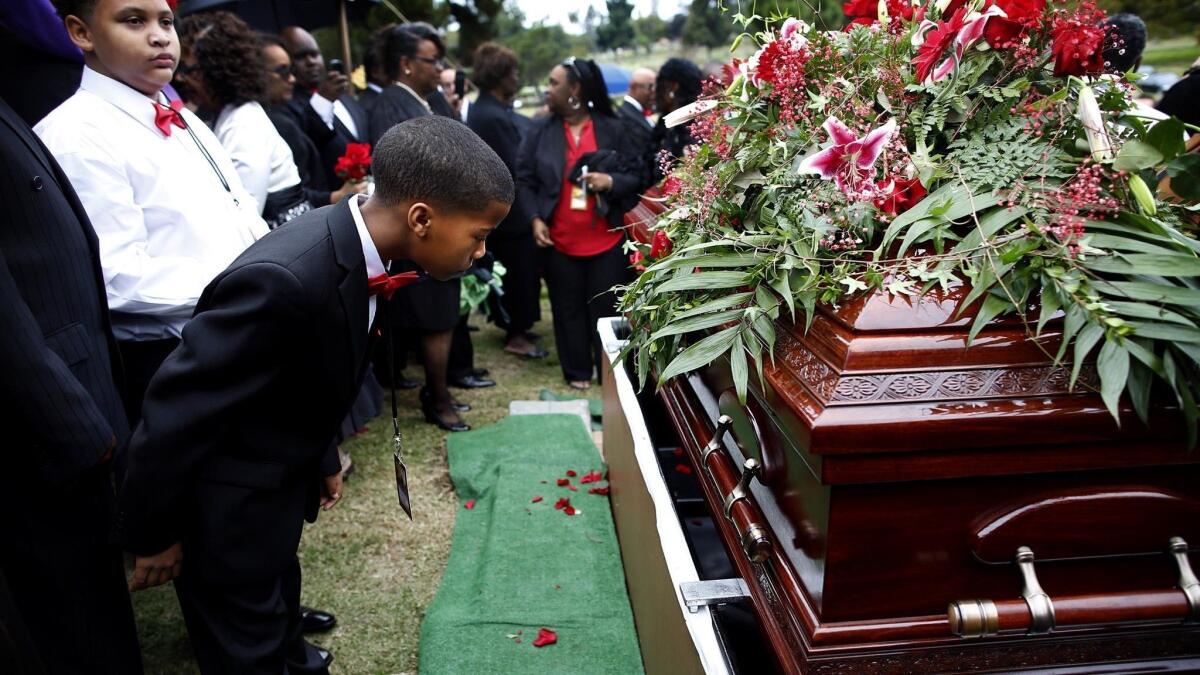 Terry and Lillian first met in junior high school, the start of an on-and-off relationship during which Lillian said the two would often "break up to make up." While he grew up on Piru Street — the Compton block made infamous as the namesake of a set of the Bloods street gang — Carter earned a reputation for his tireless work ethic from a young age, often helping out at his mother's soul food restaurant while learning how to fix and build custom cars.
He'd soon develop a knack for modifying lowriders and later owned car lots in Inglewood. But moving toward the business side of the auto world didn't stop Carter from getting hands on with a vehicle.
"He'd take his suit jacket off, be in the car, roll his sleeves up and work," his wife said.
Carter's skills as a mechanic also brought him into Knight's orbit, relatives said.
In the early 1990s, two men came into Carter's World Famous Auto store in Inglewood looking to buy a car, according to his nephew, Meredith Seals. One was Knight. The other was Andre Young, better known as Dr. Dre. Eventually, Knight and Dre asked Carter to build them a lowrider, and the vehicle was later used as part of promotional efforts for Dre's iconic solo debut, "The Chronic," relatives said.
Carter's musical taste leaned toward "oldies," according to Seals, but he would soon rub elbows with a number of figures in the West Coast hip-hop scene, his nephew said.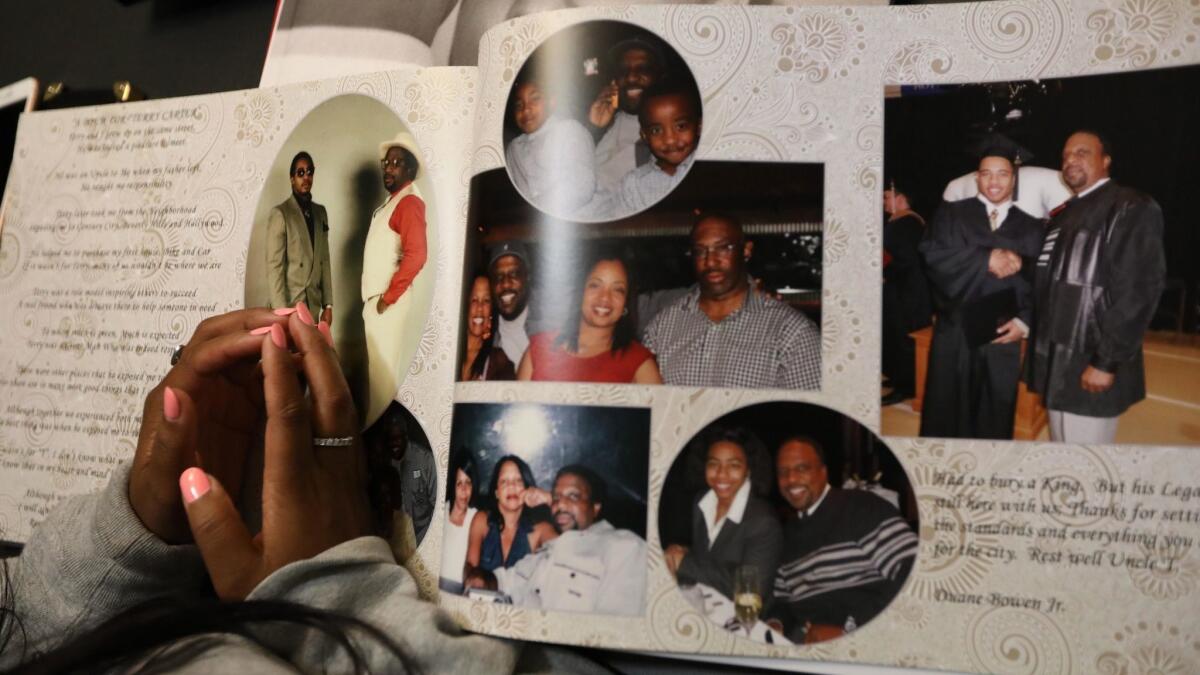 Seals attended Inglewood High School with future rap star Mack 10 and another artist named Short Khop. Carter would go on to manage Short Khop and help launch a music label dubbed Heavyweight Records alongside Ice Cube, Seals said. Jewell, the so-called First Lady of Death Row Records, and The Eastsidaz, a rap trio headed by Snoop Dogg, would also work with Carter at times, according to his relatives.
Whether it was through his work in music, the auto industry or at home, Carter also developed a reputation as someone dedicated to uplifting those closest to him. Seals said Terry and Lillian took him in, along with four of his siblings, at a young age. At the time, Seals said, he was struggling with his weight and his grades while occasionally running afoul of the police. His uncle, he said, pushed him to do better.
"Coming up from Compton like that, that's all that's around. I never saw anything else until he moved me away," Seals said. "Then, once he moved me away, he gave me this pattern, this get-right pattern, and once he created that for me I just constantly stayed on that path."
Advancing out of the violent, poverty-stricken Compton of the 1980s and early 1990s was a sticking point for Carter, Lillian said. Not immune to some of the city's systemic ills, Carter was convicted of contempt of court in 1995, and records show he filed for bankruptcy several times amid struggles with his automotive and music business ventures.
But when Lillian suggested renting their home at the time and moving back to the property that once belonged to his mother on Piru Street, Carter balked.
"He said 'No. I'm not having my kids over there,'" Lillian said. "He said, 'I'm not losing my kids.'"
It was Carter's connections to Compton, however, that played a role in his death. Seals suggested his uncle may have been trying to broker peace in an ongoing dispute between Knight and Sloan on the day he died.
Police have said Knight was angry over not being compensated for his depiction in the N.W.A biopic "Straight Outta Compton," and was involved in a dispute with Sloan, a former Compton gang member turned filmmaker and actor who was working on the set of a commercial for the movie. Sloan later admitted to starting the fight with Knight that day and refused to cooperate with prosecutors during a preliminary hearing three years ago.
Carter spoke to Knight by phone the day he died, but investigators have never been entirely certain why Carter was at Tam's Burgers, according to two law enforcement officials with knowledge of the case.
The officials spoke on condition of anonymity because of a court order barring discussion of evidence in the case until Knight has exhausted his appellate process.
While Knight has claimed he was heartbroken over Carter's death, describing them as friends of nearly 30 years, his relatives have said they were more like business associates. Nekaya said her father had been trying to help Knight sell the film rights to his life story for a biopic or documentary in the months leading up to the fatal crash.
The sale of another piece of Knight's history — the video of their father's death — has continued to haunt the Carter family.
"It's one thing that Terry died," Lillian said. "But to see how he died? Who would even want to show that?"
Lillian said she has never watched the video but the additional notoriety it brought to her husband's death has only worsened her suffering since 2015. She said she has been hospitalized several times in recent years due to stress and now avoids going out in public whenever possible for fear someone will want to discuss her husband's final moments.
In all the spectacle and drama caused by Knight's actions, Carter's youngest daughter, Crystal, said some have lost focus on what her father meant to the city. Where Knight exemplified some of the worst traits of Compton's violent history, her father was an inspiration to those who wanted to be more than the neighborhood they came from.
"Compton lost something that was valuable as well too," she said. "He taught them it can get better than this. You can come out of there."
Follow @JamesQueallyLAT for crime and police news in California.
Sign up for Essential California for news, features and recommendations from the L.A. Times and beyond in your inbox six days a week.
You may occasionally receive promotional content from the Los Angeles Times.