Chased by Thomas fire, badly burned lion cub has long road to recovery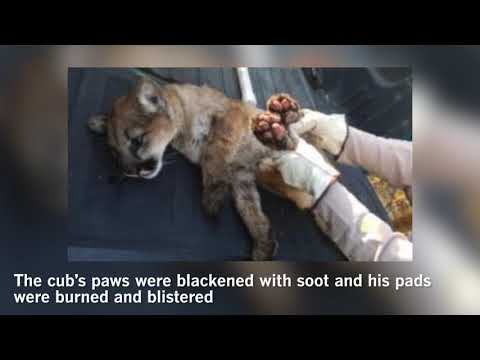 Many other creatures have emerged from the woods since the Thomas fire began ravaging forests above Ventura and Santa Barbara counties.
When Santa Paula animal control officer Donovan Varela first saw the mountain lion run from authorities, the cub didn't appear injured.
But like so many other creatures that have emerged from the woods since the Thomas fire began ravaging forests above Ventura and Santa Barbara counties this month, the young cougar's mere presence in the middle of town was unusual.
Since the blaze began more than three weeks ago, Varela has encountered squirrels with damaged eyes running into fences, lethargic opossums breathing heavily in school playgrounds and rabbits hiding under apartment awnings because their natural protection from aerial predators burned away.
Yet it wasn't until the mountain lion cub was captured in a thicket of brush off a bike path Friday that its suffering became clear.
The fur around the cub's paws was blackened with soot and the pads themselves were burned into blistered rounds of pink flesh dotted with blood.
"They were red, you can tell they were fresh burns," Varela said. "It was really sad to see, but I was happy we saved the animal and got him taken in for treatment."
After receiving reports of the cub in the area Thursday night, authorities lost sight of it when it ran into a ditch near the heart of town. The next day they received more reports and managed to surround it off a bike path near Main Street and used a dart to tranquilize it.
"I'm assuming he came into the city because there was no cover for him and they like to sit low and wait for mama," said Varela, 28, who is in his first year with the city's animal control services. "This is just a little injured one probably looking for help."
At 5 months old and only 32 pounds, the cub was considered skinny for his age, state wildlife officials said. Varela said the cat is likely an orphan.
Officials carefully lifted the cub into the back of a truck and turned it over to UC Davis veterinarians working with DFW, who will treat its damaged paws while they heal then help determine if it should be re-released into the wild, the Department of Fish and Wildlife said.
The city of Santa Paula highlighted the animal rescue on its Facebook page later that evening.
"This is why I love working with animal services with the city," Varela said in an interview Tuesday. "Days like this are definitely worth everything we do."
The Thomas fire is considered the biggest fire in California since accurate record keeping began in 1932.
It has burned 440 square miles, killed two people and destroyed 775 homes. It was 88% contained Tuesday.
Twitter: @JosephSerna.
ALSO
For female firefighters at the Thomas fire, there are special challenges
Thomas fire not expected to be fully contained until Jan. 7
---
UPDATES:
4:10 p.m.: This article was updated with details of the mountain lion cub rescue.
This article was originally published at 9:30 a.m.
Sign up for Essential California for news, features and recommendations from the L.A. Times and beyond in your inbox six days a week.
You may occasionally receive promotional content from the Los Angeles Times.