Orange County D.A. is investigating his biggest critic — a former ally — as ugly political battle looms
Orange County Dist. Atty. Tony Rackauckas had groomed his senior prosecutor Todd Spitzer as his successor — and then he fired him.
The termination seven years ago set off a bitter political rivalry that is expected to culminate in 2018 when the two face off in an election for Orange County's top prosecutor.
But their campaigns are likely to be complicated by one fact: Spitzer has been the subject of an investigation by Rackauckas' office and state authorities, according to four sources familiar with the probe.
The Orange County district attorney's office and the Fair Political Practices Commission have been looking at how Spitzer raised campaign money.
They also are examining the supervisor's hiring of a former legal client who said she paid off a legal debt to Spitzer by working for his campaign and in his supervisorial office, the sources said. No one has been charged or accused of wrongdoing.
'Two kids … hitting each other'
"It's just going to be viewed down here as political rivalry," said Shirley Grindle, the county's longtime campaign finance watchdog and a vocal critic of Rackauckas. "The two kids on the block hitting each other."
Last year, Rackauckas accused Spitzer of "falsely impersonating" a prosecutor in robo-calls promoting a ballot measure. And in May, Spitzer sent a letter to U.S. Atty. Gen. Jeff Sessions calling for a federal takeover of the district attorney's office and accusing Rackauckas of misconduct, including interfering in political corruption investigations.
Rackauckas' office didn't return phone calls for comment. Spitzer declined to comment in a message sent to a reporter by an advisor.
Grindle and others said that this investigation is unusual because Rackauckas' office has prosecuted so few political figures. By contrast, Rackauckas' predecessor, Michael Capizzi, had a reputation for his aggressive pursuit of political corruption dating back to the 1970s, when as a prosecutor in the office, he brought charges against dozens of elected officials, including two county supervisors and a former congressman.
"If anything, Tony has been very laissez-faire about investigating elected officials," said state Sen. John Moorlach, a former elected county treasurer and ex-county supervisor. "He's the anti-Mike Capizzi."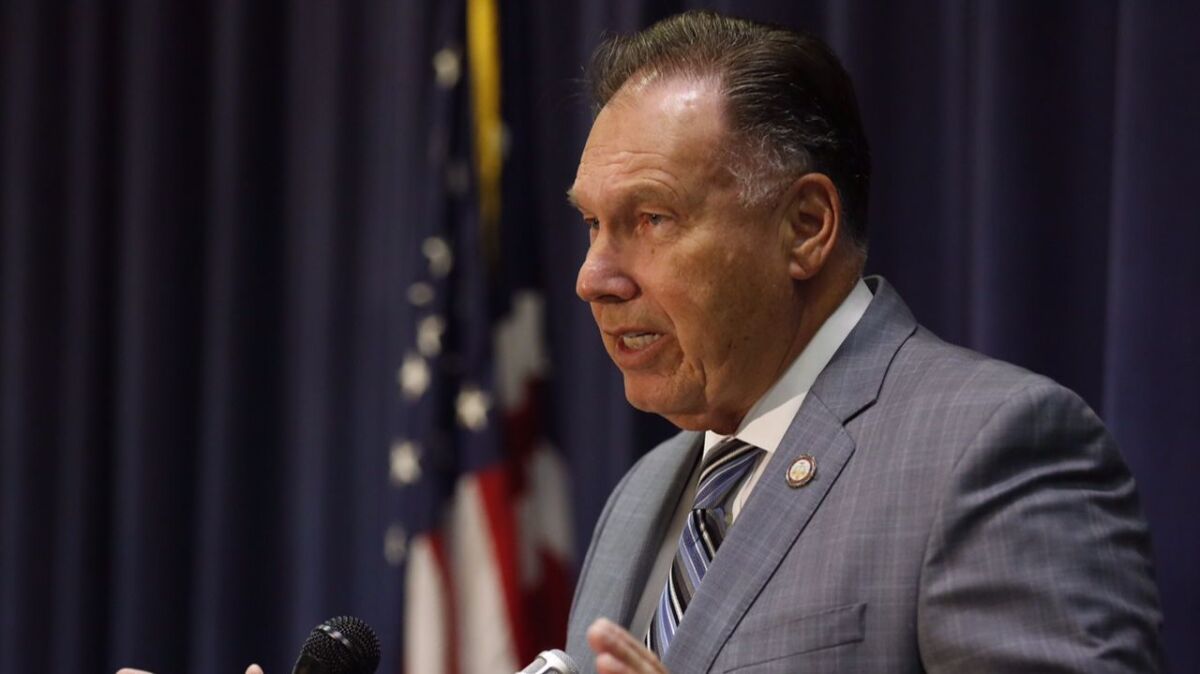 In May, Rackauckas' former chief of investigations, Craig Hunter, filed a claim against the office alleging that Rackauckas "interfered in political corruption criminal investigations in the County of Orange, involving candidates that he endorsed politically." The district attorney's office has denied the allegations and called them an attempt by a former official "to get money from Orange County taxpayers," according to reports in Voice of OC and the Orange County Register.
District attorney probing financial questions
The Times spoke to three witnesses who said they had been contacted by investigators as part of the probe: Spitzer's former chief of staff George Cardenas, ex-campaign staffer and former chief of staff Mike Johnson, and a woman who worked for both the campaign and Spitzer's supervisorial office, Christine Richters.
Also, sources familiar with the investigation who spoke on condition of anonymity described the outlines of the investigation to The Times.
The investigation focuses specifically on whether Spitzer improperly spent campaign funds for personal benefit at places such as Costco, sources told The Times.
Investigators are also looking into whether Spitzer violated any laws when he hired a former legal client, Richters, to his campaign and later his supervisorial office, according to Richters and other sources.
In an interview with The Times, Richters said she told investigators she owed money to Spitzer to cover legal bills she racked up when Spitzer represented her as a private attorney. She said she did not have the means to pay him. So, she told investigators, they agreed on a deal in which she would work for his 2012 supervisorial campaign — and later his supervisorial office — then pay him back with money she earned.
Richters said she told prosecutors she deposited paychecks from the campaign fund and public money from the supervisor's office and gave the cash back to Spitzer. She met Spitzer at the county parking lot and her home to give him the cash, which she told investigators totaled about $7,000.
A second source told The Times that this is roughly the account Richters gave to investigators.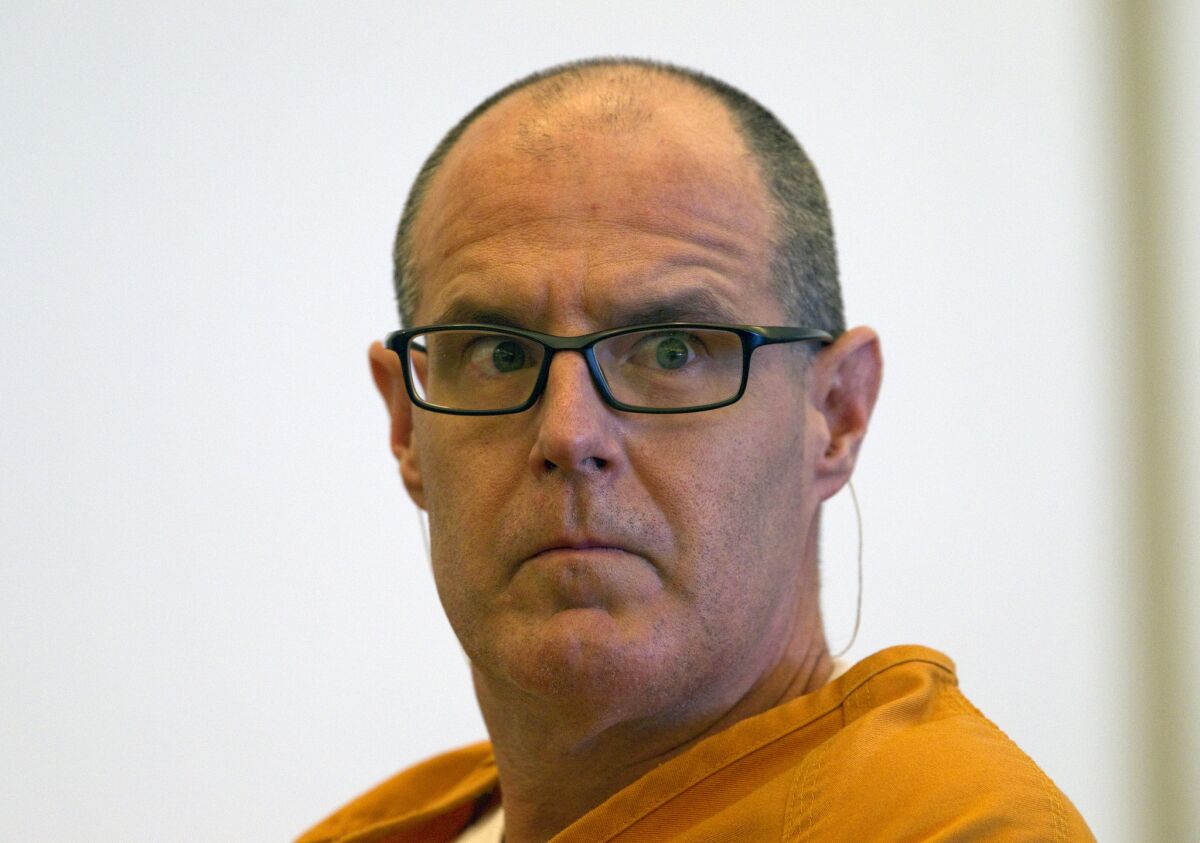 Johnson, another former campaign staffer and ex-chief of staff, told The Times that he drove Richters home frequently and, on one of those occasions, he gave a check to Richters; she then told him that she was giving the money right back to Spitzer, Johnson said.
Richters is now suing Spitzer for wrongful termination and alleges in her lawsuit that he had a "raging temper." The suit does not mention paying Spitzer money she made while working for him.
Can a district attorney investigate a rival?
Bruce Green, director of the Louis Stein Center for Law and Ethics at Fordham University, said the Spitzer investigation could present hurdles should the district attorney's office attempt to prosecute.
"The opposing candidate, if he ever were indicted, would have a pretty good argument that the prosecutor's office has an impermissible conflict of interest," Green said. "The prosecutor should be concerned and the public should be concerned."
The investigation could also indirectly give Rackauckas a campaign advantage against Spitzer.
"It does create a risk that people who are potential donors will perceive they are in jeopardy if they contribute to the opponent under investigation," Green said.
Rackauckas has himself been in the political hot seat recently, including a scandal over his office's use of jailhouse snitches in criminal cases. The state attorney general's office and federal Department of Justice are still investigating the matter.
The Fair Political Practices Commission — which partnered with Rackauckas in the Spitzer probe — is also investigating whether Rackauckas violated state law by failing to report donations he requested be made to a nonprofit, and by approving public funds to promote his chief of staff's partner in a music marketing business.
Rackauckas is also contending with two claims filed by his own investigators, including Tom Conklin — who sources say is the lead investigator in the Spitzer case — alleging that Rackauckas and his circle of top prosecutors engaged in misconduct and coverups.
One case involved a former Cypress Police Department investigator accused of committing perjury during a capital murder trial. Another revolved around the alleged coverup by Fullerton police of a former city manager's drunk driving. Conklin and the other investigator said in their claim that they were retaliated against for testifying before the grand jury about the district attorney's office.
Spitzer, a two-time county supervisor and former state assemblyman, is probably the most formidable opponent Rackauckas has faced. He is an aggressive campaign fundraiser and he has seized on the scandals dogging Rackauckas by presenting himself as a crusader against abuses of power by the district attorney's office.
Real scandal or desperation?
A spokeswoman for Rackauckas slammed Spitzer's call for the federal government to take over the district attorney's office as a shameless ploy.
On Monday, after announcing he would challenge Rackauckas next year, Spitzer quickly went after the top prosecutor.
"I refuse to stand by as Tony Rackauckas destroys the district attorney's office and uses it as his own personal fiefdom for he and his cronies while the public's safety suffers," Spitzer said in a news release.
A campaign consultant for Rackauckas responded: "Orange County District Attorney Tony Rackauckas is proud to run on his record of keeping local citizens safe and proud of the fact that he is supported by the county's law enforcement and crime victim leaders as well as the major elected officials who know both candidates."
ALSO
Beyond the triumphant rhetoric, Gov. Brown's cap-and-trade plan is stirring up angst
Silicon Valley venture capitalist Sam Altman says he wants to recruit candidates to run for office in California
L.A. County sheriff can't give prosecutors the names of problem deputies, appeals court rules
The stories shaping California
Get up to speed with our Essential California newsletter, sent six days a week.
You may occasionally receive promotional content from the Los Angeles Times.