Trump can block funding to clinics that make abortion referrals, appeals court rules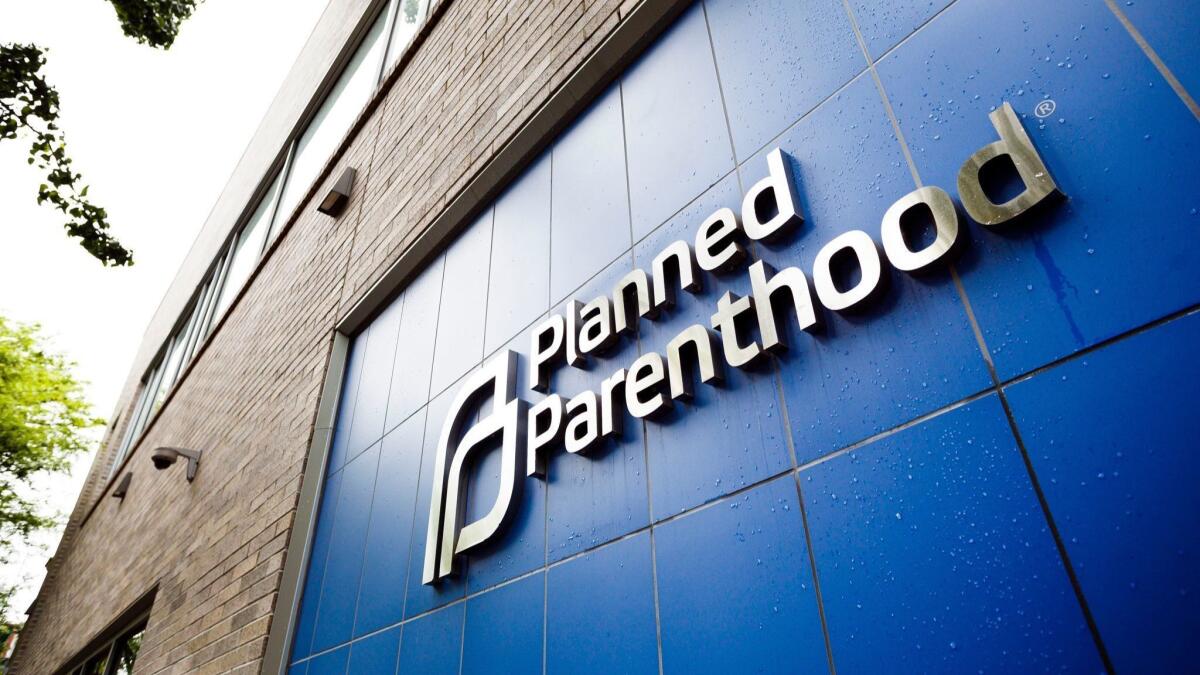 A federal appeals court decided unanimously Thursday to lift three injunctions that barred the Trump administration from denying funds to family planning clinics that refer clients for abortions.
The decision by a three-judge panel of the U.S. 9th Circuit Court of Appeals was a significant setback for Planned Parenthood and other abortion providers.
The court said the 2019 Trump directive may be enforced pending appeal of orders by judges in California, Washington and Oregon blocking the new rule.
"Title X is a limited grant program focused on providing pre-pregnancy family planning services — it does not fund medical care for pregnant women," the 9th Circuit said. "The Final Rule can reasonably be viewed as a choice to subsidize certain medical services and not others."
The panel noted that the Title X family planning program was limited by similar abortion-related restrictions in the past, and the U.S. Supreme Court upheld them.
Voting to put the injunctions on hold were 9th Circuit Judges Edward Leavy, a Reagan appointee, and Consuelo M. Callahan and Carlos T. Bea, both appointees of President George W. Bush.
The challengers are expected to ask a larger panel of the 9th Circuit to overturn Thursday's decision. A spokeswoman for Planned Parenthood said lawyers were preparing an emergency petition.
California Gov. Gavin Newsom said he was "deeply disappointed" by the ruling. The new rule, he said, was designed to promote a "backwards agenda" at the expense of women and their doctors.
"Now more than ever, in the face of escalating attacks on reproductive choice around the nation, women need and deserve full information about their rights and health," Newsom said.
Dr. Leana Wen, president of Planned Parenthood Federation of America, called the court's decision "devastating for the millions of people who rely on Title X health centers for cancer screenings, HIV tests, affordable birth control and other critical primary and preventive care."
Planned Parenthood has said it would be impossible for it to comply with the rule. The organization stands to lose nearly $60 million in annual funding.
The group said Thursday it had a "limited emergency fund" it would use to continue services while fighting the court's decision.
The prohibition on abortion referrals will take effect immediately. A requirement that providers keep their Title X-funded projects physically and financially separate from abortion services is slated to take effect in March 2020.
That latter would require providers to have separate offices and entrances for family planning and abortion services.
Recipients of the federal money also will be required to refer pregnant women to a non-abortion prenatal care provider. They may give women a list of providers that includes doctors who perform abortions but may not direct them to those doctors.
The rule requires providers to encourage patients to discuss their situation with their families and to tell single women about the benefits of abstinence.
The 9th Circuit said in its ruling that it expects the Trump administration will prevail in the challenges.
"The Final Rule's prohibitions on advocating, encouraging, or promoting abortion, as well as on referring patients for abortions, are reasonable," the panel said.
Washington, D.C., and 21 states, including California, have challenged the rule, and medical associations have announced their opposition to it. The preliminary injunctions in the three states prevented the rules from taking effect as scheduled May 3.
Kelly Laco, spokeswoman for the U.S. Department of Justice, said the administration was pleased that the 9th Circuit "has cleared the way for this important executive branch action to take effect while our appeals are pending."
"The Department of Justice's position is supported by longstanding Supreme Court precedent and we are confident we will ultimately prevail on appeal," she said in an email.
About 4 million mostly low-income people receive services under the family planning law — 1 million of them in California.
Title X was signed into law by former President Nixon. It has always prohibited using program funds for abortions, although abortion providers receive federal money for other services.
Twitter: @mauradolan
Sign up for Essential California for news, features and recommendations from the L.A. Times and beyond in your inbox six days a week.
You may occasionally receive promotional content from the Los Angeles Times.