Judge rejects request by mother accused of neglect and torture of 13 children to get mental health treatment instead of prosecution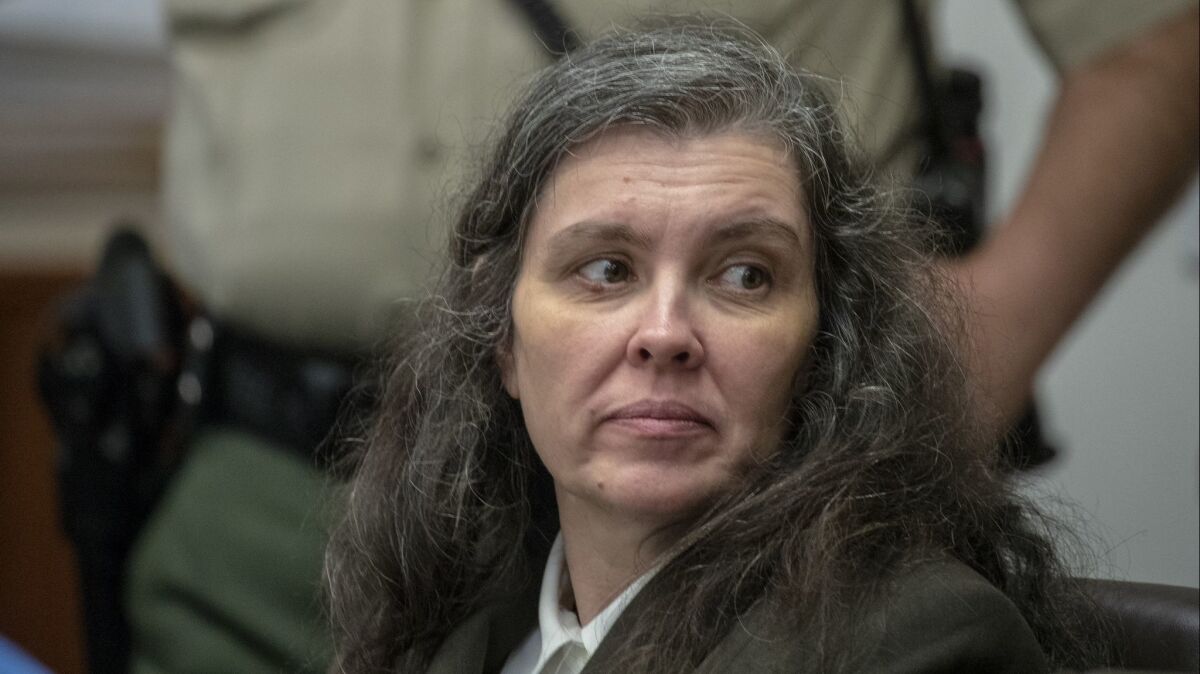 The attorney for Louise Turpin, the Perris woman who allegedly neglected and tortured her 13 children for decades, asked a judge Friday to enroll her in a mental health treatment program instead of prosecuting her.
Riverside Superior Court Judge Bernard Schwartz denied that request, saying that Turpin was not suitable for the state's new mental health diversion program, according to the county district attorney's office.
The program, signed into law by Gov. Jerry Brown this year, allows judges to order up to two years of mental health treatment in lieu of prosecution. If the defendant completes the program satisfactorily, the criminal complaint against him or her is dropped.
Turpin's defense attorney, Jeff Moore, requested the court find her eligible for mental health diversion based on an alleged diagnosis of histrionic personality disorder. Those diagnosed with the disorder have an overwhelming desire to be noticed and may behave dramatically or inappropriately to get attention, according to the National Institutes of Health.
To be eligible for the diversion program, defendants must present evidence that they suffer from a mental disorder and show that they are not a danger to the world at large. Schwartz denied Turpin's request on the grounds that she poses an unreasonable risk to the public, the district attorney's office said.
Louise Turpin and her husband, David, were arrested in January after their 17-year-old daughter escaped their home and called 911 using an otherwise deactivated cellphone.
Police discovered the Turpin siblings, ages 2 to 29, living captive in their parents' home in Perris. They had allegedly been tortured, abused and neglected for years in ways so extreme that the siblings were severely malnourished. Some showed signs of cognitive impairment and nerve damage, prosecutors said.
The alleged abuse started decades ago and grew worse in recent years. Prosecutors accuse the Turpins of using various methods to keep their children isolated and out of the public eye, such as forcing them to sleep all day and stay up at night. David Turpin registered a private school at his home.
Prosecutors have filed dozens of charges against both parents related to allegations of abuse, captivity and torture of the children. David Turpin was also charged with one count of a lewd act on a child under the age of 14.
Both parents have pleaded not guilty to all charges. If convicted, they face up to 94 years in prison.
They are next scheduled to appear in court Nov. 30 for a trial-setting conference.
laura.newberry@latimes.com | Twitter: @LauraMNewberry
---
The stories shaping California
Get up to speed with our Essential California newsletter, sent six days a week.
You may occasionally receive promotional content from the Los Angeles Times.