UC Regents take steps to streamline board operations, dig more deeply into crucial issues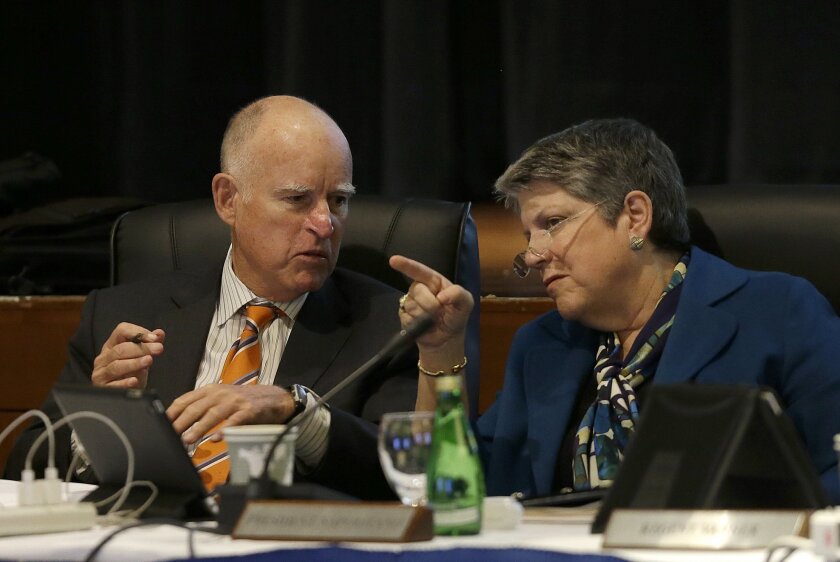 University of California regents Wednesday approved a sweeping overhaul of board operations, the first in nearly five decades, saying it would free up more time for deeper discussions of crucial issues.
The regents, gathered in San Francisco for a three-day meeting, also discussed continued financial challenges they say will hamper efforts to accommodate 5,000 new California students this year despite a state funding boost.
And UCLA Chancellor Gene Block briefed regents on the campus' response to the June 1 shooting death of a prominent engineering professor.
In a major board reorganization, regents voted to streamline operations by reducing the number of committees to six from 10 and directing them to meet concurrently rather than sequentially, as they now do. That change will give regents more time to delve into issues and help them gain expertise in their committee subjects, said Regent Russell Gould, who developed the proposal along with board Chairwoman Monica Lozano.
The full board would then have an extended discussion of the issues at hand on the second day of a two-day meeting. Several regents have long expressed frustration that the board's bimonthly meetings were filled with so many presentations -- rehashing written material they had already received -- that little time was left for in-depth discussions.
"This is a very, very big and significant change and will give us the opportunity to dig deep into problems that the university is facing," Regent Sherry Lansing said.
Gould and Lozano modified the original proposal to address objections that it would concentrate too much power among a select few and reduce transparency and public accountability.
Former regent Velma Montoya, some UC faculty members and others had written critical articles and blog posts saying the changes would diminish the regents' watchdog role over the 10-campus UC system.
But Gould told regents the proposal was "in no way an attempt to limit voices."
The proposal now affirms that all regents have the right to raise any issue at any time and that all open committee meetings will be videotaped and posted online. The board would retain the right to weigh in on all committee actions, rescind any decision delegating authority to UC administrators and maintain the right to investigate allegations of misconduct by a regent.
Concerns that a new Governance and Compensation committee would become too powerful were eased by retaining the board chair's right to appoint members.
Those changes swayed such critics as Regent Norman Pattiz.
"The one thing I was really concerned about … was concentration of power and authority of a few regents," he told his colleagues. "That problem has been addressed. I am willing to ... trust my fellow regents."
The changes will take effect at the regents' next meeting in September.
In other business, the regents praised Gov. Jerry Brown and the Legislature for giving UC an additional $125 million in state funds for 2016-17, a 4% increase, after years of massive cuts.
The money includes $18.5 million to enroll 2,500 more California students next year, $20 million for support services for low-income and underrepresented minority students, $22 million to promote innovation and entrepreneurial ventures and $35 million for deferred maintenance. A $5-million firearms research center is expected to be housed at UC Davis, with faculty at all campuses able to apply for funds.
However, UC failed to obtain $6 million more it had requested to enroll additional graduate students, a shortfall that some regents said would hinder efforts to provide enough teaching assistants needed to instruct the additional California undergraduates expected this year.
Daniel Hare, the outgoing chair of the UC Academic Senate, told regents that a dramatic decrease in state support in the last few decades had nearly doubled the student-faculty ratio at his UC Riverside campus to 29 to 1 from 14 to 1 in the 1980s. The larger classes have compelled many faculty members to switch to machine-scored multiple choice exams over essays and reduced opportunities to get to know students well enough to write meaningful letters of recommendation for them.
"I can't say UC today is able to offer the same quality of education" as in the past, Hare said.
In his briefing on the UCLA shooting, a murder-suicide in an engineering building, Chancellor Block said officials sent out more than 500,000 emails and 250,000 text messages through campus alert systems during the crisis. Hundreds of officers from multiple law-enforcement agencies responded and some of the 2,500 campus members who had received active shooter training led efforts to lock doors, turn off lights and take other cautionary steps, he said.
Block said, however, that social media became a "forum for misinformation" with rumors of multiple shooters in different locations. A task force is assessing how to improve UCLA's responses to potential violence in the future.
"Overall, the emergency response to the incident was successful, and the campus' efforts to prepare for such emergencies proved helpful," Block said.
---
The stories shaping California
Get up to speed with our Essential California newsletter, sent six days a week.
You may occasionally receive promotional content from the Los Angeles Times.