Group protests L.A. loan rates by dumping trash at downtown bank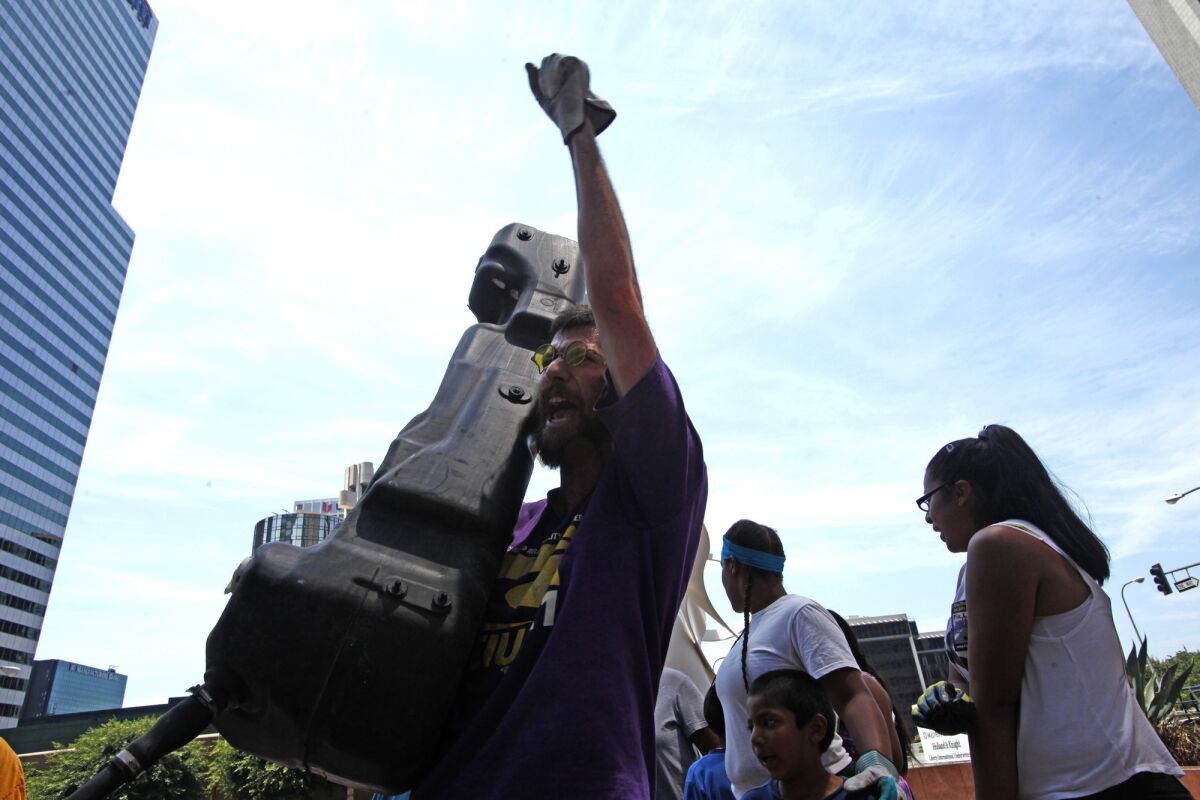 A coalition of city workers and community groups delivered debris from a South Los Angeles alley to the front door of a bank downtown Wednesday to protest what they call "toxic" deals between the city and large Wall Street firms.
In 2006, the city entered into an interest-rate swap deal with Bank of New York Mellon and Dexia, a Franco-Belgian financial institution, for its 1988 Wastewater System Revenue Bond.
The city wanted to take advantage of what were then historically low interest rates. But as rates dropped even lower during the recession the city was left paying more than the market rate.
The coalition, known as Fix LA, wants the city to renegotiate the deal, which it estimates has cost the city up to $65 million.
"That money could be better spent on city services including cleaning our streets," said Scott Mann, a spokesman for the coalition, which includes labor unions, clergy and community groups.
Members of the coalition picked up debris from an alley at 101st Street and San Pedro Street including a burnt couch, panes of glass, and a gas tank.
"When the community has to come together to clean an alley something is wrong," said Abdullah Muhammad, an organizer with the Alliance of Californians for Community Empowerment. "This is the city's job, that is what our tax dollars are for."
The alley hadn't been cleaned out in two years, said Maria Gonzalez, whose house connects to the alley.
Protesters dumped the trash in front of Bank of New York Mellon's offices on 4th Street at Hope Street as security officers closed the entrance to the building.
The trash sat there for more than an hour and was later hauled away, Mann said.
The City Council is scheduled to vote next week on a motion to renegotiate and possibly terminate the swap deal.
Follow @jpanzar for breaking news.
The stories shaping California
Get up to speed with our Essential California newsletter, sent six days a week.
You may occasionally receive promotional content from the Los Angeles Times.