World War II-era German plane, swastika on its tail, crashes in Upland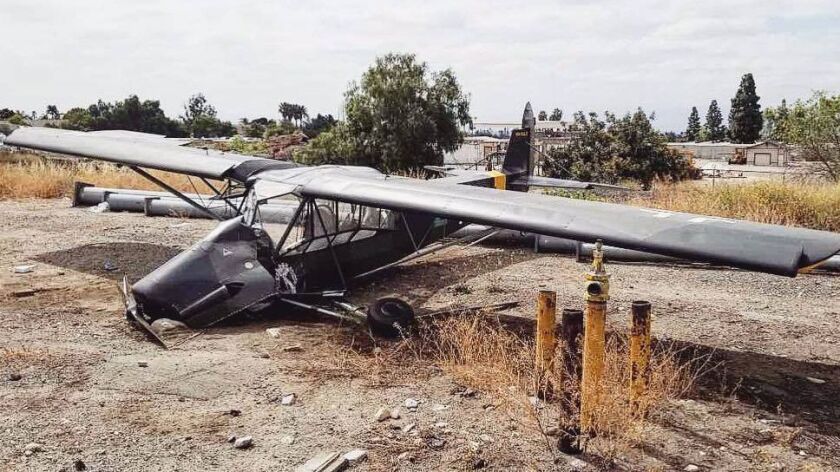 The pilot of a World War II-era German-made plane that crashed near an Upland airport was injured Wednesday morning, authorities said.
The pilot took off from Cable Airport and soon began experiencing mechanical issues, said Sgt. Moe Duran, a spokesman for the Upland Police Department. The man tried to turn the plane around to fly back to the airport but lost power. The aircraft crashed in a nearby field shortly after 10 a.m.

For the record:
6:51 PM, Nov. 07, 2019The plane involved in this crash was a replica of a Fieseler Fi-156 Storch, built from a kit in 2009, according to the NTSB. It was not a World War II-vintage aircraft.
Video footage shows the plane lying in a dirt field, mostly intact but with a crumpled nose. The dark-colored, single-engine aircraft was a replica from World War II and was painted in a military camouflage design with a swastika on its tail.
At the crash site, officers helped free the man, who was stuck inside the airplane, before paramedics arrived. The pilot, who was the sole occupant, was transported to a trauma center with moderate injuries, Duran said.
There was no fire after the crash, and no one else was injured, authorities said.
Officials with the Federal Aviation Administration and the National Transportation Safety Board were notified of the crash, but it was not clear whether the agencies would be investigating.
"By law, we investigate all crashes that result in fatalities, serious injuries or significant damage to the airframe," NTSB spokesman Eric Weiss said. "If there is not a fatality, it can sometimes take a day or so to determine whether the crash meets our statutory threshold."
The Condor Squadron, a Los Angeles-based nonprofit whose members fly historical aircraft, does not own the plane.
Chris Rushing, president of the organization, identified the downed aircraft as a single-engine German Storch.
Rushing said Condor Squadron members have only American-built planes, like the one that crashed on the 101 Freeway in October. The pilot in that plane, a North American SNJ-5 (T-6), crash-landed in Agoura Hills. The plane burst into flames, but the pilot walked way unscathed.
alejandra.reyesvelarde@latimes.com
Twitter: @r_valejandra
---
The stories shaping California
Get up to speed with our Essential California newsletter, sent six days a week.
You may occasionally receive promotional content from the Los Angeles Times.