Witness distances herself from strong testimony she previously gave against Durst in murder case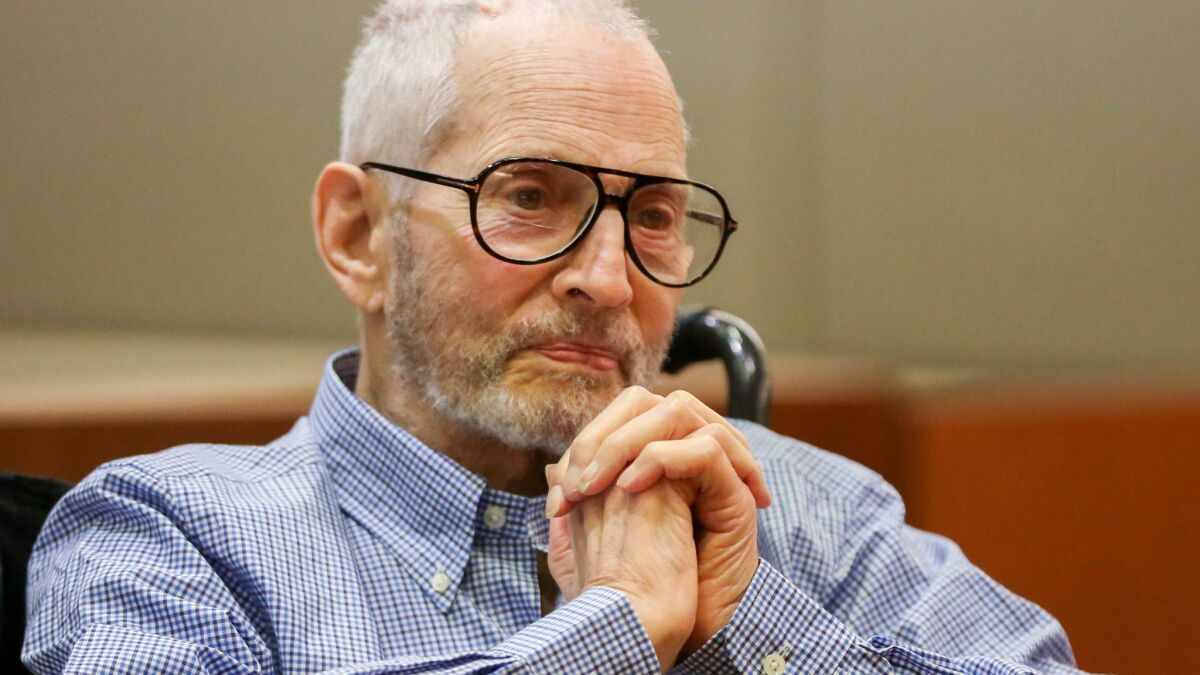 One of Robert Durst's closest confidants — who on the previous day gave stunning testimony placing him in Los Angeles at the time his best friend was killed — backed away from that claim under questioning Thursday in Los Angeles.
Emily Altman, who was testifying for a third day, said Wednesday that the New York real estate magnate told her he'd been in Los Angeles around the time Susan Berman was murdered. But under cross examination Thursday, she said she didn't know if Durst had been in Los Angeles, or merely in California, or whether she'd heard about it from Durst or from her husband.
"I really wish I could remember," she said, adding that she'd thought about it Wednesday night while alone in her hotel room. "Over the course of years, everything got jumbled."
Durst, 74, is accused of murdering Berman inside her Benedict Canyon home in December 2000. Prosecutors allege the slaying was meant to silence Berman for her knowledge about the 1982 disappearance of his first wife, Kathleen.
The multimillionaire, who was featured in the six-part HBO documentary "The Jinx," has pleaded not guilty.
During testimony Wednesday, when Deputy Dist. Atty. John Lewin asked her if she knew from Durst where he'd been at the time of Berman's murder, she said she believed he'd been in California, but didn't initially clarify where in the state.
The prosecutor then asked, "Are you considering at all, 'Is my answer going to hurt Mr. Durst?' " Altman began to cry and told Lewin he was putting her under a lot of pressure. But she insisted she hadn't weighed how her response would affect the outcome for her friend.
Moments later, she said that Durst had, in fact, told her he'd been in Los Angeles around the time of the murder.
That striking testimony marked the first time someone had put Durst in Los Angeles during the fateful period. Altman said she believed Durst stayed at the Beverly Hilton hotel, which a prosecutor noted is less than three miles from Berman's home.
But on Thursday, when asked by defense attorney Dick DeGuerin whether she knew if Durst was in Los Angeles at the time, she said, "No."
Altman testified Thursday that Kathleen's disappearance had a huge impact on her friend. "He was crushed," she said. "He was devastated."
Suspicion about his involvement in Berman's murder and Kathleen's disappearance has worn him down physically, Altman said, adding that she hadn't recognized Durst when she arrived in court Monday.
"It's unbelievable," she said, shaking her head. "Not the same person."
The witness also testified that Durst told her he liked the movie "All Good Things," in which actor Ryan Gosling plays a fictionalized version of Durst. The film character is strongly implicated in the murders of three people and a dog. Asked by Lewin if Durst ever complained about inaccuracies in the film, Altman said the depiction of his treatment of the dog upset him.
"Is there any way he'd ever kill a dog?" the prosecutor asked.
"No," Altman said.
Can you say that with more confidence, the prosecutor asked, than he'd never kill a human being?
"Yes," the witness responded.
Altman — whose husband, Stewart, went to high school with Durst and has represented him in legal matters over the years — also testified that she'd given producers of "The Jinx" a box of materials belonging to Durst. She'd done so, she testified, at Durst's direction. As a consequence, prosecutors have said the materials are not protected by attorney-client privilege. (The HBO documentary focuses on the disappearance of Kathleen, Berman's murder and the death of Morris Black, Durst's neighbor in Galveston, Texas. Durst argued at trial that he'd accidentally shot Black in self-defense but admitted dismembering his body. He was acquitted.)
Inside the box Altman gave to the producers was a timeline, which prosecutors refer to as "BD Story," using the defendant's initials. In the narrative timeline, prepared by Durst for his attorneys before the Galveston trial, the defendant describes feeling numb upon learning in 2000 that police had reopened the investigation into his wife's disappearance.
There's also an entry for Sept. 28, 2001: "Morris removes gun from under yellow jacket, brief struggle, shot." And another from the next day: "How carry Morris out of apartment? Too heavy … bought axe. DID IT. Lift body parts into trash bags."
Defense attorneys, as well as Altman's personal attorneys, objected to most of Lewin's questions Thursday, often arguing that Altman — by way of her work with her husband — had attorney-client privilege and was exempt from answering. Altman often seemed tense on the witness stand. At one point, she told the prosecutor she felt he was calling her a liar and that she resented it, and later she testified that she felt harassed by him. But a moment of levity came during the hearing. As the prosecutor questioned Altman, Siri on someone's iPhone chimed in, saying, "I'm not sure I understand."
The courtroom erupted in laughter. "Divine intervention," a defense attorney quipped. The judge, laughing, added, "That is good."
During the hearing, Durst leafed through a stack of papers, including news articles about his court hearings earlier this week.
Altman testified that Durst can be obsessed with his own notoriety, adding that when she's quoted or shown on TV talking about him, Durst often notices and brings it up with her. A prosecutor Thursday played a short clip from a "Dateline" episode about Durst, featuring Altman, and then played a recorded jail phone call between the two friends in June 2015.
"You were great," Durst says, in a gravelly voice. "In addition to being great, you looked skinny."
In the recording, Altman cracks up.
In testimony Wednesday, as she had the day before, Altman responded "I don't recall" to many questions, and often seemed overwhelmed, at times sighing and fighting back tears.
Durst is unlikely to stand trial in the case before 2018. Altman, 68, who will continue testifying Monday, is one of several older witnesses who prosecutors have questioned early, preserving their testimony in case they're not available for the murder trial.
For more news from the Los Angeles County courts, follow me on Twitter: @marisagerber
ALSO
L.A. reverses course on lane reductions that 'most people outright hated'
Man killed Newport Beach urologist over prostate surgery, prosecutors say
Man found dead in Hollywood motel room after SWAT standoff, LAPD says
---
UPDATES:
7:05 p.m.: This article was updated with additional details from the court hearing.
This article was originally published at 4:25 p.m.
---
The stories shaping California
Get up to speed with our Essential California newsletter, sent six days a week.
You may occasionally receive promotional content from the Los Angeles Times.