18-year-old is convicted of murder in 2014 beating death of USC graduate student from China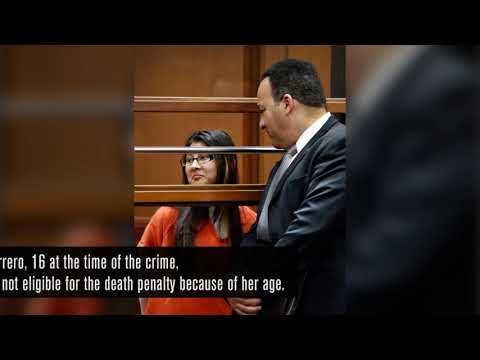 Alejandra Guerrero, 18, was convicted of murder for her role in the 2014 bludgeoning death of a USC graduate student.
A jury convicted an 18-year-old woman of murder on Thursday for her role in the 2014 bludgeoning death of a USC graduate student from China that led to heightened campus security and shock across the Pacific in the victim's homeland.
Alejandra Guerrero — who was 16 at the time of the attack near the university campus — fidgeted with her hair as a clerk read the verdict in a downtown courtroom.
"Guilty," he said, "of murder in the first degree."
Guerrero wiggled in her chair and looked up at her attorney, who gave her a small nod.
Prosecutors say that after midnight on July 24, 2014, Guerrero and three men, none of whom have yet gone to trial, attacked Xinran Ji with a blue baseball bat and a wrench.
The defendants later told detectives they'd targeted Ji — a 24-year-old engineering student who had been walking home from a study group — because he was Chinese and they suspected he had money.
L.A. County Deputy Dist. Atty. John McKinney said that Guerrero talked about wanting to "flock" people, using a term for robbery, in Facebook messages written before the attack. The prosecutor said she talked about wanting to rob white and Chinese people.
Ji escaped mid-attack, but McKinney said that Guerrero chased him down and pounded at him with a wrench. The graduate student then managed to stagger home, trailing blood for a quarter of a mile. He died in bed soon after.
Guerrero's age, the prosecutor said, was no excuse for her actions.
"The victim was also young," he said. "She took a leadership role in the crime."
Guerrero's attorney, Errol Cook, declined to comment after the verdict.
After the attack, prosecutors say, Guerrero and the other defendants drove to Dockweiler Beach and attempted to rob a couple. Guerrero was also convicted of robbery and attempted robbery for the beach attack.
The jury foreman — a 56-year-old project manager at a bank — said Guerrero's age wasn't a factor in deliberations. Jurors did briefly discuss her claim that she was high at the time of the attack, he said, but they didn't spend much time on the topic.
Instead, the foreman said, it was Guerrero's own statements to investigators, coupled with security footage from the night of the beating, that provided the "most crucial" evidence. The footage captured Ji running, before he was stopped and beaten.
The foreman said he recalled hearing a bit about the crime in 2014.
"The case," he said, "was a tragedy for everyone involved."
After Ji's death, panic spread across the Pacific, prompting a gathering of parents of USC students in Beijing and a demand for answers. The university actively recruits students abroad. About 3,000 of its 8,000 international students are from China.
In Los Angeles, where students were still reeling from the 2012 murders of two other Chinese graduate students near campus, the university boosted security and began requiring international graduate students to take a safety education program.
Guerrero, who wasn't eligible for the death penalty because of her age at the time of the crime, is scheduled to be sentenced Nov. 28. She faces up to life in prison without the possibility of parole, but the judge has discretion to give her a more lenient sentence because of her age at the time of the crime.
The trials for the other defendants — Andrew Garcia, 20, Jonathan Del Carmen, 21, and Alberto Ochoa, 19 — will probably begin next year.
For more news from the Los Angeles County courts, follow me on Twitter: @marisagerber
ALSO
Housejackers take a woman's tiny home on tiny ride, police say
Officer's Kevlar helmet deflects gunman's bullet, but mother and 9-month-old baby are wounded
Nightclub owner sentenced to prison for laundering money in cross-border drug trade
Sign up for Essential California for news, features and recommendations from the L.A. Times and beyond in your inbox six days a week.
You may occasionally receive promotional content from the Los Angeles Times.