USC students march on campus over sexual-misconduct scandal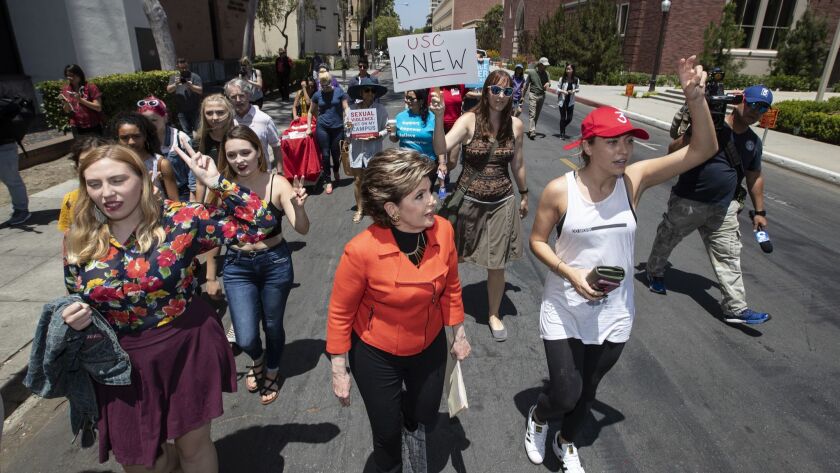 A small group of current and former students gathered on the USC campus Saturday for a march to show support for the women who have accused a former university gynecologist of sexual misconduct and to call for an investigation of campus officials who were complicit in his alleged misdeeds.
The crowd of mostly women gathered outside the Engemann Student Health Center, where Dr. George Tyndall was allowed to treat students for nearly 30 years. From there, they marched to the center of the sprawling campus south of downtown.
Ariel Sobel, 22, one of the organizers of the march, told the group that the purpose of the march was to draw attention to all those women who complained about Tyndall's suspected behavior over the years and went ignored.
"These were real human beings, with real stories," she said.
As the group marched toward the statue of Tommy Trojan, the university's mascot of a sword-wielding warrior that stands in the school's central plaza, a chant rose up: "What do we want? Justice! When do we want it? Now!"
One woman, a USC student who asked that she not be named for fear of retaliation, held up a sign as she marched that read "USC Knew." She said she had been a patient of Tyndall's around 2010.
"My experience of him was an extremely creepy vibe. I saw him once and was like, I'm never going back to see that person," she said. "I'm really upset that it took the L.A. Times for me to learn, eight years later, that this person had a history" of sexual misconduct allegations that had been reported.
The Times first reported on the allegations against Tyndall in May. More than 400 women have contacted a university hotline to address concerns about the physician since then. Tyndall is accused of improperly photographing students' genitals, touching women inappropriately during pelvic examinations and making sexually suggestive remarks.
The Los Angeles Police Department is investigating at least 52 complaints of misconduct involving Tyndall, and more than two dozen former patients have sued the doctor and the university in recent weeks.
The university did not inform Tyndall's patients or report him at the time to the Medical Board of California, the agency responsible for protecting the public from problem doctors.
Tyndall has denied wrongdoing in previous interviews with The Times. In a letter to the newspaper dated May 17, the physician said he had heard of only one patient complaint before March 2016: an allegation that he did not wear gloves during a pelvic exam. He wrote that the claim was debunked by administrators.
"Patients sometimes fabricate stories," Tyndall wrote.
He continued to practice at USC until 2016, when a report from a nurse led to his suspension. An internal USC investigation determined Tyndall's behavior during pelvic exams was outside the scope of current medical practice and amounted to sexual harassment of students. He resigned quietly last summer with a financial payout.
At the Saturday gathering, speakers included Elizabeth Reyes, the interim director at the Relationship and Sexual Violence Prevention and Services program at USC, who discussed the resources that were available to any potential victims as well as reporting options on the student health center website.
Also in attendance was attorney Gloria Allred, who filed a lawsuit against the university on behalf of one student who said she felt "violated" during a 2016 exam. Allred said the lawsuit will be amended to add more than 20 young women "who are going to have the courage to stand up and say USC has to be accountable."
"We are not going to stop until justice is done," she said.
Viva Symanski, who is also being represented by Allred, grew emotional as she addressed the crowd to offer a "message of hope and healing." She alleged Tyndall touched her inappropriately and asked repeatedly about her sex life during a January 2014 appointment.
"Visibility has not been easy. Choosing to speak here today was not easy," Symanski said, her voice breaking. "But I draw strength from the courageous women who came before — women that stood up to authority in meager numbers, women that were not heard, women that were not believed. We are at a breaking point. Things have to change, USC must change."
Symanski later threw her fist in the air and said, "Time's up," prompting cheers from the crowd.
The fallout from the Tyndall scandal, coupled with past revelations in The Times about rampant drug use by former USC Dr. Carmen A. Puliafito, led to the resignation of USC President C.L. Max Nikias last month.
Follow @brittny_mejia for breaking news in California.
---
UPDATES:
June 9, 4:05 p.m.: This article was updated with new information about the march and comments from demonstrators.
This article was originally posted on June 8.
---
The stories shaping California
Get up to speed with our Essential California newsletter, sent six days a week.
You may occasionally receive promotional content from the Los Angeles Times.