Teachers union to unveil 'evaluation' of L.A. schools Supt. Deasy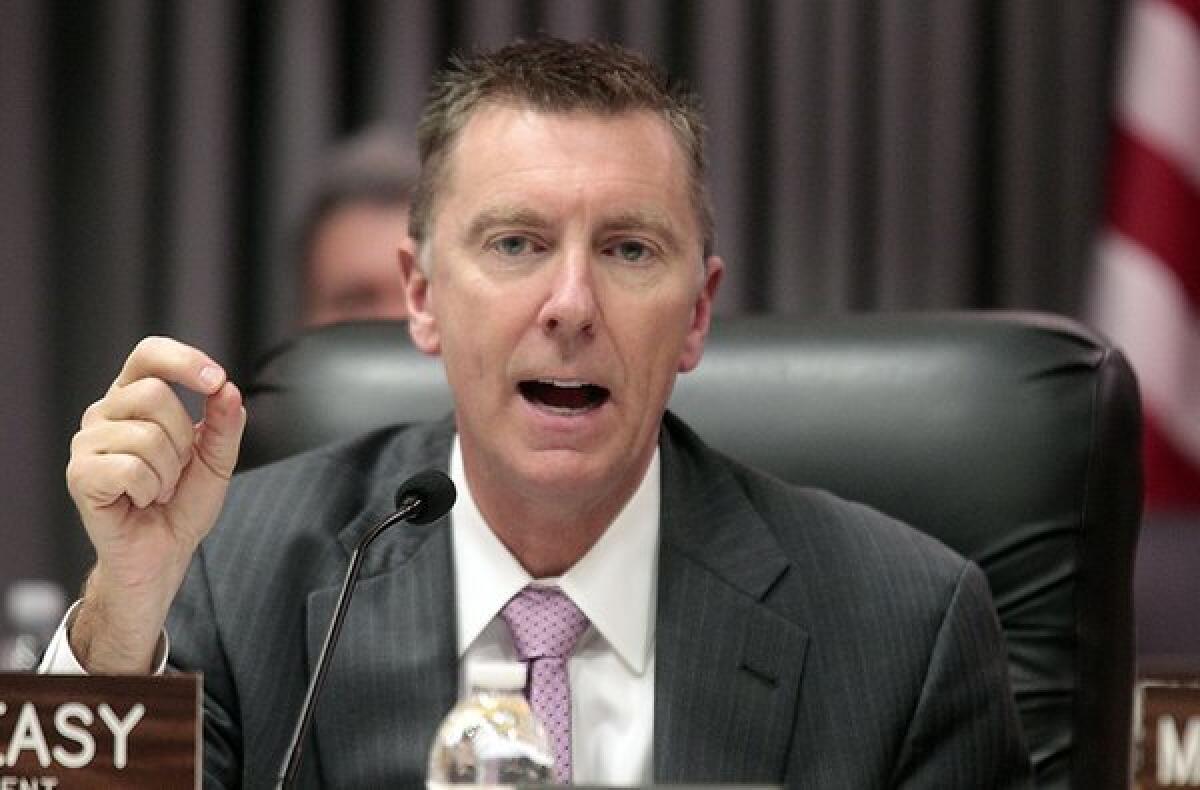 Continuing its aggressive rhetoric, the Los Angeles teachers union announced plans Thursday to release a performance evaluation of L.A. schools Supt. John Deasy.
Don't expect him to get a sterling grade.
The evaluation gambit is an intentionally ironic twist on Deasy's nascent teacher evaluation that relies in part on student standardized test scores. Many teachers are uncomfortable with the system.
Test scores also matter for Deasy when he is reviewed by the Board of Education. But scores are not an element of the form filled out by participating members of United Teachers Los Angeles.
The measure is an adaptation of a union survey that faculty members complete annually about their school principal.
All the questions begin with "Does Supt. John Deasy..." Examples of what follows include:
"Provide effective instructional leadership?"
"Positively influence the morale of the staff?"
"Create an environment where teachers can feel free to express their views to Administration without fear of retaliation?"
"Make decisions in a fair and transparent manner?"
The survey comes on the heels of a straight up or down "confidence" vote on Deasy in April. In that, 91% of teachers opted for "no confidence." About 17,700 of the union's more than 32,000 members cast ballots.
This latest survey was conducted between May 3 and May 10, according to the union website. It recorded a much lower participation rate; about 8,500 teachers participated in the 25-question survey, said teachers union President Warren Fletcher.
Fletcher said the survey was conducted to provide more specific detail on the superintendent's strengths and weaknesses.
"Our first hope is that we can always give some assistance and guidance to the school board and superintendent," Fletcher said. "That is our goal."
Some union activists have been pushing for strategies to force Deasy out of office, especially in the wake of a school board election that somewhat changed the balance of power on the Board of Education.
Deasy said he had no comment. The schools chief has had the consistent backing of U.S. Secretary of Education Arne Duncan and a coalition of some community groups, philanthropists and organizations funded by these philanthropists.
On Wednesday, the union had taken another poke at Deasy--this time in collaboration with Associated Administrators of Los Angeles, which represents principals and other middle managers with teaching credentials.
In a letter to the school board, the unions criticized Deasy for seeming to disregard the direction of the Board of Education in remarks quoted in an online publication, L.A. School Report.
If Deasy's remarks about following his own agenda are to be taken at face value, Fletcher said in an interview, "in that case he was acting as a rogue bureaucrat."
Deasy had no comment on this matter either.
ALSO:
Man arrested on suspicion of indecent exposure in East L.A.
Yosemite plan delayed amid clamor over curbing tourist amenities
Days after Asiana crash, FAA to require more training for co-pilots
howard.blume@latimes.com
Twitter: @howardblume | howard.blume@latimes.com
Sign up for Essential California for news, features and recommendations from the L.A. Times and beyond in your inbox six days a week.
You may occasionally receive promotional content from the Los Angeles Times.