North L.A. County residents are angry that the Chiquita Canyon Landfill quietly avoided closure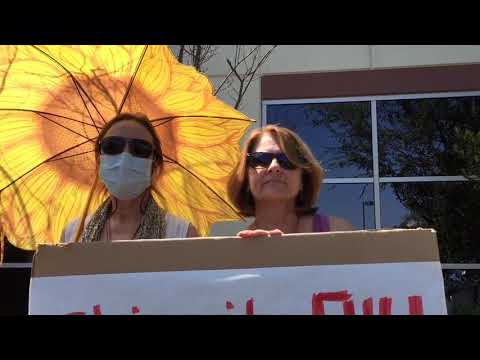 Val Verde residents express displeasure with L.A. County over the Chiquita Canyon Landfill. Residents delivered a letter to Supervisor Michael Antonovich office asking for the landfill to be closed immediately.
The town of Val Verde, population 2,468, consists of a smattering of narrow roads and single-family houses nestled among the hills of Chiquita Canyon, and a dump named after that canyon that some nearby residents say needs to be shut down.
The Chiquita Canyon Landfill is L.A. County's second-largest site for burying the kitchen waste, packaging and other refuse discarded by residents. Last year, it took in more than a million tons of garbage.
Six days a week, a steady stream of semi-trucks rumble up and down the roads to the dump's working face, a colored mosaic of mostly indistinguishable trash. As the trucks tip their waste, metals clank under the roar of Caterpillar bulldozers and compactors with studded steel wheels that push, crush and bury the garbage.
Twenty years ago, Chiquita Canyon's owners and Val Verde residents engaged in a bitter fight over a proposal to expand the landfill. In 1997, the two sides settled on an agreement requiring the dump to close its gates when a certain number of tons of buried trash had been reached and to pay into a fund for community programs. The agreement left open an avenue for the landfill to apply for a renewed permit.
I thought we had an ironclad agreement. I'm astounded. I'm enraged, actually.
— Barbara Wampole, Val Verde resident and landfill opponent
By the end of July, the landfill had surpassed the cap, according to a tally from public records and landfill officials.
Waste Connections Inc., the landfill owner, is seeking another expansion permit, and that application is undergoing environmental review. In the meantime, the company quietly applied for and obtained a temporary waiver to keep operating, leaving some Val Verde residents feeling hoodwinked.
"I thought we had an ironclad agreement," said Barbara Wampole, who has lived in Val Verde for 42 years and fought the 1997 expansion. "I'm astounded. I'm enraged, actually."
Wampole was part of a group of about two dozen activists and residents who delivered a letter last week to L.A. County Supervisor Michael Antonovich, whose district includes Val Verde, demanding the dump's closure. The activists are worried about air and water quality in the area and the landfill's effects on public health. They argue that the landfill's managers acted in bad faith and broke the terms of the 1997 agreement.
Company representatives and government officials say the landfill did nothing wrong.
Last November, in anticipation that the dump would soon reach its maximum permitted capacity of 23 million tons, Mike Dean, Waste Connections' division vice president for Southern California, wrote to Richard Bruckner, the county's regional planning director, and requested a waiver in order to continue operating while the company waited for a new permit.
In March, Bruckner approved the waiver. Four days later, Dean accepted the terms. Antonovich's office became aware of the waiver in May, said planning deputy Edel Vizcarra.
But no one notified the people living just beyond the dump's ridge, despite a written agreement that the landfill would "forward all notices and reports from or to its regulatory agencies" to the Val Verde Community Advisory Committee, the liaison body between the landfill, Antonovich's office and members of the community.
Dean said the landfill only forwards reports of waste tallies and monitoring and inspection results because those are of greatest interest to the committee.
Committee members and other activists say getting even those reports is a battle and it was unconscionable for the company not to share key information about getting permission to continue to operate.
"This is a big deal," said Lynne Plambeck, director of the Santa Clarita Organization for Planning and the Environment, an environmental activism group. "If you would have provided them [Val Verde] anything, you would have provided them that."
Mitch Glaser, assistant administrator at the Department of Regional Planning, said the department grants up to four temporary waivers, known as "clean hands waivers," at its discretion each year. Public notification is not always required and in this case consisted of only a notice filed at the county clerk's office in Norwalk, nearly 60 miles from Val Verde.
Vizcarra acknowledged that residents should have been informed about the waiver. As for sharing the news himself, "I guess I could have," he said. "But I didn't."
"It's like some sort of secret process," Plambeck said. "They're supposed to be keeping the community informed about this."
Dean and Chiquita Canyon Landfill's director of public relations, John Musella, said they didn't inform the community when they sought and later obtained the waiver because it wasn't yet effective. They said they planned to inform the community once the landfill had surpassed 23 million tons, around August.
Clean hands waivers are granted at the sole and final discretion of the director of regional planning and there is no way to appeal once a waiver has been granted.
Some Val Verde residents say they would have liked the opportunity to object to the nuisance and possible health consequences of living near a dump.
Mark Cezon bought his property on Lincoln Avenue, one of the streets closest to the landfill, in 2009. "It didn't make me think twice — until I started smelling it," he said. "It smells like rotten garbage. It's nasty."
Since 2007, Waste Connections, Chiquita Canyon Landfill, Musella and his public relations firm, have donated a total of $8,400 to campaign funds and an "office holder" account for Antonovich.
Both Vizcarra in Antonovich's office and Dean at the landfill say the money has no influence on the supervisor's approach to the landfill.
So far this year, the South Coast Air Quality Management District, which regulates air pollution in the South Coast Air Basin, has received 107 complaints about the landfill. Last year it received 233 complaints. It has issued the landfill only one notice, in 2015, for violating health and air quality codes that prohibit public nuisance.
For comparison, the district received 1,795 complaints about Sunshine Canyon, the county's largest landfill, in 2015, but the two L.A. neighborhoods closest to it, Granada Hills and Sylmar, together comprise a population of more than 130,000.
Sam Atwood, media relations manager for the district, said strong odors "can affect an individual's health and well-being" by causing issues such as headaches or nausea.
But research findings about the long-term health effects of living near a landfill are mixed, said Dr. Cyrus Rangan at the Department of Public Health.
Dean said a Waste Connections employee walks the streets of Val Verde at least once every day to monitor for smells and "rarely" does one observe an odor. He also said the landfill's 24-hour hotline receives few calls.
"The landfill doesn't smell…. Garbage smells," Dean said. "Our job is to get it spread out, covered as quickly as possible … and we do a very good job of that."
ALSO
SoCal hit with worst smog in years as hot, stagnant weather brings surge in hospital visits
State is years behind on projects to protect wildlife at Salton Sea, officials and activists say
Lawmakers weaken bill to ban behind-the-scenes communications at Coastal Commission
Sign up for Essential California for news, features and recommendations from the L.A. Times and beyond in your inbox six days a week.
You may occasionally receive promotional content from the Los Angeles Times.