Venice boardwalk crash: Victims describe moments of horror
Deputies escort Nathan Louis Campbell at the Airport Courthouse, where he was arraigned Aug. 6, 2013, on charges of driving into crowds on the Venice boardwalk, killing a honeymooning Italian woman and injuring 16 others.
(Francine Orr / Los Angeles Times)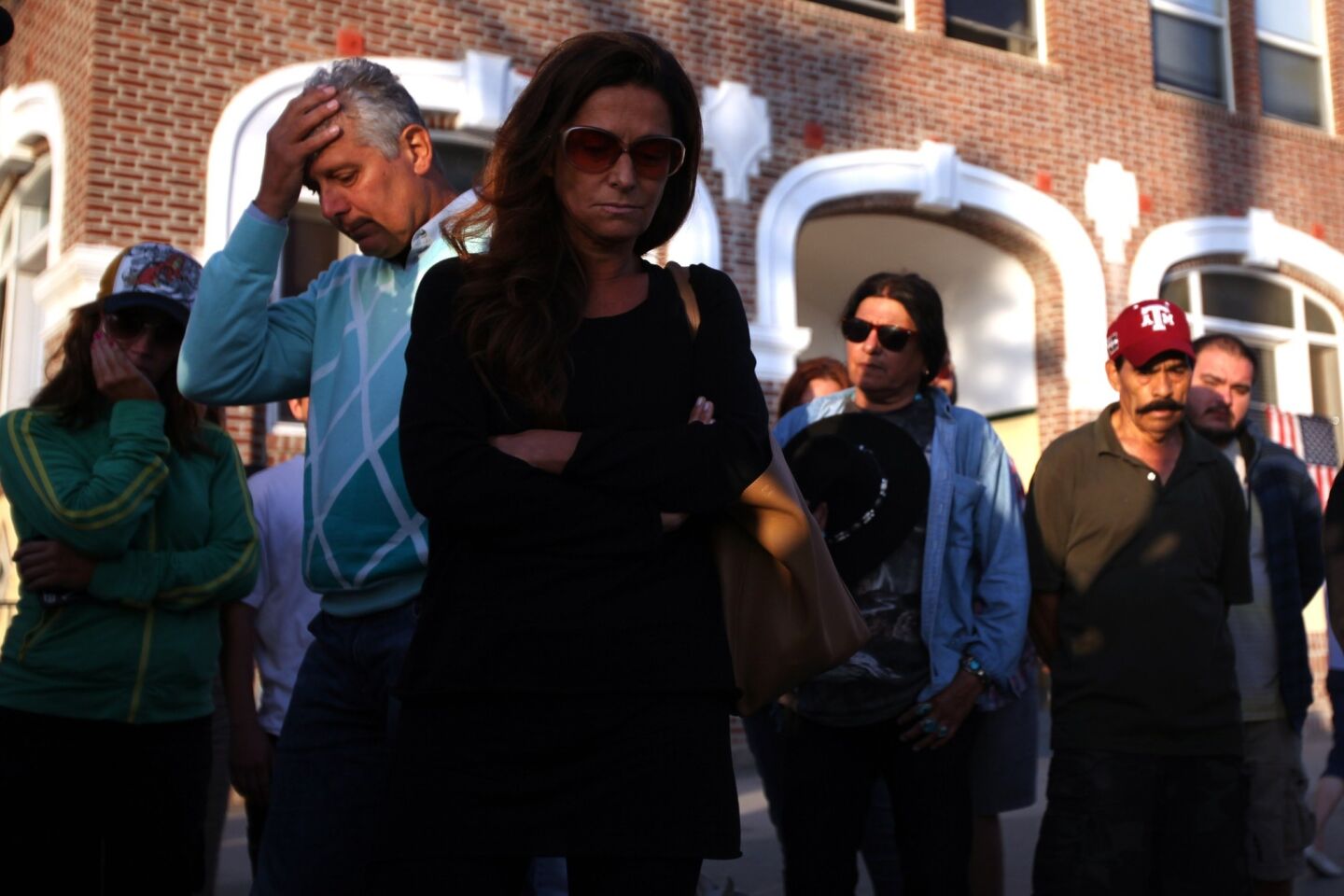 Piero Casadei, left, and Katia Gruppioni, the father-in-law and aunt of Alice Gruppioni, visit a memorial at the boardwalk on Aug. 5, 2013.
(Michael Robinson Chavez / Los Angeles Times)
People gather at the Venice boardwalk to remember the victims of the Aug. 3, 2013 crash.
(Michael Robinson Chavez / Los Angeles Times)
A card bears the photo of Christian Casadei and Alice Gruppioni, who were on their honeymoon when Gruppioni was killed and Casadei injured.
(Michael Robinson Chavez / Los Angeles Times)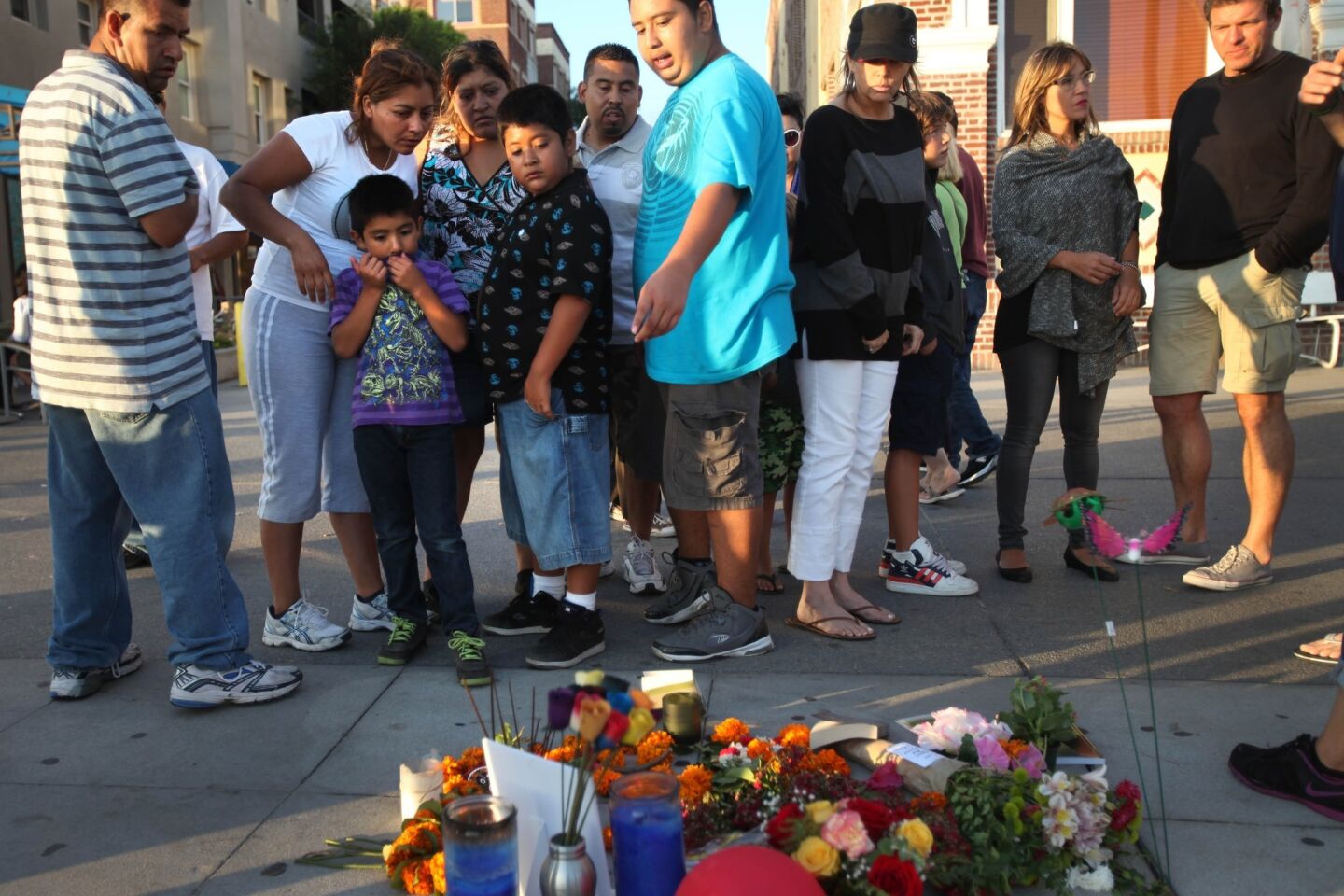 Visitors leave flowers and pay their respects at a memorial on the Venice boardwalk.
(Michael Robinson Chavez / Los Angeles Times)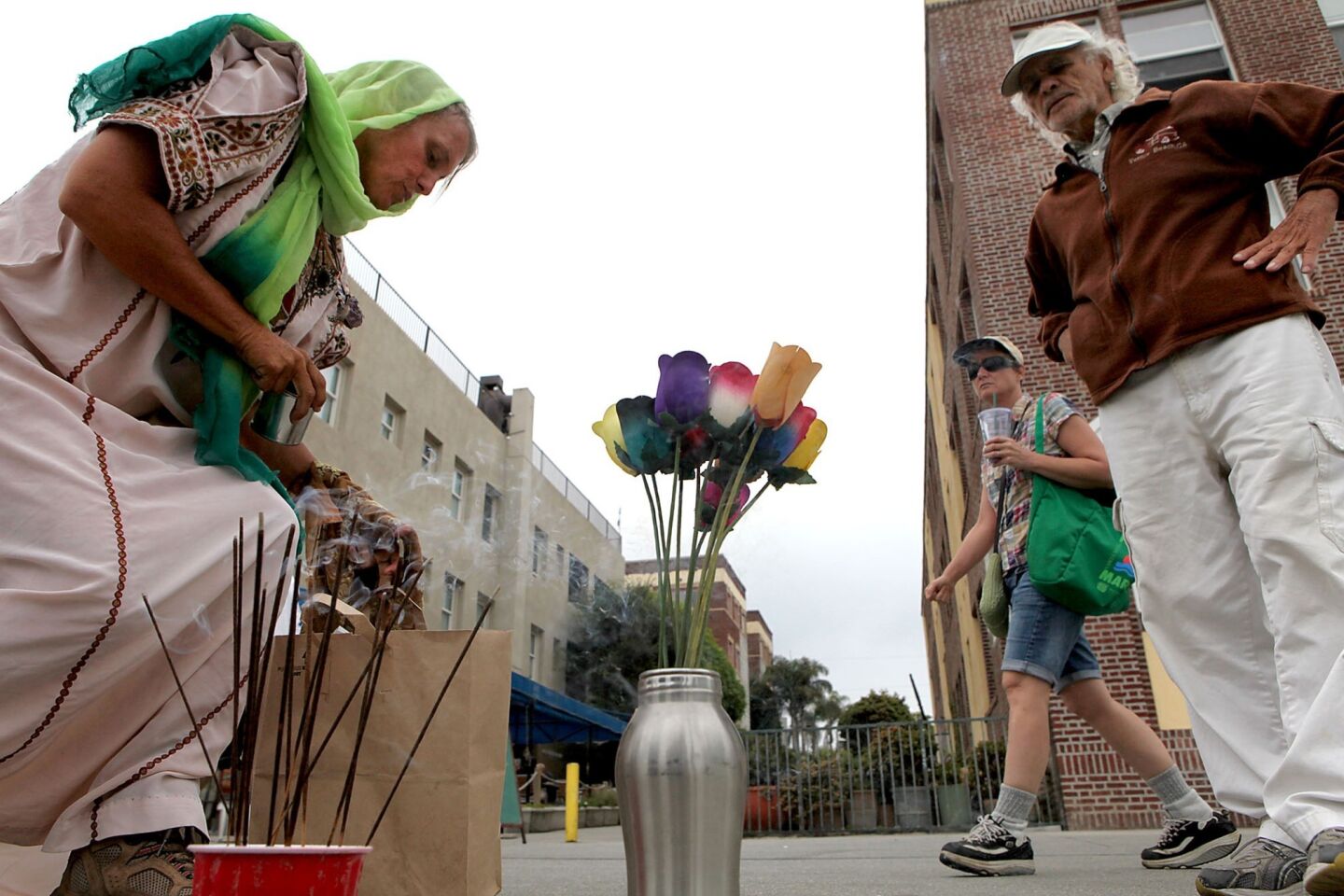 Lisa Green, left, and Toneey Acevedo, right, stop to place remembrances at a makeshift memorial on the Venice Boardwalk near Dudley Avenue.
(Brian van der Brug / Los Angeles Times)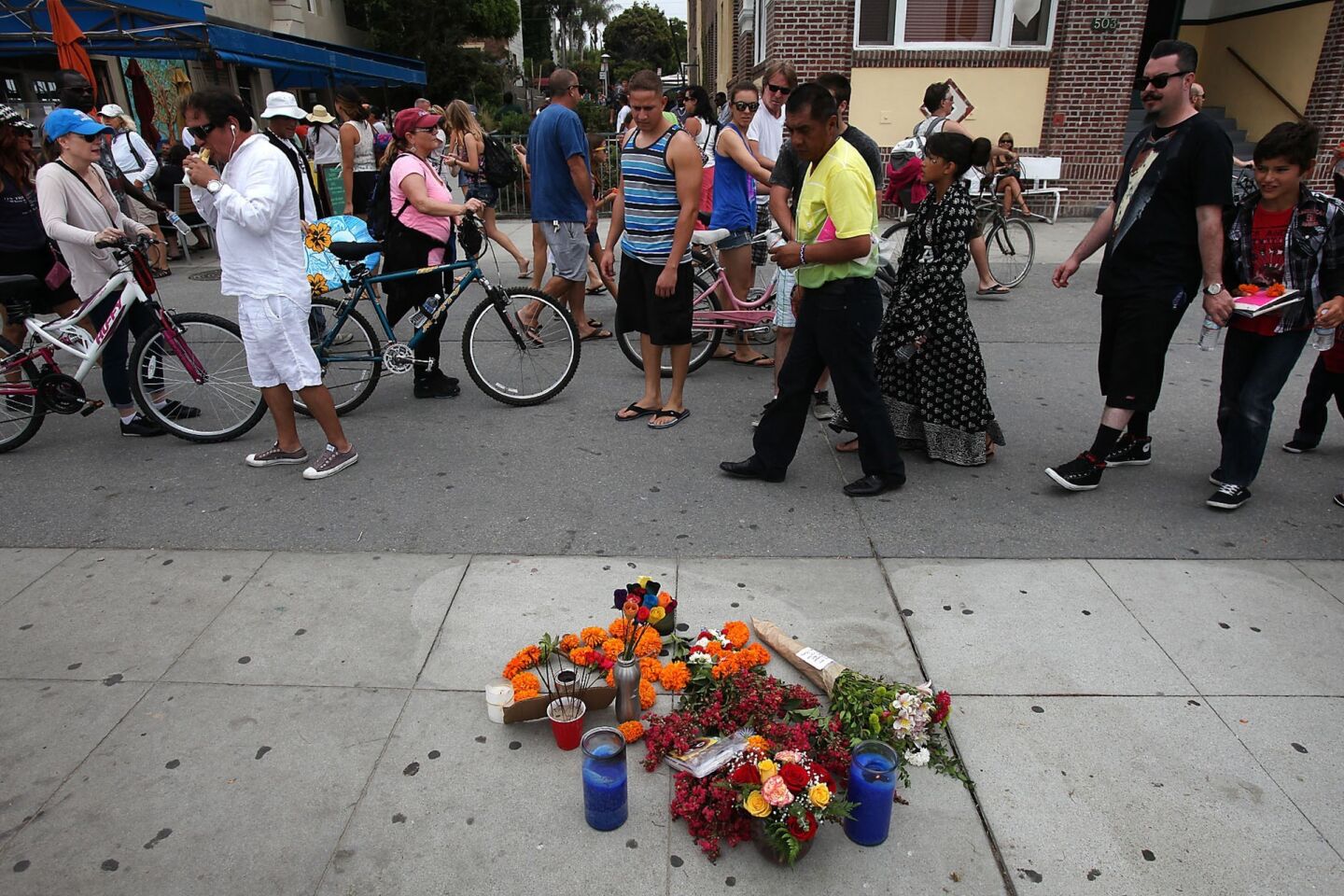 Remembrances and flowers at a makeshift memorial.
(Brian van der Brug / Los Angeles Times)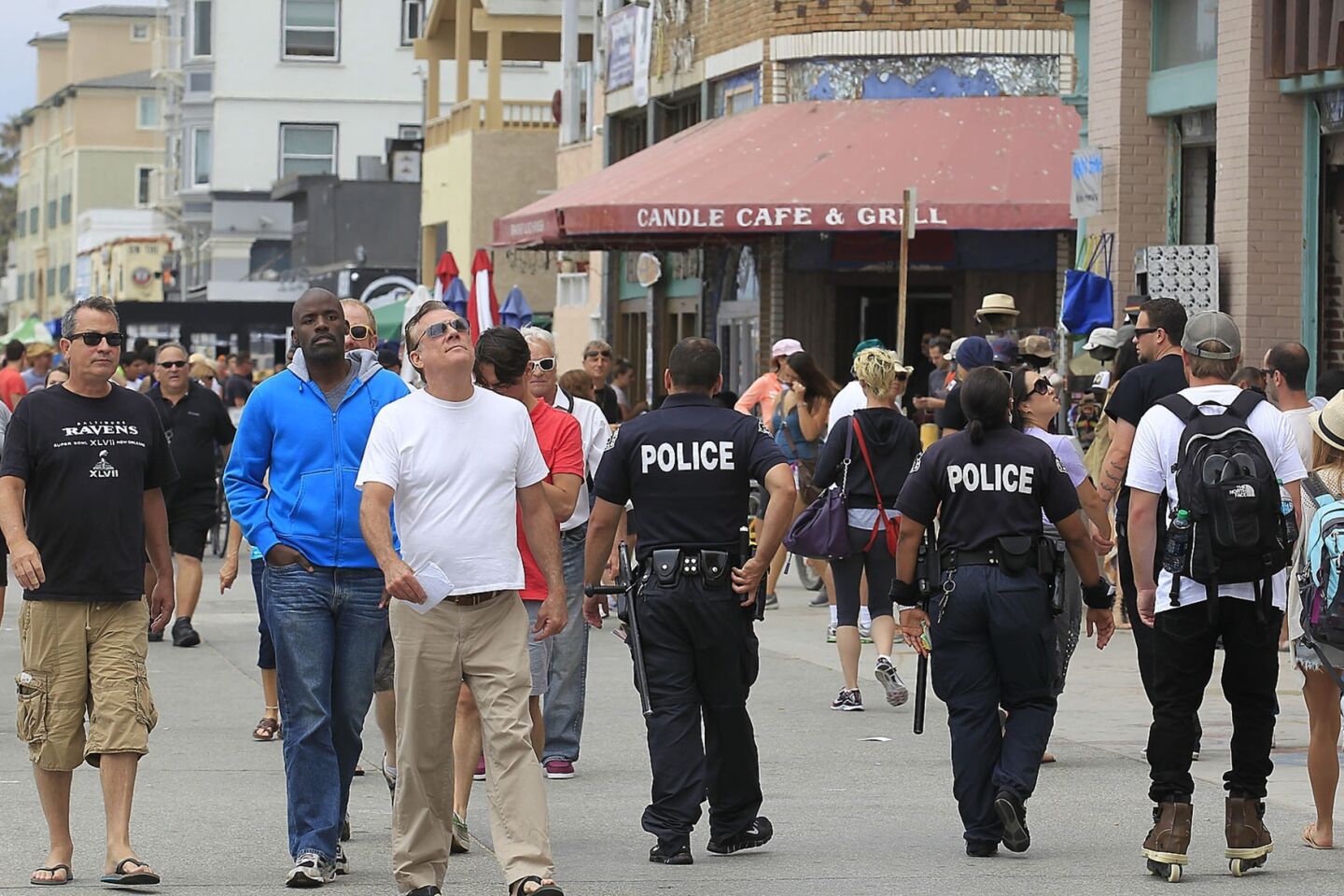 Life resumes on the Venice Boardwalk after a deadly crash.
(Brian van der Brug / Los Angeles Times)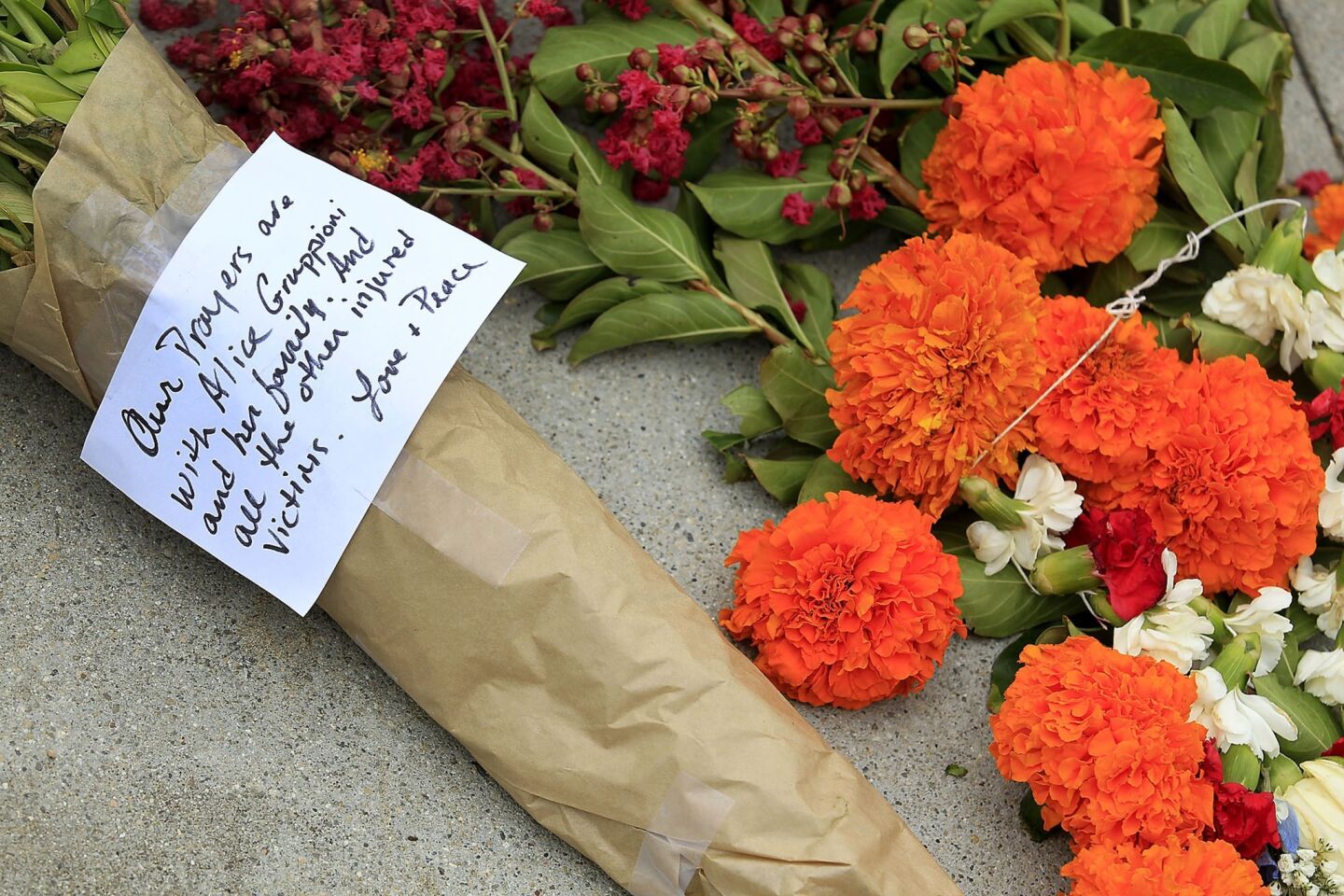 Witnesses described a blue Dodge zigzagging along Ocean Front Walk, striking pedestrians and vendors before speeding away.
(Brian van der Brug / Los Angeles Times)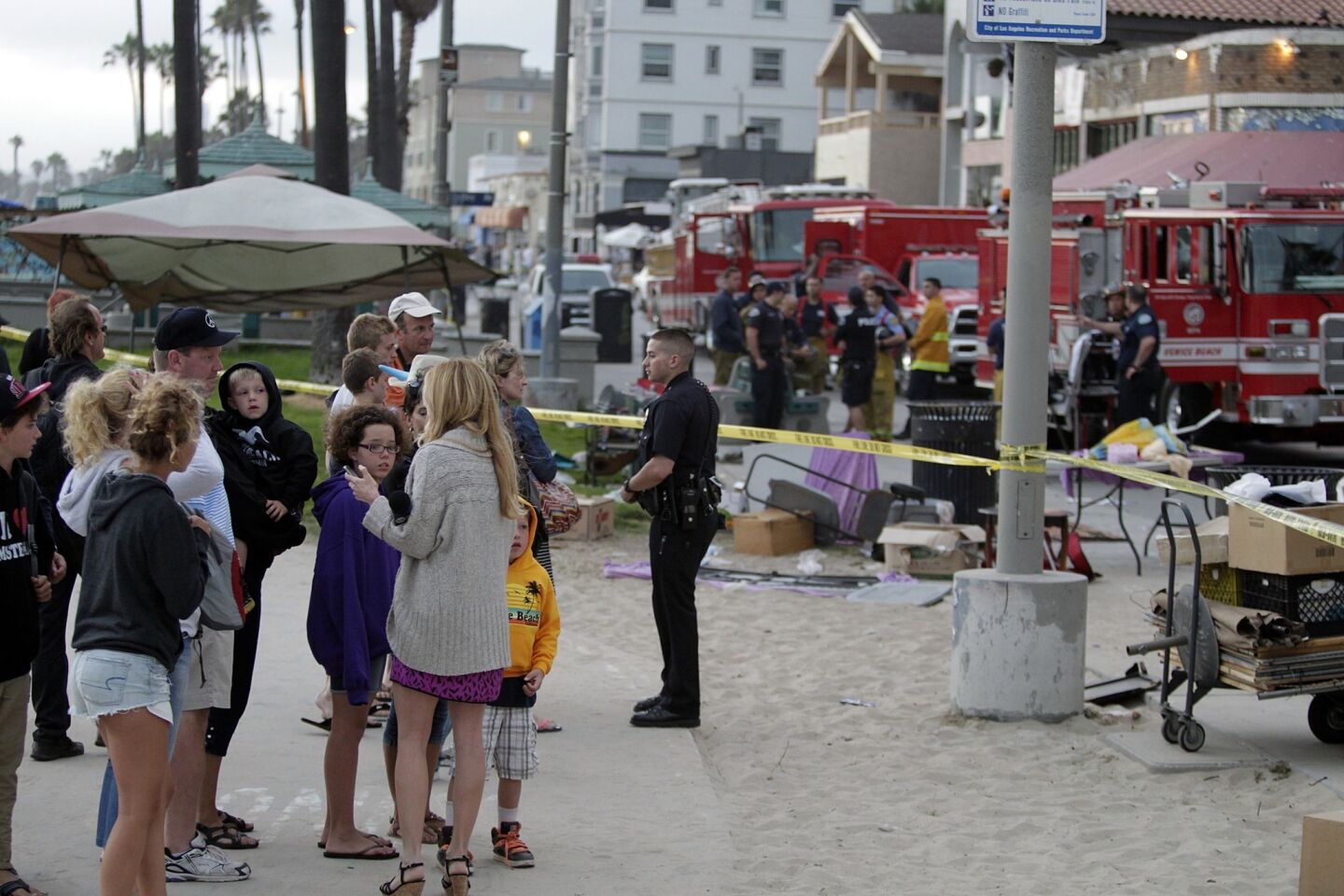 Bystanders, police and firefighters at the scene of the Aug. 3, 2013, incident in which a crowd of pedestrians was struck in Venice Beach.
(Allen J. Schaben / Los Angeles Times)
Victims on Sunday described the hit-and-run rampage on the Venice boardwalk that left one pedestrian dead and others injured.
When he first saw the blue Dodge sedan screech around a corner at the boardwalk, Mustafa Balci figured a driver had simply become confused and would quickly turn around and leave.
Instead it kept moving forward, speeding, hitting a metal trash can, turning a table into flying shards, and storming "like a train" through the tent where Balci sells handmade pendants.
Balci was lucky. He suffered bruises but was able to share painful details about the rampage that tragically upended a quarter-mile stretch of one of Southern California's most popular beach destinations on Saturday night.
He escaped the fate of Alice Gruppioni, an Italian tourist who was killed. The 32-year-old was on her honeymoon and had been walking along the paved strand with her new husband, Christian Casadei, also of Italy.
Police said Sunday that the driver of the speeding Dodge was Nathan Campbell, a 38-year-old transient who was arrested and charged in Gruppioni's death.
Not long after driving back off the boardwalk, Campbell left his car on a Santa Monica street and walked inside a nearby police station to turn himself in. Campbell, a Colorado native who sources said was possibly living in his car, was later booked on suspicion of murder and is being on $1-million bail. Police said that when he turned himself in Campbell asked how many people had been injured.
Casadei was hospitalized with minor injuries. A woman whose name has not been released because of privacy laws was listed in serious condition at UCLA Medical Center on Sunday. Four other people, including two women and two men, were treated at the hospital and released. Others injured during the incident suffered minor injuries and were either released or being treated at other area hospitals.
As news of Gruppioni's death began filtering through Venice on Sunday, life on the boardwalk began returning to its typically offbeat ways – and many noted that the area had a rough-hewn side that has given the community a steely resolve.
Yet not everybody found it easy to move on.
"If I was sitting a few inches to the left or to the right, I would have died," said Balci, noting that he was hit by the car and that his wife landed in a nearby patch of grass after being flipped in the air by the speeding car.
Witnesses said Sunday that the car appeared to reach speeds near 60 mph as it moved roughly a quarter mile down the boardwalk -- officially called Ocean Front Walk. The driver seemed to go out of his way to hit pedestrians.
"There were thousands of people in the promenade," said John Drolette, who watched it all from the second-story balcony of the Cadillac Hotel. "He was zigzagging; he did it on purpose."
A videotape taken from a restaurant on narrow Dudley Avenue shows a man believed to be Campbell pacing near a sedan, then getting into the car and driving suddenly forward, out of camera range. Another video shows the moments that followed: the sedan slamming into unsuspecting pedestrians, ramming a canopy, before turning left and speeding down Ocean Front Walk at an hour when many were simply waiting to watch the setting summer sun.
The driver entered Ocean Front Walk by driving the car onto a sidewalk and finding enough space to maneuver it past five narrow concrete pylons, a barrier meant to block cars.
Several Venice locals said Sunday that more barriers were needed to keep motorists from deliberately or accidentally entering the boardwalk. Some streets that end at the boardwalk already have barriers, but others do not. A few times a year cars accidentally turn onto the boardwalk, said Michael Aulberry, a resident for 35 years.
Los Angeles City Councilman Mike Bonin, whose district includes Venice, agreed that additional barriers were needed. He cautioned that they would have to be installed so that people with disabilities and emergency vehicles could get onto the boardwalk. He also said the issue was complicated because there are parking areas on the beach that can only be reached by driving over the boardwalk at Rose Avenue.
The hit-and-run left onlookers with searing and unforgettable memories.
Drolette said the first indication that something was wrong came when he heard the gunning of an engine. A few moments later he watched the blue Dodge hit a woman who was shopping at a tent. The car carried her on the hood for a few yards until she rolled off. Then the Dodge ran her over and sped up, zigzagging into a small group and hitting another woman.
Drolette said the car appeared to be dragging an ATM machine that it had hit.
Others recalled the car ramming into a display of mannequins that ended up under the chassis, scraping against the pavement, creating a loud noise that some said alerted people to danger.
"I didn't know what was coming, and I didn't want to find out," said vendor Mark Barrios, 42, who was sitting at his tent when he heard a scraping sound and saw a wave of people separating down the boardwalk.
Barrios hid behind a palm tree for cover as he saw the car tear past him. In the background, he heard a man screaming, "Victoria! Victoria!"
The chaos was over in a flash. The Dodge first tried to exit through a parking lot but struck a sunglasses stand, onlookers said. Then it backed up and found a way out at Park Avenue, a street with no blocking barriers.
ALSO:
O.C. deputy charged with pepper spraying teen's pizza
Redondo Beach moves forward with waterfront redevelopment
Former L.A. County GOP official allegedly had explicit chats with girl
The stories shaping California
Get up to speed with our Essential California newsletter, sent six days a week.
You may occasionally receive promotional content from the Los Angeles Times.