Weaker water conservation numbers prompt fears that California is going back to its old bad habits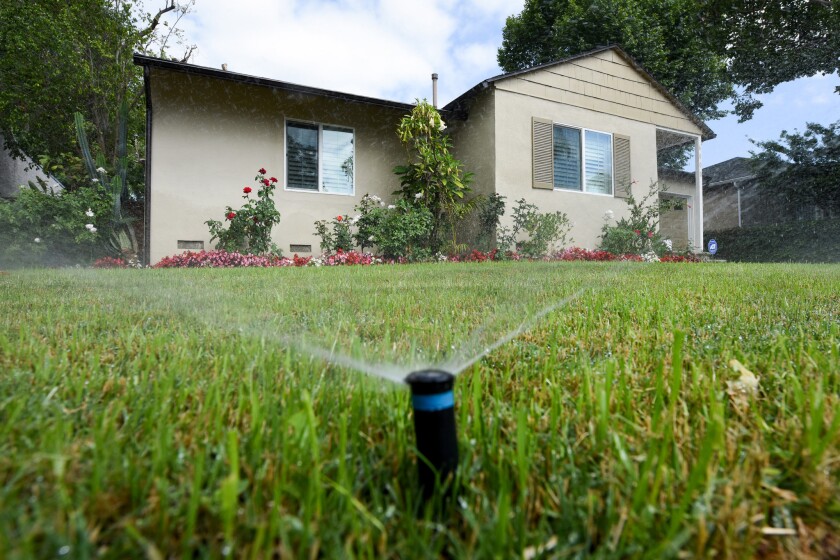 Californians' water conservation slipped for the third consecutive month in August, prompting new alarm from regulators about whether relaxed water restrictions may be causing residents to revert to old habits as the state enters its sixth year of severe drought.
The trend raises new questions about Californians' willingness to continue austere conservation after spending the last two years dramatically reducing their water use by ripping out lawns, installing water-sipping appliances and shortening their showers.
Conservation numbers varied widely across the state, with some places actually saving more water compared with 2015 levels. But other communities are turning the spigot back on, and state data show that several of the worst offenders are the affluent cities that previously have been criticized for heavy consumption.
Regulators on Wednesday singled out Malibu as one example of a city returning to profligate water use. The water district that serves the city saw its water-savings drop from 20.4% in August 2015 to just 7.9% in August 2016. The 22,000 residents served by the district used about 300 gallons per person per day, according to state data. By contrast, Los Angeles residents used an average of only 84 gallons per day in August.
The Santa Fe Irrigation District, which serves upscale pockets of northern San Diego County, including Rancho Santa Fe, saw its residents use about 525 gallons per person per day. The district had ramped up conservation efforts after being tagged as one of the state's heaviest water users and had managed to save 36.6% in August 2015. But this August, the savings fell to 14%.
Beverly Hills, long a target of regulators' scorn, actually increased its water savings in August by about two percentage points compared with the same month in 2015.
"Everybody liked to pick on Beverly Hills in the beginning, but Beverly Hills is using less than half of what Malibu is," State Water Resources Control Board Chairwoman Felicia Marcus said.
Statewide, people in cities and towns cut their water use by just 17.7% in August, compared with the same month in 2013, state board staff members said. That's a dip from August 2015, when Californians reduced their consumption by 27%, beating the target of a 25% reduction set by Gov. Jerry Brown.
"We're at yellow alert," Marcus said. "I'm not ready to go to red alert until we see the details."
Regulators lifted mandatory conservation for the vast majority of the state's water suppliers beginning in June. That month, water savings fell sharply to 21.5%, and conservation has continued to flag each month since.
Water board members have defended their decision to ease the rules, saying that while a 25% statewide reduction in urban water use was necessary for a time, it could not continue indefinitely. They cite significant rains and snow in Northern California, which replenished some reservoirs, as helping reduce the need for conservation.
But faced with lower conservation numbers, officials on Wednesday acknowledged that easing the restrictions may have contributed to increased water consumption.
"There are some communities back over 500 gallons [per person] per day," Marcus said. "I'm not going to say, 'What's the story there?' But that's a question. … Did they stop messaging, or what's happening?"
Mark Gold, UCLA's associate vice chancellor for environment and sustainability, called the August numbers "completely predictable."
"This is what we've come to expect when there are strong messages from Sacramento that the crisis isn't as bad as we thought it was," Gold said. "People, on their own, in a voluntary way, don't do as much to conserve."
California is broken down into 10 so-called hydrologic regions, and in every one, residents used more water per person per day in August 2016 than they did during the same month in 2015.
On average, Southern Californians used about 104 gallons per person per day, about 10 gallons more than they had the year prior, making them the fourth-lowest users among the 10 regions.
In April 2015, Brown ordered a 25% statewide reduction in urban water use, which the board tried to achieve by assigning conservation "standards" to each of the state's urban suppliers. Some were told to slash their usage by as much as 36%; others could cut as little as 4% and remain in compliance.
The suppliers were required to hit their targets beginning in June 2015. In the 15 months since, Californians have cumulatively cut their consumption by about 23%, state officials said. They have saved almost 660 billion gallons of water over that period — enough to provide water for 10 million residents for a year.
Some water officials were more optimistic than others about the August conservation numbers. Rob Hunter, general manager of the Municipal Water District of Orange County, noted that this August was two degrees warmer than August 2013, the baseline against which water savings was measured. So an 18% statewide reduction is something "we should be congratulating people for, not castigating people for," he said.
"That's an incredible achievement," Hunter said. "There was some concern there would be zero conservation, that everybody would start using more," he added. "That's not happening."
But water board staff members also said conservation efforts tend to start sliding around this time of year, as the temperatures cool and water use dips. As urban Californians use less water, there is less savings to be had, officials say.
When the water year ended last week, forecasters and water officials warned that it will be hard to predict whether this winter will bring the rain and snow the state so desperately needs. And if a sixth year of drought is on the horizon, regulators have warned that they could return to mandatory conservation.
"While last year's rain and snow brought a respite for urban California, we are still in drought, and we can't know what this winter will bring," Marcus said in a statement released later Wednesday. "What we do know is that climate change will continue to make our water years even more unpredictable, so we need to retain our conservation habits for the long term, rain or shine, drought or no drought."
Twitter: @ByMattStevens
ALSO
Medical marijuana community split over legalization of pot
Power lines and poles to be replaced throughout Cleveland National Forest
Why did this retired teacher get a $12,836 bill from the Department of Water and Power?
---
UPDATES:
2:30 p.m.: This article was updated with additional details.
12:10 p.m.: This article was updated with additional context and details about specific water districts.
This article was originally published at 10:50 a.m.
---
The stories shaping California
Get up to speed with our Essential California newsletter, sent six days a week.
You may occasionally receive promotional content from the Los Angeles Times.