Waves could top 15 feet in Newport Beach this weekend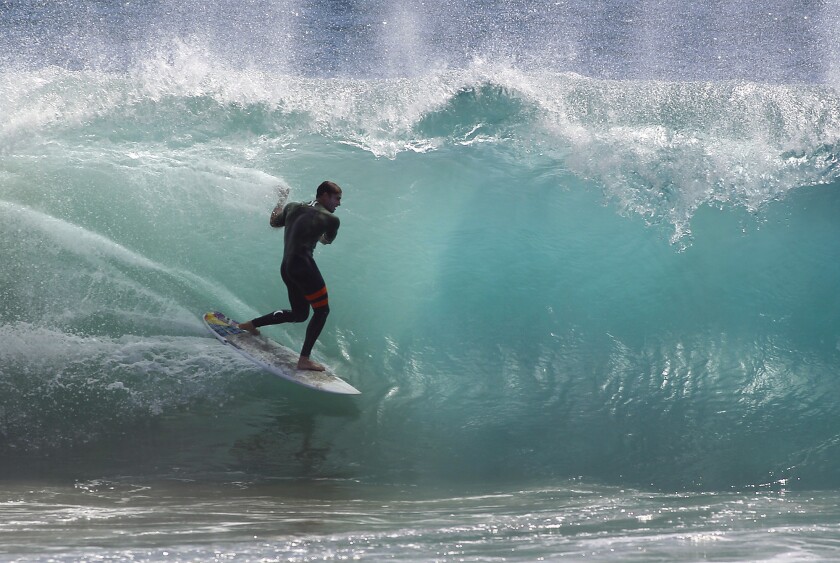 Lifeguards in Newport Beach are bracing for big waves that they say could top 15 feet at the Wedge and along the Balboa Peninsula this weekend.
A large storm hundreds of miles to the south, typically not seen until midsummer, is expected to create the potentially dangerous conditions along the coast, according to lifeguard Capt. Jon Mitchell.
"We've just been having some very strange and different weather," he told Times Community News.
The biggest swells are expected to hit south-facing beaches Sunday and Monday before tapering off Tuesday, according to the National Weather Service.
To prepare, crews are building sand berms to prevent low-lying parking lots from being flooded in the Balboa area, Mitchell said.
Lifeguards also will place as many rescuers as they can on the beach and deploy boats, something they don't typically do this early in the season, he said.
Mitchell cautioned that beachgoers should be careful even if the water looks calm.
The storm, he said, is producing "long-duration swells," meaning there will often be a lull between sets of heavy waves.
"If it's not the surf that tumbles them around, it's the rip current that comes after the big set," Mitchell said.
The big waves will coincide with the annual arrival of Newport's "blackball" rules that limit surfing.
The rules, which started Friday and continue through October, bar surfing between lifeguard towers 40 and 44, and all flotation devices are banned at the Wedge between 10 a.m. and 5 p.m. daily.
In late March, Newport Beach lifeguards said they rescued a record number of beachgoers when another early southern storm created treacherous conditions. Lifeguards pulled 185 struggling swimmers from the water in two days, the most ever for a Newport Beach weekend in March.
Dobruck writes for Times Community News.
---
The perils of parenting through a pandemic
What's going on with school? What do kids need? Get 8 to 3, a newsletter dedicated to the questions that keep California families up at night.
You may occasionally receive promotional content from the Los Angeles Times.