May is proving to be a wet blanket for California — and more rain is on the way
The calendar shows it's almost Memorial Day — typically beach weather in Southern California — but gray skies are signaling that unusually chilly temperatures and rain will stick around a bit longer during a month that has already broken precipitation records.
The forecast this month has been a doozy in California with rain, hail and snow falling across much of the Golden State two months after the end of winter. Large swaths of the state, including parts of Los Angeles, have seen two to five times more precipitation than is normal for this point in May, according to the National Weather Service.
A series of back-to-back low-pressure systems is expected to bring light rain and cooler temperatures to the Southland on Wednesday and Thursday. Los Angeles could see some scattered showers Tuesday but nothing measurable, said Lisa Phillips, a meteorologist with the National Weather Service in Oxnard.
"We can't rule out that some areas might see a sprinkle or two, but we're not expecting great accumulation," she said.
May storms are far from unheard of, but experts say what we've seen this month is unusual.
A weekend storm broke a 130-year-old tally for May rainfall in downtown Sacramento. By Sunday — with 12 days left in the month and more rain in the forecast — the downtown area had received 3.28 inches of rain, surpassing the previous monthly record of 3.25 inches set in 1889.
The average rainfall for May in downtown Sacramento is 0.76 inches, according to the weather service.
The unusual weather pattern has also brought below-average temperatures this month, with frigid winds and snow in some parts of the state, including Big Bear Lake.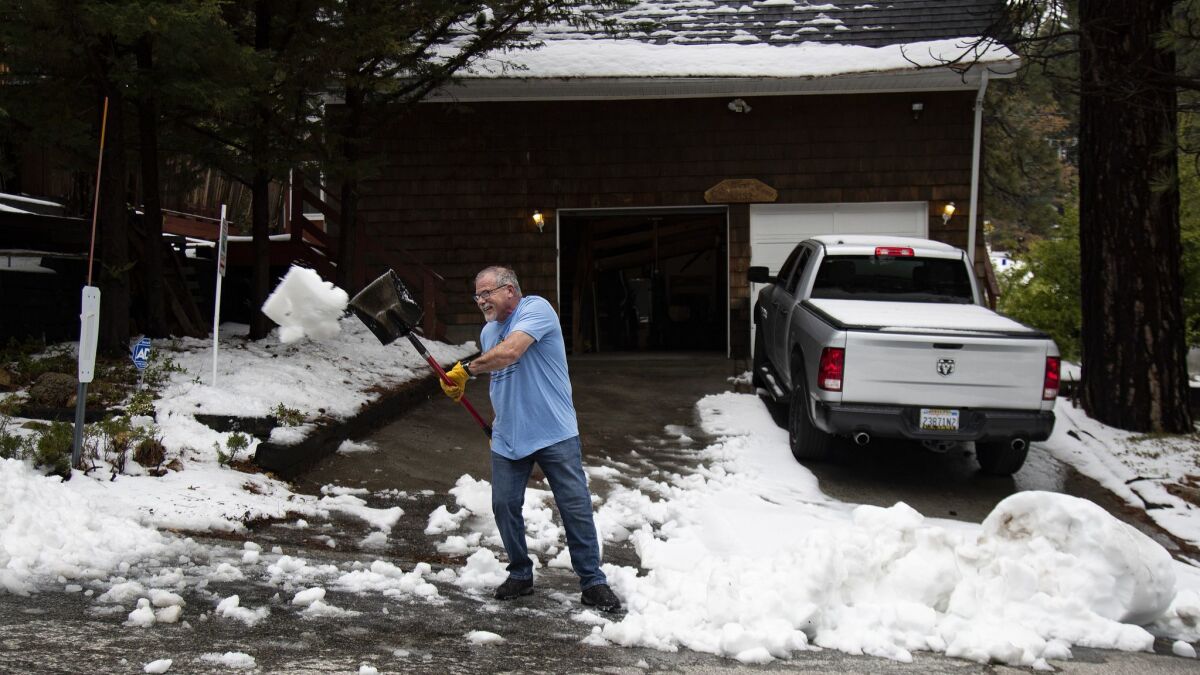 The weather service issued a wind advisory Tuesday, predicting that west winds between 15 and 30 mph will blow through Southern California, with gusts up to 40 mph into the evening.
Elevations above 5,500 feet are expected to get up to an inch of snowfall with this latest front. The mountain areas — specifically Frazier Park, Big Pines and Falling Springs — could see a fresh dusting of snow.
In response, the L.A. County Department of Public Health on Monday issued a cold weather alert for mountain areas through Thursday, warning that wind-chill temperatures are expected to drop below 32 degrees.
"Children, the elderly, and people with disabilities or special medical needs are especially vulnerable during cold weather. Extra precaution should be taken to ensure they don't get too cold," Dr. Muntu Davis, L.A. County's chief health officer, said in a statement. "There are places where people can go to stay warm, such as shelters or other public facilities."
A storm last week broke at least half a dozen daily rainfall records for the date in Los Angeles, Orange and San Diego counties. Unlike the capital, though, those areas aren't close to breaking monthly precipitation records — even with new showers on the way — data show.
Downtown L.A. is ahead of its normal rainfall pace. So far this month, 0.74 inches of rain has fallen in the area, which typically sees an average of 0.26 inches in May. This makes it the 18th-wettest May on record, so far, according to precipitation data.
Los Angeles International Airport has received 0.56 inches of rain this month, making it the eighth-wettest May on record, data show. The rainiest May at the airport was in 1977, when it received 2.55 inches.
Some communities along the Central Coast and in Northern California where the rain has been more prolific are closer to record numbers. San Francisco Airport has received 1.88 inches, making it the third-wettest May on record. Monterey, which has seen 2.04 inches of rain, is having its fourth-rainiest May.
Ojai has received 1.57 inches of precipitation this month, making it the 10th-rainiest May in the city. The record was set in May 1998, when the region got a whopping 4.07 inches, data show.
The unusually rainy month comes on the heels of a rare wet winter, which lifted California completely out of drought for the first time in nearly a decade.
"This is May gray on steroids," Bill Patzert, a local weather expert and former climatologist with the Jet Propulsion Laboratory, told The Times. "Usually by this time of year, we're done, but this meandering jet stream has been persistent through the spring, and it's given us four times our normal rainfall."
Times staff writer Christine Mai-Duc contributed to this report.
Twitter: @Hannahnfry
The stories shaping California
Get up to speed with our Essential California newsletter, sent six days a week.
You may occasionally receive promotional content from the Los Angeles Times.