Coastal Commissioner Wendy Mitchell resigns post after six years on the panel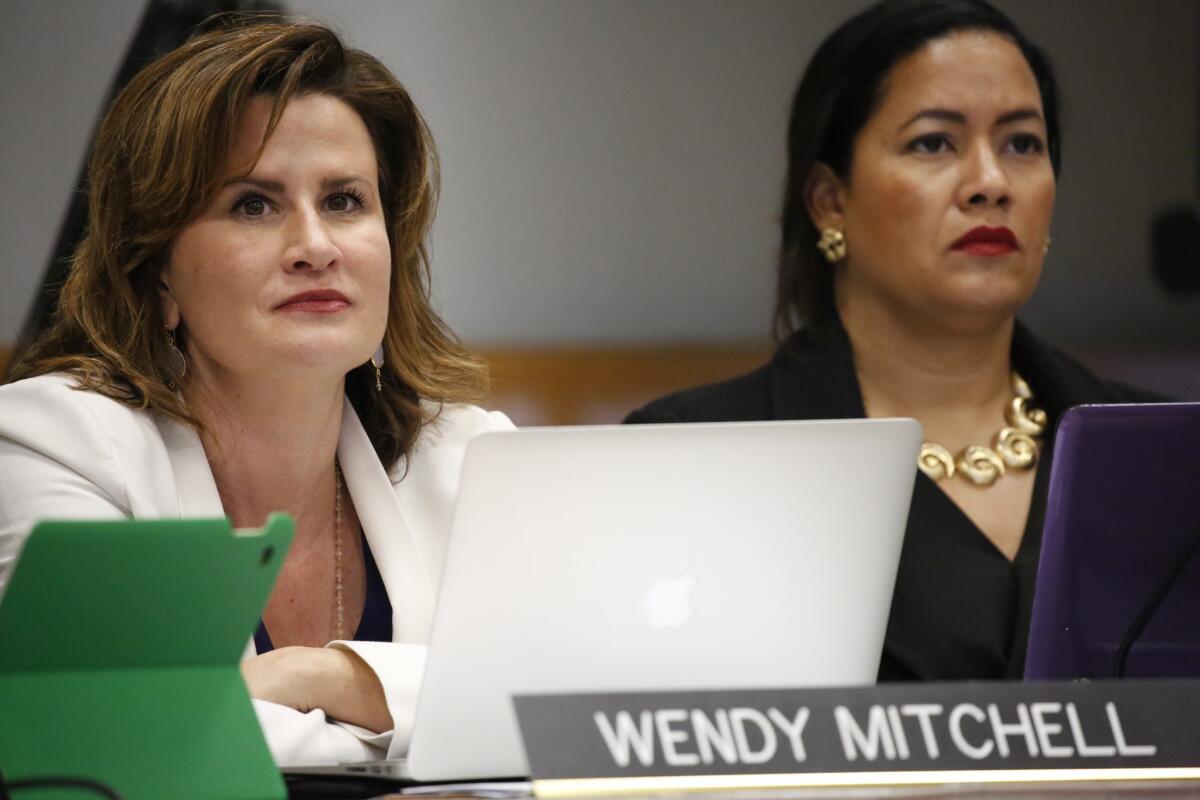 California Coastal Commission member Wendy Mitchell, who supported the controversial ouster of the agency's executive director earlier this year, resigned Friday.
Mitchell, a Los Angeles-based government affairs consultant and former legislative aide, submitted a resignation letter to Gov. Jerry Brown, stating that she would step down immediately after six years on the commission.
"Like you, I believe that sometimes the job of leadership is not to tell the people what they want to hear but in doing what needs to be done," the letter said.
Mitchell was appointed by former Gov. Arnold Schwarzenegger at the end of his term. She has close ties to Susan McCabe, an influential lobbyist who represents many clients with business before the commission. McCabe has known Mitchell for years and recommended her for the vacancy.
Commissioners are the decision-makers for the powerful land use agency, which oversees development, environmental protection and the use of marine resources along 1,100 miles of California coastline.
Mitchell was one of seven commissioners who voted in February to fire Executive Director Charles Lester, a 24-year veteran of the agency and widely supported by the public, state legislators, commission staff and former commission members. He replaced the late Peter Douglas and served as director for five years.
Mitchell and other panel members accused him of unspecified management issues, leadership problems and a lack of attentiveness to their needs, such as not returning phone calls. They declined to comment in detail because personnel matters are confidential.
Environmentalists, Lester and other supporters of the agency said his termination represented part of a shift by the commission in recent years to be more accommodating to coastal developers and exert tighter control over day-to-day activities of the staff. They also criticized commissioners for a lack of transparency.
"Mitchell is the first of many commissioners who will be replaced in the coming year," said Jennifer Savage, the policy manager for the Surfrider Foundation. "It's a great opportunity for the appointing authorities to show their commitment to the Coastal Act by the people they choose."
Among those leaving the commission so far are Chairman Steve Kinsey of Marin County and Martha McClure of Del Norte County.
Mitchell could not be reached for comment Friday.
In her letter to Brown, she wrote, "I'm proud to have served with my fellow commissioners who made tough decisions and did so with the best of intentions, even when it cost them personally and politically, because they believed what they were doing was best for the California Coast."
Mitchell recounted for Brown her past work in public service for Assemblywoman Dede Alpert and state Sen. Denise Moreno Ducheny, a longtime critic of the Coastal Commission. She also has served as chairwoman of the Los Angeles South Valley Area Planning Commission.
Her work involves Planned Parenthood Advocacy Los Angeles, the California League of Conservation Voters, the Los Angeles Business Council and Pacoima Beautiful.
"During my work on the commission," Mitchell wrote, "I was impressed with the outpouring of public support for the commission's work by those who participated in the process; it's very clear to me that Californians love their coastline and want to maintain its pristine beauty while ensuring access for all Californians."
Twitter: @LADeadline16
ALSO
Palo Alto vandalized with swastika-like graffiti in 6 locations
After vanishing in May, beloved toucan returns to Orange County neighborhood
Debbie Reynolds and Carrie Fisher will have joint funeral and be buried together
---
UPDATES:
8:35 p.m.: This story was updated with new information about Mitchell's resignation letter to the governor.
This story was originally posted at 7:20 p.m.
Sign up for Essential California for news, features and recommendations from the L.A. Times and beyond in your inbox six days a week.
You may occasionally receive promotional content from the Los Angeles Times.