Judge dismisses charges against members of California white nationalist group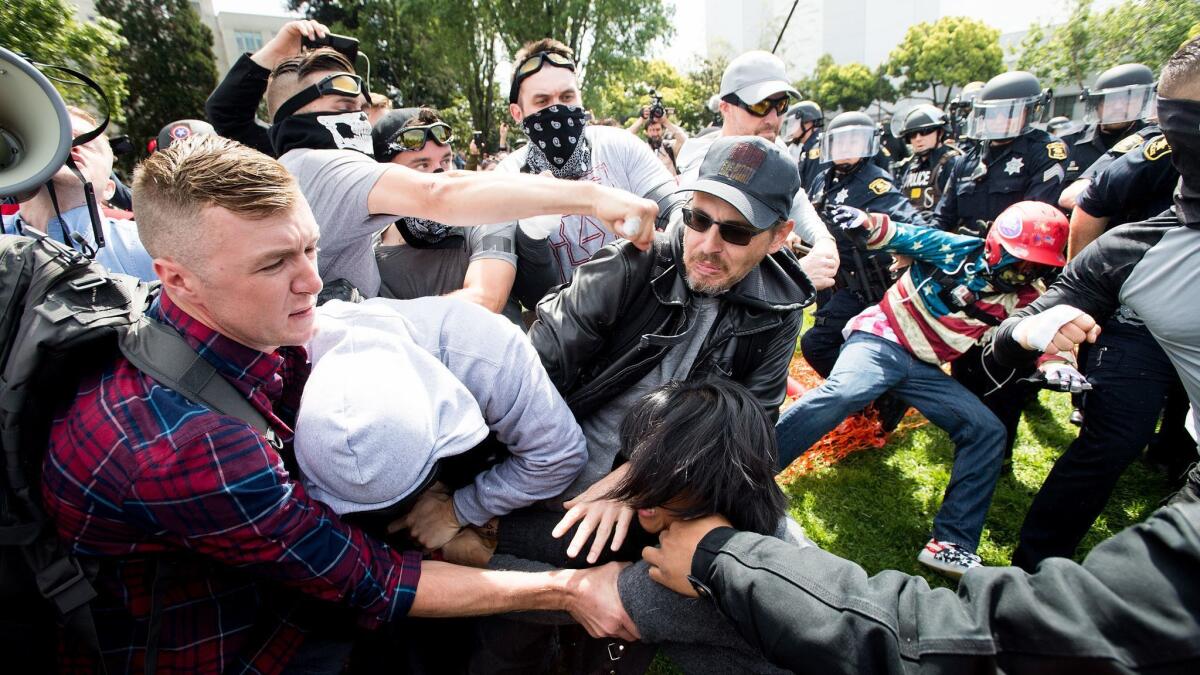 A Redondo Beach man who admitted last year to being part of a Southern California white nationalist group suspected of inciting brawls at political rallies throughout the state is requesting that a federal judge allow him to withdraw his guilty plea and dismiss charges against him.
The motion to throw out the case against Tyler Laube — filed in court Tuesday — comes a day after U.S. District Judge Cormac J. Carney dismissed charges against Laube's co-defendants Robert Rundo, Robert Boman and Aaron Eason on grounds that the federal Anti-Riot Act of 1968 — a rarely used law under which they were charged — is "unconstitutionally over-broad."
Carney wrote in his 12-page decision that the law, passed by Congress at the height of public advocacy over civil rights and the Vietnam War, regulates a substantial amount of protected speech and assembly in violation of the 1st Amendment.
"It is easy to champion free speech when it advocates a viewpoint with which we agree," he wrote. "It is much harder when the speech promotes ideas that we find abhorrent. But an essential function of free speech is to invite dispute."
Federal prosecutors have alleged in court documents that Rundo, Boman, Eason and Laube are members of the so-called Rise Above Movement, a group that traveled across California and to Charlottesville, Va., to seek out people who oppose their white supremacist ideology and fight them.
Laube pleaded guilty in November to a single count of conspiracy and admitted in a plea agreement to associating with Rise Above Movement members from January 2017 to April 2017. Laube also admitted to attending a combat training event in San Clemente on March 15, 2017, and to assaulting people at a Huntington Beach rally later that month.
At the rally at Bolsa Chica State Beach in Huntington Beach, Rise Above Movement members confronted counter-protesters and attacked two journalists covering the event, according to an FBI affidavit. As one reporter stumbled backward, Laube grabbed his shoulder and punched him three times in the face, the affidavit said.
Laube has not been sentenced in the case, according to court records.
Federal authorities allege the group was founded in late 2016 or early 2017 by Rundo and Benjamin Daley, originally branded as "DIY DIVISION." The group grew in numbers through use of social media, on which they coordinated combat training before political events and bragged about the violence to recruit members. Posts include video clips of members assaulting people at political events, their faces covered by distinctive skeleton or U.S. flag masks, according to federal authorities.
Ciaran McEvoy, a spokesman for the U.S. attorney's office in Los Angeles, said prosecutors are disappointed with the court's ruling and "are reviewing possible grounds for appeal."
UCLA law professor Eugene Volokh said there are other laws both at the state and federal level that prosecutors could use to file charges against members of the group. The Anti-Riot Act, on the other hand, appears to be unconstitutional on its face, but has been challenged only a few times because it's so rarely used, he said.
"The statute as the judge points out is written in a way that makes it likely too broad to be constitutional," he said. "Some courts have interpreted it to be more narrow than its text and thus saved it from being declared unconstitutional."
Carney wrote in his ruling that the Anti-Riot Act goes beyond criminalizing the behavior of those acting in the midst of a riot. It also criminalizes acts taken long before any crowd gathers, acts that have only a slight connection to violence, and those — like the group's social media posts — that are classified as protected speech, he wrote.
"No violence even need to occur," the judge wrote. "A defendant could be convicted for renting a car with a credit card, posting about a political rally on Facebook or texting friends about when to meet up."
As part of their case against Eason, for example, prosecutors alleged he used a credit card to rent a van to drive to an April 2017 Patriots Day free-speech rally in Berkeley that turned violent. Videos posted online show Eason and other Rise Above Movement members next to a "Defend America" sign with their hands taped for fighting and their faces partially covered by skeleton masks.
"Make no mistake that it is reprehensible to throw punches in the name of teaching Antifa some lesson," Carney wrote. "Nor does the court condone RAM's hateful and toxic ideology. But the government has sufficient means at its disposal to prevent and punish such behavior without sacrificing the First Amendment."
Brian Levin, director of Cal State San Bernardino's Center on Hate and Extremism, said extremists will likely regard the court's decision as a victory, but it may turn out to be a hollow one because prosecutors will likely appeal the ruling to the 9th Circuit Court.
"The decision, however, will have little effect on one of the worst types of extremist offenders who radicalizes online and commits attacks as a solo endeavor at a time and place of their choosing rather than public demonstrations," Levin said. "Even so, with a highly charged political season commencing, those that want to conspire to violently disrupt public rallies will likely be emboldened, even if just temporarily."
Times staff writers Alene Tchekmedyian and Brittny Mejia contributed to this report. City News Service also contributed to this report.
Sign up for Essential California for news, features and recommendations from the L.A. Times and beyond in your inbox six days a week.
You may occasionally receive promotional content from the Los Angeles Times.