As bitter cold racks Northeast, California enjoys nation's warmest weather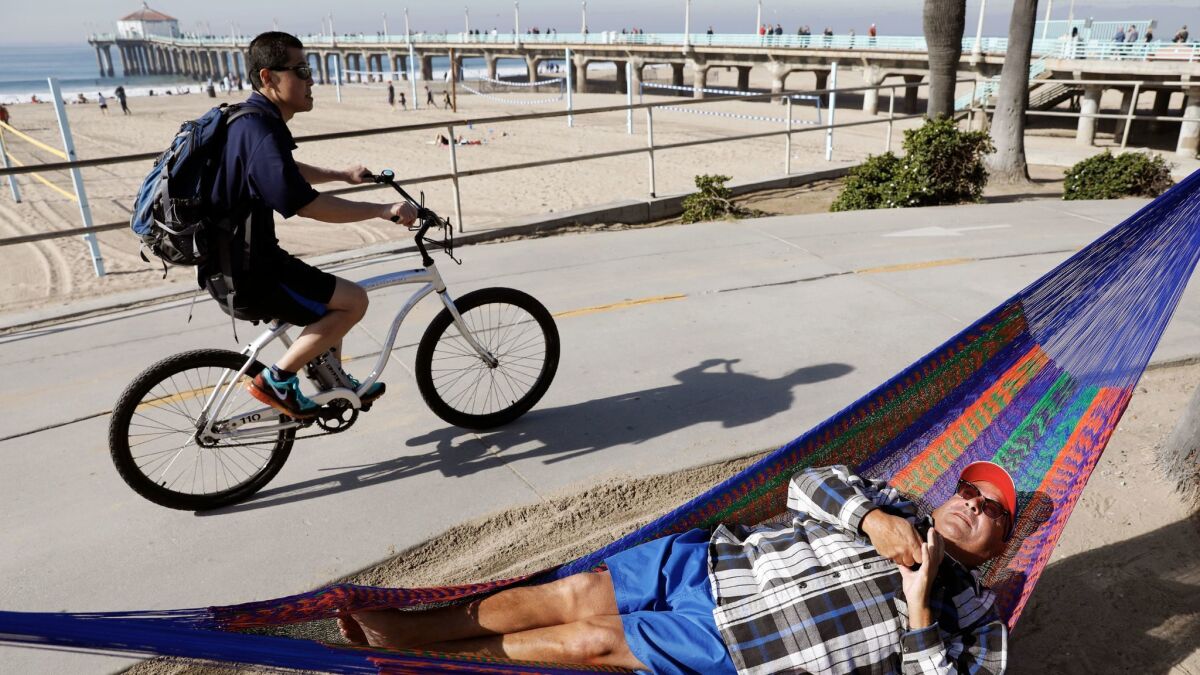 Southern California reported the warmest temperatures in the nation on Wednesday and would probably do the same on Thursday and Friday, according to the National Weather Service.
Thanks largely to a high pressure system compressing air over the Great Basin, Los Angeles County could see temperatures 10 to 20 degrees warmer than the seasonal average, according to NWS Meteorologist Robbie Munroe. As a result of the high pressure, light offshore winds will prevent cool ocean breezes from reaching land.
"Somewhere in the Southwest, most likely in California, will be the hottest part of the nation through Friday," Munroe said.
Woodland Hills was the hottest place in the country on Wednesday when the mercury peaked at 86 degrees. That was one degree warmer than the previous record set four years ago.
As it happens, the high pressure system keeping our region unseasonably warm is the same one fueling bone-chilling conditions in the Northeast, Munroe said. Mt. Washington, in New Hampshire, hit 34 degrees below zero with a wind chill factor that made it feel like it was negative 88 degrees late Thursday morning, according to the Weather Service.
Woodland Hills is forecast to hit 87 degrees Friday, which would beat a record of 85 set in 1980. Burbank temperatures are expected to peak at 84 degrees that same day, which would tie a record set in 1963.
Temperatures elsewhere in the San Fernando and San Gabriel valleys should hover in the low- to mid-80s until the weekend when they will recede into the 70s, Munroe said.
By next week, a low pressure system moving over the Pacific could bring some cloud cover — and possibly drizzle — toward the middle of next week.
For breaking California news, follow @JosephSerna on Twitter.
The stories shaping California
Get up to speed with our Essential California newsletter, sent six days a week.
You may occasionally receive promotional content from the Los Angeles Times.